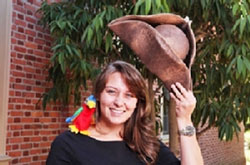 Kate Perry
Associate Dean of Admission
Email :  [[kate]]

Dean Perry's Bio
Who am I?
I was born in Trenton, New Jersey (pronounced Tren'an for any nonnatives). As an Army Brat I have lived a number of places including Texas, Colorado, Kansas, Pennsylvania, and Germany and I have moved a total of 14 times in my 31 years (I'll let you do the math). I received my BA in Sociology as a member of the Tribe in May of 2012.
What's with the photo?
I have this thing for pirates. I have been a pirate for Halloween every year since I was two years old. Needless to say my costume has grown quite elaborate and increasingly realistic as the years progressed. Although I have yet to train a live parrot, I have perfected my pirate stance and sway. If my job in Admissions doesn't work out I aspire to be a full time pirate and hire my own Mr. Smee.
Why work in Admission?
During my senior year of college I worked as a Spring Intern in the Admission Office and finally found my niche. The field of Admission is exciting, rewarding, ever changing, and people focused. It is truly an incredible experience working with such a dynamic, engaging, intelligent and caring group of people.
What are my regions and other responsibilities?
My region is Washington, DC. I am also the lead of the On Campus Programing team and lead of the Senior Interviewer Program.
Why W&M?
Have you ever been to visit this place? It's enchanting. Yes enchanting, the Disney Princess catch phrase. You feel it the second you walk onto campus. The sense of pride, community, history, camaraderie and legacy overwhelm your senses. But above all it is the people who make this place truly special. They are the heart and soul of this campus and come together to create a caring community full of thinkers, creators, researchers, artists, intellects, activists, and athletes.
Fun Facts?
I absolutely love my mini Dyson ball vacuum cleaner! Best. Present. Ever. Add a vacuum cleaner to your packing list for college. You will not regret it and all of your hall mates will want to borrow it.
I can't cook to save my life but I love good food. Some of the best meals I ever had I enjoyed while studying abroad in Italy.
I love to go to the movies! There is just something special about stale salty pop-corn, a large diet Dr. Pepper, some Hot Tamales, and a good flick that makes me all warm and fuzzy.