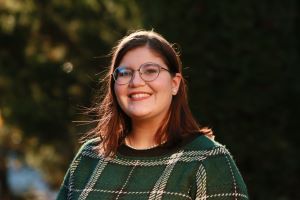 Alyson Logroño
Admission Counselor
Regions :  Richmond Virginia, Alabama, Florida, Georgia, Mississippi
Email :  [[aglogrono]]

Who Am I?
I was born and raised in southern Florida. As someone who prefers winter to summer and fall to spring, I knew I wanted to go out of state for my university years. William & Mary was my dream school, so when I got my acceptance letter it was the best day of my life! I received my Bachelor's in International Relations.
Why Admission?
The short answer - I am passionate about access to education. The longer answer is as the daughter of a teacher, I have had a lifelong respect and appreciation for the impact that access to education can have on a student's life. I am dedicated to doing my part to help students have the opportunities to pursue the education they want and deserve.
Furthermore, this Admission Office is why I wanted to attend William & Mary when I went on my college search! After talking with one of the senior interviewers and the tour, I was so excited for the chance to join a school where the students loved learning as much as I did and where community was just as important as the academics. I look forward to helping other students find where they belong!
Why W&M?
In short, the William & Mary community. My years at William & Mary were some of the best years of my life. The amazing professors and variety of classes I was able to take helped feed my curiosity for the world around me, and the friends I made are some of the most important relationships in my life. I wanted to help make the incredible experience I had possible for current and future students. By helping grow the William & Mary community, I look forward to seeing how much William & Mary students will achieve and how they change the world and each other.
Fun Facts
I am a huge book dragon (I refuse to call myself a worm)! My personal library includes over 340 physical books, as well as some digital books.
Even though I was an International Relations major (mostly Government, Economics, History, and Foreign Language classes), I took a lot of classes from different departments: Japanese Studies, Russian Studies, Classical Studies, Africana Studies, Chinese Studies, Mathematics, and Dance! I love talking about how great the COLL Curriculum is at W&M.
I love foxes! They are the coolest animal and so smart. I have been collecting fox figures since my first year at W&M.