Organ Recitals
A Williamsburg tradition since 1970
The Office of the Historic Campus is pleased to host weekly organ recitals in the Wren Chapel. See and hear the historic English chamber organ, one of Colonial Williamsburg's 18th-century instruments, dating from around 1740.
Recitals are free and open to the public. Donations are gratefully accepted and help support future public recitals.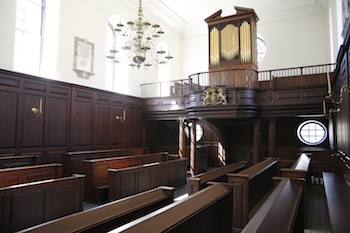 The Organ
The organ in the Wren Chapel is a mid-eighteenth century English chamber organ. The instrument is part of the extensive collection of historic keyboard instruments owned by the Colonial Williamsburg Foundation. It has been on loan to William & Mary and uniquely situated in the balcony of the Wren Chapel since 1970. 
By design, English chamber organs are not as large as similar instruments built elsewhere in Europe.  The organ in the Wren Chapel has a single keyboard, a single mechanical pedal, and five-and-a-half ranks of pipes, each having its own characteristic and sound quality. Nine stops allow the organist to choose which ranks of pipes to play. Despite its comparatively small size, the sound produced by the organ is robust and melodic.
The Organists
The organ in the Wren Chapel is played by talented musicians from Bruton Parish Church and W&M's Department of Music.
Rebecca Davy
Thomas Marshall
Norman Elton