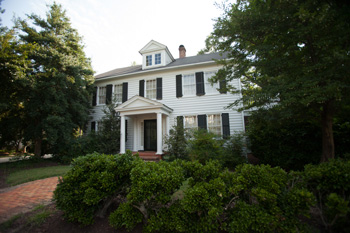 Thanks to the generosity of Joseph Plumeri '66, D.P.S. '11, the Plumeri House continues the university's history of hospitality as a home away from home for special members of the William & Mary family. We look forward to welcoming you to Williamsburg!
The House
Located just off of Jamestown Road and across the street from William & Mary's historic campus, the Plumeri House provides easy access to the university, the shops and restaurants of downtown Williamsburg and the attractions of Colonial Williamsburg.
The Plumeri House has two distinctively appointed bedroom suites, an inviting living room, a dining room that can accommodate ten and a fully-equipped kitchen. There is a downstairs screened porch and an upstairs balcony off one bedroom that overlooks the house's beautiful yard. The interior is designed to give the feel of home – with stately yet comfortable furnishings and a warm ambience.
Availability
Although open to the public, the Plumeri House is prioritized for use by special members of the William & Mary family. 
Check the availability of the Plumeri House.
Rates & Reservations
Guests have the choice of renting the individual Spadehaven (King) Suite or the entire House for overnight accommodations. The Spadehaven Suite boasts a private bath and sitting room.  Rates are per night.
Spadehaven Suite (sleeps up to 2 persons)
King bed, sitting room, private balcony, full bath

$300

Entire House Rental (sleeps up to 6 persons)

$400
In order to request a reservation for the Plumeri House, please visit our reservation form. Once you have submitted a reservation request, a staff member will contact you to confirm your reservation, and to provide you with additional details and information about your stay. 
Learn more
If you have questions or would like additional information, please contact Jennifer Morgan at (757) 221-4150 or [[jjmorg]].