African Americans and William & Mary
A Historical Timeline
1718
William & Mary purchases the Nottoway Quarter and 17 slaves. Income from the tobacco provides scholarships for less wealthy students for the next 90 years.
1760
A school for black children, free and enslaved, is established in Williamsburg by The Associates of Dr. Bray on the recommendation of Benjamin Franklin. Affiliation with W&M recognizes the College's concern as an Anglican institution for the religious education of blacks.
1796
Professor St. George Tucker publishes his quixotic "Dissertation on [the gradual abolition of] Slavery"
Early 1800s
William & Mary, facing harsh economic times, sells most of its slaves. William & Mary instead begins "renting" slaves for housekeeping and other chores.
1817
Lemon, a man owned by William & Mary, dies. William & Mary pays for his coffin.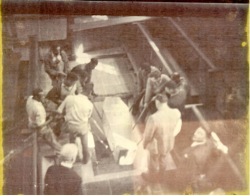 1832
Professor and future President Thomas Roderick Dew becomes renowned as the chief ideologue for the defense of Southern slavery. In 1939, at the height of Jim Crow, Dew's body is reinterred in the crypt of the College Chapel. His life and works are praised in an elaborate ceremony.
1844
Nathaniel Beverley Tucker, professor and son of St. George Tucker, stoutly defends the institution of slavery.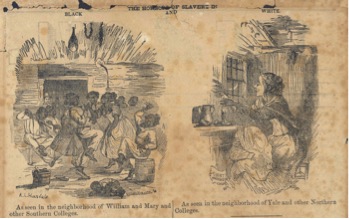 1850s
George Greenhow, the free black custodian at the College, learns to read and write from a W&M student for whom Mrs. Greenhow does laundry; with a fine sense of irony, Greenhow liked to boast that he was "the only Negro ever educated at William and Mary."
1865-1880s
With the Wren Building burned and the College in ruins after the Civil War, President Benjamin Ewell and Malachi Gardiner, one of his black tenant farmers, keep the College officially open by ringing the College bell at the beginning of each semester. Freedpeople build shanties and raise livestock on the lawn in front of the Wren Building's remains.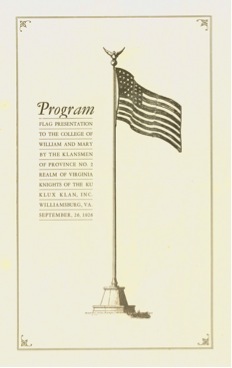 1920s
Co-education helps revitalize the College but Jim Crow practices continue to exclude all black students, male and female.
1930s-1950s
Black employees of William & Mary suffer wages too low to support themselves. Many also suffer the indignity of waiting for buses beneath a flagpole given to William & Mary by the Ku Klux Klan in 1926. The flagpole is recycled during Massive Resistance to fly the Virginia flag at James Blair Hall, an affirmation of states rights. Low wages remain.
1945
On February 7, white student Marilyn Kaemmerle, editor of the Flat Hat, publishes Lincoln's Job Half-Done, advocating African American students at William & Mary and interracial marriage. The Flat Hat is temporarily suspended and Kaemmerle loses her position; in the 40s, a columnist Jerry Hyman and others had pushed back against racial intolerance.
1951
Hulon Willis becomes the first black student to enroll at William & Mary when he begins a summer graduate program. He graduates with a Master's in Education in 1956. 
Edward Augustus Travis is admitted to the law school and in 1954 becomes the first African American to graduate from William & Mary.
1963
Oscar Houser Blayton enrolls and attends classes for his freshmen and sophomore years, becoming William & Mary first black undergraduate.
1967
Karen Ely, Lynn Briley, and Janet Brown arrive on campus and are William & Mary's first black female students as well as its first black residential students. They are housed in the basement of Jefferson Hall.
1969-1970
Course catalog includes the class "The Negro in the United States Since 1861."
1974
The Office of Minority Affairs is established.
1988
The student body elects its first African American Homecoming Queen, Charlene Renee Jackson.
1992
African American alumni organize the Hulon Willis Association of the Society of the Alumni.
1997
Black Studies Program established; changed to Africana Studies in 2009.
2007- 2008
The Student and Faculty Assemblies pass resolutions challenging William & Mary to investigate the institution's past ownership of slaves and practice of Jim Crow discrimination.
2009
The Board of Visitors passes a resolution that does not express regret, but does acknowledge past injustices and does create the Lemon Project as "a journey of reconciliation."
2011
The Lemon Project hosts its first Spring Symposium at Bruton Heights School.