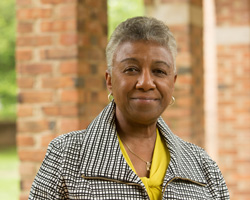 Lynn Briley was born and raised in Portsmouth, Virginia, the oldest of three children of Princess Bolden Briley and Eddie Briley, Sr. She was educated in the public school system and graduated with honors from I. C. Norcom High School in 1967. Her post-secondary education began at William & Mary, becoming one of the first African American residential students. She received a B.A. degree in English from William & Mary in 1971 and began a teaching career in Portsmouth Schools as a Language Arts/Reading teacher in 1972. She then completed graduate studies at Norfolk State University with a Masters Degree in Communications in 1977.
From 1972 to 1986, Ms. Briley was a Language Arts/ English teacher, a teacher in adult literacy programs, and a Teacher Trainer with the Department of Staff Development. She completed her C.A.S. in Educational Administration at Old Dominion University in 1987 and has done post graduate studies in Educational Leadership at William & Mary. Beginning in 1988, she has served as an Assistant Principal at Cradock, Manor and Churchland High Schools, Principal of the EXCEL Campus alternative high school and Principal of Churchland Middle School and I. C. Norcom High School. In January 2013, she retired from Portsmouth Public Schools after 41 years of service. Ms. Briley is currently an Adjunct Instructor at Tidewater Community College, Portsmouth Campus.

Lynn Briley is a lifelong member of the historic Ebenezer Baptist Church, Portsmouth, where she is a Sunday School teacher and serves in the Women's Ministry. She consistently volunteers in women's health related awareness and fundraising activities. She serves on the Board of Directors of the Friends of the Portsmouth Juvenile Court (FOPJC) and is a member of the City of Portsmouth Historic Preservation Commission.