Q&A: Robert Trent Vinson on the history, legacies of 1619
{{youtube:medium:left|y1M4VrdM3DY}}
It was 400 years ago that the first enslaved African people arrived in what would become English North America. Organizations across the country, state and region have been marking that historic moment this year with a variety of special events and programming.
William & Mary will host one such event, the 10th Biennial Conference of the Association for the Study of the Worldwide African Diaspora, Nov. 5-9 in Williamsburg, Virginia. W&M News recently talked with one of the organizers of that conference — Frances L. and Edwin L. Cummings Professor of History and Africana Studies Robert Trent Vinson — about 1619, its significance and its part in the upcoming conference.
Tell us a little about the first enslaved African people to arrive in English North America.
We know that the first Africans to arrive in English North America came from West Central Africa, and we know that they were enslaved by an alliance between the Portuguese and an African group called the Imbangala. They came as part of a cargo of 350 people who had been enslaved in the interior of Africa and then marched to the coast.
Their ship, the Sao Joao Baustista, was on the way to Veracruz, Mexico, to a Spanish colony, and on the way, they were pirated by two English ships, the White Lion and the Treasurer. In that pirate raid, those two ships took about 60 enslaved Africans. From there, they split them equally, and so it's the English ships that made their way to the English colony of Jamestown. The first ship that arrived was the Treasurer, and that arrived in late August 1619, about 400 years ago now.
They were in desperate need of supplies, and in exchange for supplies, they sold those "20 and odd Negroes" that John Rolfe, the Virginia colonist speaks about in the documentary record. So they had a long journey from West Central Africa to Jamestown.
What else do we know about them?
Many were placed in two particular households. The first was the household of the governor of the colony at the time, George Yeardley, and the other household was the leading merchant, Abraham Piersey. They heard about this ship arriving at Point Comfort, what is now Hampton, and they knew that it needed some type of supplies. So Piersey and Yeardley came with those supplies and bought those "20 and odd Negroes."
For most, they remained in some form of bondage, and we see that with the will of George Yeardley. In the will, he is very clearly referring to the enslaved Africans as property because he's passing them down as part of his estate. They're inherited by his sons, and in fact, the sons then sell the children of those Africans. So you see the dynamic of hereditary slavery working already. At this moment, even though there are no formal slave laws on the books yet, we see an attitude, a custom of looking at these folks, not as indentured servants who would have served maybe four to seven years and then be free — we see a constant period of captivity.
Slavery had been around for millennia. What makes this particular moment in history significant?
What is new about the 1619 Africans is that this is the beginning of a particular racialized slavery in what becomes English North America. What happens here is a realization that, oh, here we have a permanent labor force at our disposal. We don't have to release them after four to seven years like indentured servants. And in a labor-starved colony, like Jamestown, I think people like Yeardley and Piersey and other landholders see this as an opportunity.
I think the early colonists realized that with Africans, they have a real advantage. They don't necessarily speak the same language. They don't share a similar cultural context. They have no home country of England to appeal to for rights to make claims of citizenship, and physically, they look different.  They're easily marked out as a distinct labor class. We get to 1662, and now there's a law that makes slavery hereditary, and so here now we have the development of what I call a racial caste system. We see the combination of class — which is what slavery is, a way to secure permanently a labor supply in which you can derive wealth — and then you add a racial element to it by distinguishing these people from Africa.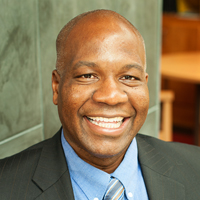 This is why Jamestown is so important for North American history. It's not that slavery was new, but it's this particular form of racial slavery that develops in what becomes America that creates that a racial caste system and ideas, ideologies of white supremacy and black inferiority that continued over these 246 years of slavery and beyond. The result of all this is that by 1860, on the eve of the Civil War, America has 4 million enslaved people, which makes it the largest slave society in world history. And that began at Jamestown.
The 400th year of American representative democracy is also being celebrated in 2019. How did the two historic moments intersect and what have been their legacies?
Jamestown is interesting because it represents a paradox. We know that in August 1619, the first governing assembly met and that this was the beginning of what we call democracy in America. But it also is a paradox, because in that same month, racial slavery began.
How does it affect America? It gives us this racial caste system, it gives us these ideas of white supremacy and black inferiority that we're still battling today, in many ways. But it also sets us on a course of differential wealth inequalities. We look today, for instance, where the average black family has about 10% of the net wealth of the average white family. Well, some of that wealth gap derives from 246 years of slavery and the theft of people's labor and the wealth that that labor would produce for themselves, the security that that would produce for themselves — that wealth went to someone else.
So we have these legacies that we're dealing with that come from 1619. While you can't draw a nice, neat, direct line all the time, you can see, broadly speaking, there's an arc of history that gives us some insight on where we are today as a society.
It's 2019, and I would argue to you that 1619 was not the beginning of democracy in this country because it was democracy that white men only had access to. I would argue to you that our American democracy is rather new. It's about 1965 after the Voting Rights Act when we can actually start to talk about an inclusionary, participatory democracy. With that reframing, I think it's more interesting to think about how new, how precious and perhaps how fragile our democracy is and how we need to fight for it because it's not as old as we think it is.
Why is it important to continue marking the anniversary?
I just celebrated a wedding anniversary, and that was wonderful — pleasant memories and associations of the wedding day — so I think of anniversary as a very pleasant thing. But in this case, I think that anniversary may not be the appropriate word because it does have this sort of celebratory connotation.
I like the term remembrance because, first of all, it speaks to the idea of memory, of remembering that 1619 was the beginning of racial slavery in North America and was part of a larger dynamic of the Atlantic slave trade and racial slavery. I want to remember that and also, in that remembering, I want to honor those who went through that storm, who suffered, who survived — some, not all survived — so that I could still be here. So it's about a remembrance. It's about an honoring. It's about respecting our ancestors who went through the storm.
How will the remembrance be incorporated into the 10th Biennial Conference of the Association for the Study of the Worldwide African Diaspora, taking place at W&M in November?
The remembrance of 1619 for the ASWAD conference is just that. It's bringing forth cutting-edge scholarship on 1619 and all that has happened since then. It points to the histories of people primarily of African and African descent, not just here in the U.S., but all over the world. It speaks to larger diasporas, so it brings together this cutting-edge scholarship and the spirit of remembrance.
It also brings together the arts. We have William & Mary's own Leah Glenn doing a dance performance, and we have William & Mary's Artisia Green doing a theatre performance. We have wonderful public intellectuals like Ta-Nehisi Coates and Dr. Carol Anderson coming to give us that intellectual food that we need for our minds.
So the conference is a remembrance. It's an honoring. And it's also a way to bring together 1,000 people from 30 countries all over the world. It's a global conference, but it's also a local conference, because it connects William & Mary to local communities and local partners —universities like Hampton, Norfolk State and Virginia Commonwealth University, and cultural institutions like the Virginia Museum of Fine Arts, the Virginia Museum of History and Culture, Jamestown Settlement, Historic Jamestowne and Fort Monroe.
We are remembering 1619 in partnership with the world and with our local communities. That's why we're so excited about the conference.