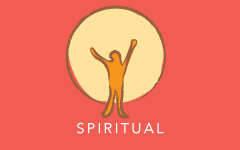 Attending to our sense of purpose and meaning in life.
On-Campus Resources
Spirituality & Faith Resources offered by the Center for Student Diversity.
Take a Yoga class. 
Sign up for an Intro to Meditation Series.
Utilize one of the meditation alcoves in the Wellness Center or the Meditation Room in the Sadler Center.
Browse the full directory of Health & Wellness resources at W&M.