Renaming an Asset
Changing the file name for pages, folders, images and files.
Stop. If you need to edit the text displayed in your menus, see Menus & Breadcrumbs instead.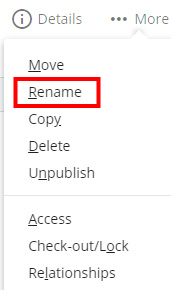 Changing the file name of an asset impacts what you see in the Cascade folder tree, and the published URL for the item. If you change the file name of a folder, it will impact the published URL of every item within the folder as well.
To rename an asset:
Navigate to the asset/page/folder that you would like to rename.
In order for the asset to correctly unpublish itself during the rename process, first confirm that the asset is eligible for publishing. 

How do you know if your asset is publishable? Publish it! If it is set not to publish, Cascade will alert you. If it publishes just fine, continue to rename it. 

Click

More in top right corner and select Rename.

Under "New File Name," type in the desired name (no spaces, all lowercase).
Click Rename.
Publish the asset's parent folder to ensure your menus are properly updated. Other assets in Cascade that are linking to your asset internally will automatically update themselves with the new file name - they will only require publishing to continue to work. Check the relationships for your asset to see if any additional publishing is necessary.
Note: Any external links to your asset with the old file name will no longer work.