Voter Engagement
Take an active and informed role in democracy.
The William & Mary Voter Engagement committee, composed of students, faculty, and staff, promotes the value of voting by providing information and hosting events year-round that encourage voter education, registration, and participation.
We work with local voter registrars and local chapters of the League of Women Voters to hold voter registration drives, develop nonpartisan educational programs, and improve voter engagement using data from the National Study of Learning, Voting, and Engagement. We support and participate in the Campus Vote Project and the ALL IN Campus Democracy Challenge.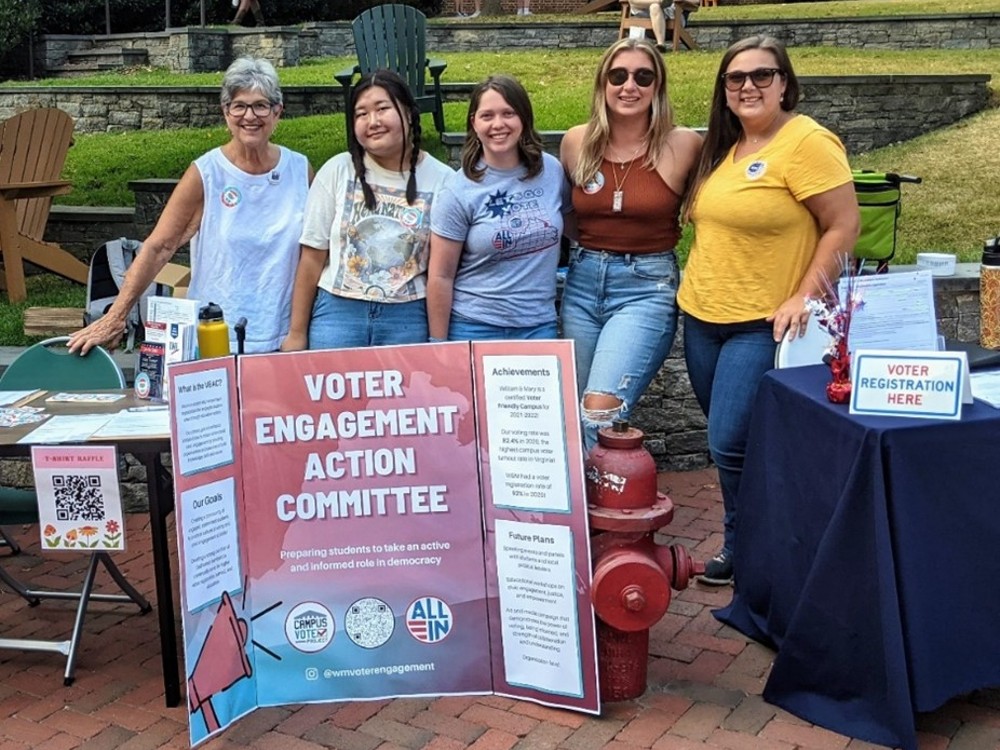 "Being part of the Voter Engagement Program at W&M has positioned me to be able to uplift student voices in support of democracy. Also being involved with this program has been a great way for me, other students, and the university to develop stronger relationships with the local community and local elected officials." - Student committee member
"From my experience working with several campuses in the Commonwealth, the Office of Community Engagement and the students in the Voter Engagement Program are definitely one of the most successful programs we work with. They show up consistently each semester with plans and almost always execute them. The students bring the creativity and the student perspective to voter engagement efforts, while the Office of Community of Community Engagement provides them the opportunity and structure to execute their plans and aids in their efforts. Overall, they work together to create programming that is targeting student voting engagement in a successful way." - Amber Wilt, The Campus Vote Project