Lessons in crisis: A student during Katrina, now a professor amid COVID-19
Carrie Dolan, kinesiology and health sciences professor at William & Mary, has a unique perspective on being a student during a crisis and having to leave campus behind.
In August 2005, she was a graduate student at Tulane University in New Orleans when Hurricane Katrina struck. She had to evacuate at a moment's notice and didn't know when she would return. 
"I think about that experience often now, in the midst of this crisis," she said. "I really feel for what my students are going through."
Dolan had been studying epidemiology at Tulane for about a year when the hurricane struck. She had just gotten back from a research trip in Guatemala when she saw the mayor on TV, calling for an evacuation. She and her husband packed a small bag and headed up to Houston to wait it out.
"We all thought it was going to roll over quickly, so we'd be back in a few days, but that didn't happen," she said. "And then the levees broke, and a few more weeks passed, and we realized we weren't going back for a while."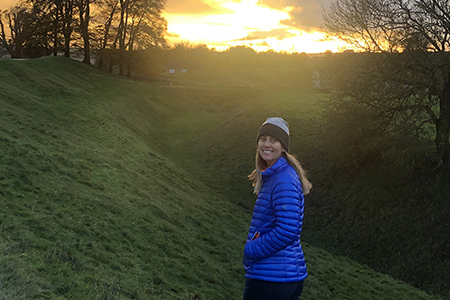 Much like her students, many of whom moved home after spring break without their belongings, she lived at home for a little while — "without my books, no computer, and no calculator, which was a big thing for me," she said. 
When it became clear Tulane would not reopen, Dolan enrolled at Johns Hopkins University in Baltimore, Maryland, to finish her graduate degree. Hopkins ran on a quarter system, not a semester system, and their courses were faster paced. It was a steep learning curve. 
At the same time, Dolan was trying to put her life in New Orleans back together — receiving phone calls from FEMA, following the ever-changing news, sorting out the financial implications of the disaster. It was sometimes hard to focus.
"I identify with the students and their level of stress, having to shift to a different way of learning and then be graded on that," she said.
With her own experiences in mind, Dolan created a strategy for teaching online during this crisis to mitigate some of the stress for her students. She simplified her syllabus to focus on a few key points in depth instead of broader content more quickly. Her class sessions are asynchronous so students can watch them when they are able, which is especially key for her students who are now in different time zones or don't have access to reliable internet.
It's been a stretch for her as well as her students to adapt to the new online-only model, but she is determined to focus on the advantages. Her epidemiology students are in the midst of a real-life case study of a pandemic, making their data immediately relevant. She is bringing experts into her virtual classroom via Zoom, and she said she will probably continue to use video elements as part of her in-person teaching because they have been successful.
She also sees ways William & Mary as a liberal arts university is in the perfect position to tackle interdisciplinary research into this public health crisis.
"This is pushing us all forward in ways that we never expected, I think. And I think that that can be perceived as negative or positive depending on how you want to approach it. And for me, we are pushed in a way that's positive," she said.
Through it all, she strives to be supportive and flexible, as her professors at Hopkins were during that stressful time. She knows how hard it is for her students, especially the seniors, to be thrust into a situation they didn't expect.
"I relate to what they are going through because I too had plans that I didn't get to do," she said. "I didn't have a graduation like I expected, where my family came and celebrated with me in New Orleans with Tulane's traditions. I had to say goodbye to all that."
Now, though, because of what they went through together, she feels closer to her Tulane community than ever before.
"We built a community, even though we were spread out all over the place," she said. "I never thought I'd find another community like that, where we all supported each other regardless of circumstance. But I've found it here at William & Mary."