That summer, Kevin, who grew up in northern Virginia, was struggling with an opioid use disorder.
Two years before, he had developed an addiction to painkillers while living in Los Angeles. OxyContin, a potent drug derived from chemicals in the opium poppy plant, was easy to find in his Venice Beach community. He used the pills to help deal with the stress and long hours that come with working in Hollywood. Then he became addicted.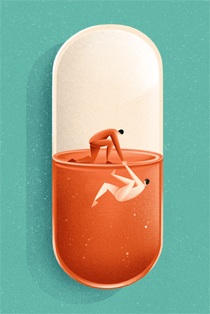 When Kevin realized he had a problem, he returned to his home in Mount Vernon, Virginia. His father, Don Flattery M.B.A. '77, did everything he could to support his son.
He helped Kevin get into a three-month inpatient substance use disorder detox program. He supported Kevin's follow-up treatment which involved taking the medication Suboxone, a key drug used in opioid addiction treatment that dampens cravings and helps people move into recovery.
Suboxone worked. Kevin, a 2010 graduate of the University of Virginia, got better and moved to New York City, where he had a job at an entertainment company. At the time, neither he, nor his father, fully understood how opioid addiction changes brain chemistry, making relapses almost inevitable. He stopped taking his Suboxone as prescribed.
"My wife and I were naive," says Flattery. "We thought this job in New York was great and would be a motivating factor to keep him on Suboxone and in recovery, but he manipulated his usage and ended up losing his job. We didn't understand that relapse is an integral part of addiction, and we wish we did."
Kevin returned home. He tried other addiction programs, including Narcotics Anonymous, a group support approach which emphasizes abstinence from all medications, including Suboxone. But over Labor Day weekend in 2014, Kevin died of an overdose, leaving behind his heartbroken parents and friends.
"People should have no illusions that opioid addiction could never happen to you or a loved one," Flattery says. "This epidemic respects no demographics, education or social standing."
To channel his grief around the untimely death of his son, Flattery became a parent advocate pushing for local, state and federal policy changes to ensure that others won't face the devastation of losing a child, sibling, parent or friend to a drug overdose.
He is one of seven William & Mary alumni, parents and faculty profiled in this article. They each have played a role in addressing the nation's most lethal public health crisis since the HIV/AIDS epidemic in the 1980s.
Fighting the opioid crisis is a multifaceted effort involving law enforcement, behavioral and medical treatment specialists and federal, state and local leaders who set public policy.
Between 1999 and 2018, drug overdoses killed more than 750,000 Americans. Overdoses surpass the number of U.S. military who lost their lives in all of World War I, World War II, Korea, Vietnam and the Persian Gulf wars.
"You cannot overstate the magnitude of the opioid crisis," says Ted Larsen, the emerging threats coordinator in the White House's Office of National Drug Control Policy and a parent to a member of W&M's Class of 2023.
Read the full story on the W&M Alumni Magazine website.