Academic advising at W&M connects the campus community
In December 2019, William & Mary's Office of Academic Advising received thrilling news. Associate Professor of English and Faculty Advisor Anya Lunden, who had been selected by the office as 2019 Advisor of the Year, was to be recognized by the National Academic Advising Association with the Region 2 Excellence in Advising – Faculty Advisor Award.
It was the first year the office had put a candidate forward for national recognition, said Shelly Laurenzo, associate director in the Office of Academic Advising.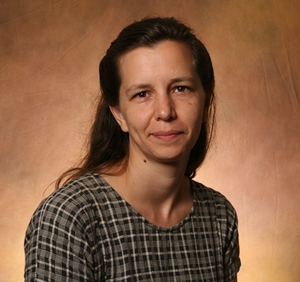 "We thought, 'Wouldn't it be cool if we put this forward? Let's just see what happens,'" she said. "The fact she won the first time we tried, it speaks to what we're doing here, how we support students from wherever we sit."
It's the spirit of supporting students, Laurenzo explained, that drives the department's work. The Office of Academic Advising, located on the first floor of Swem Library, sits at the heart of the campus network. Fulfilling a variety of roles, the office's staff of six administrators and professional advisors connects students to faculty, peers and offices that can best assist students in achieving their academic goals.
Elizabeth Harbron described the office as a kind of campus nucleus.
"It's a lot about connectivity," said Harbron, interim faculty director of academic advising and Floyd D. Gottwald Senior Professor of Chemistry. "I envision some kind of graphic where the advising office is in the middle and there are bubbles going out in every direction. There really are so many different constituencies in every end of campus that work to support students in different ways. I think the advising office does a really great job at connecting all those people through advising."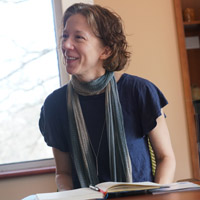 The office fills various campus roles, including matching faculty advisors to students, supporting peer advisors and providing personalized academic support. Because of the close-knit community at William & Mary and the small size of the campus, the advising office is able to provide extensive individualized support, Laurenzo said.
Sometimes, that individualized support extends to students who are dealing with unique academic challenges. This, Laurenzo explained, is the work she most appreciates.
"Some of the work I enjoy the most is working with students who might have been away from the college for a couple years for any number of reasons, and they just want to come back," she said. "Our office works together with all those other relationships we have around campus; we brainstorm and work with those colleagues to get a student to graduate, when they might not have thought that was possible."
What motivates the department, Laurenzo outlined, can be put simply: "It all goes back to the student experience."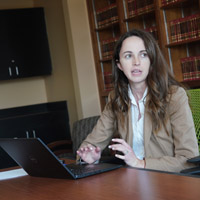 Harbron and Laurenzo agreed that the Office of Academic Advising reflects the character of William & Mary as an institution.
As William & Mary prioritizes a faculty that is committed to building relationships with students, the office is designed to match faculty to support students in a variety of capacities.
"In general, for the faculty that come to William & Mary, they come here because they're really invested in the student experience both in and outside the classroom," Laurenzo said.
As William & Mary places emphasis on the student perspective, the office employs feedback from students to enable advisors like Lunden to be nationally recognized.
"That's what we're looking at: What are students saying about their student experience?" Laurenzo went on.
As William & Mary's sense of community is at the center of the university's culture, the office actualizes the network and connections to make that community possible.
"Connection and community are related," said Harbron. "Without this office, we'd lose that greater community and that ability to connect across offices and across silos on campus."