W&M community gathers to remember Nate Evans
Nate Evans is remembered by those who knew him best for his love of art and music, contagious smile, fashion sense, passion for social justice, playful spirit — and, most of all, his heart.
"You inspired so much happiness, joy and lightheartedness," said Carl Fowler '21, one of Nate's William & Mary football teammates.  "You will live on as that person in our hearts because that's who you really were."
According to Norfolk Police, Evans, who attended William & Mary since 2017, was shot to death on March 21 in Norfolk. Police announced Tuesday they had arrested a suspect.
On Monday night, more than 1,500 people from the university community gathered in Kaplan Arena to remember Evans and comfort one another.
"Tonight, as we come together with his family, with his friends, with his team, with his community, we are all family," said Max Blalock, campus minister for the Wesley Foundation. "And we know that, together, we can find strength enough to hope, together, courage enough to grieve, together, and compassion enough to hold each other as we see one another through, together."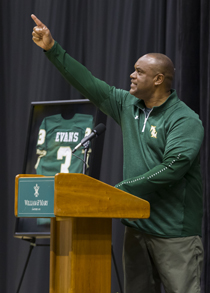 Pictures and videos of Evans from his football career at W&M played on a screen before the memorial, and his framed jersey — number 03 — stood next to the podium where several speakers shared their remembrances and heartache.
"Nate's life was vibrant and filled with promise, and we feel his loss so heavily because we know how much vitality and promise lay ahead," said W&M President Katherine A. Rowe. "So I want to say to you who feel that loss so keenly, know that you are not alone. We together will help you to shoulder it. We are one Tribe and one family always."
W&M Athletics Director Samantha Huge also encouraged the community to take care of each another.
"What we can do is sit with one another in our grief, hold each other and make sure no one is alone as we grieve the loss of Nate," she said.
Mike London, head football coach for W&M, said that Nate was a competitive person who wanted to bring out the best in everyone.
"He was an anyway guy. Anyway, despite what someone didn't have, what someone lacked, he gave of himself," said London, who then led the crowd in a call-and-response to Mother Teresa's poem "Anyway."
Fowler, who lived next to Evans when they both first arrived at W&M in the summer of 2017, shared multiple stories about his friend — about his mismatched clothes, his constant encouragement of others, his tendency to leave lights on, his love of tattoos and music.
"I know if the roles were reversed, Nate would be up here telling you some outrageous lies about stuff that I did, about how cool and how awesome I was," Fowler said. "His clothes wouldn't have matched, and he would have left the light on in the bathroom when he came here, but I don't have to lie because Nate was cool and awesome. He was kind and loving and big-hearted and he was so many other things. I'm blessed to have known him."
Another friend of Evans', Claudia Marie Sanchez-Beato Johnson, shared a letter she had written to him, thanking him for the positive effect he had on her life and that of so many others.
"You are wise beyond your years and truly changed all of our lives," she said. "You embodied love, Nate, every inch of you."
Members of Evans' family were in attendance at the event, and Stephanie Dulaney — mother of two W&M students and the W&M football "team mother" — shared a letter Evans' mother had written.
Evans was not only an accomplished football player, but he also competed in wrestling, baseball, Brazilian jujitsu. He brought his charm, opinions and passion to the classroom, she said, and teachers often reached out to her to say what a joy he was to have in class.
"It was just your way. It was your spirit and your energy," she said in the letter. "You felt things so deeply, on a level few people your age are capable of. You were strong in your convictions for social and racial justice and equality. You loved everyone and judged no one. You looked for the good in everyone."
Evans was also a devoted brother to his sister and a leader, on and off the field, while staying humble and being a friend to everyone.
"You were my world, Nate — my everything," Evans' mother said in the letter. "I felt like my world centered around you. I wouldn't change that for anything. Every smile, every hug, every debate, every conversation, I will hold onto forever. …
"You were such a bright light, Nate. I've never met a soul who spent time around you and wasn't caught up in your light. It was a special gift. Though the road ahead seems extremely dark without you, I will be looking for your light every minute of every day. Shine bright, baby. Light up the world like only you can. Mama loves you."