Lamar Shambley '10 helps Brooklyn teens study abroad
During his sophomore year at William & Mary, Lamar Shambley '10 became the first person in his family to leave the country, travelling to the Dominican Republic with other students on a medical service trip.

"Not only was it my first time travelling, but it was also my first time leveraging a skill — speaking and writing in Spanish — that I had been studying much of my academic career," Shambley said. "I helped translate for doctors, I met people in the community and talked about their access to clean water and if there were any medical issues occurring in their families."
From there Lamar's appetite to experience different cultures only grew, and the next year he studied abroad in Seville, Spain.
"That was the beginning of it all," he said.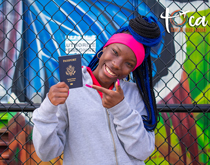 Shambley's trip was made possible through a scholarship and the study abroad opportunity it provided. Now, he has founded Teens of Color Abroad, a nonprofit that offers language immersion study abroad programs to high school students of color, to provide the same opportunities to others.

Teens of Color Abroad's pilot program launches in July of 2020, when it will bring 15 students from Brooklyn, New York, to Seville, Spain. In collaboration with Centro MundoLengua, the school that organizes all of William & Mary's study abroad programs in Spain, Teens of Color Abroad students will improve their language and cultural fluency through a combination of innovative classroom instruction, real-life interaction in homestays and a variety of cultural activities.

Some of the highlights of the program include paella cooking classes, salsa and flamenco dance lessons and visits to several famous landmarks, including the Seville Cathedral.

"The aim for the organization is to expose students of color to global languages and culture in order to enhance their language learning experience, increase their educational outcomes and strengthen their global competency skills," he said.

After the pilot program, Shambley plans to bring in more students. He even hopes to expand the program beyond the New York City skyline.

"I've had people reach out to me from a few different places who heard about the program," he said. "They're really excited to bring this type of programming to their areas, especially rural and suburban areas."
While Lamar was able to study abroad twice in college, many students from similar backgrounds don't have the opportunity. During the 2016-17 school year, according to the Open Doors Report published by the Institute of International Education, only six percent of all of the U.S. college students who studied abroad were black.
A source of inspiration
While at W&M, Shambley taught math with Breakthrough Collaborative in Miami during the summers and mentored young students in local Williamsburg schools through his fraternity.
"Those experiences cemented in my head the impact of developing mentorships and how important it is for young black students to see black educators and what that could do for their educational experience," he said. "After that I knew that I wanted to have the same kind of impact back home in Brooklyn."
Upon graduation Shambley went on to teach math in his hometown of Brooklyn, New York, for five years.

"Teaching math was a step away from what I focused on in college," he said, "but after five years those experiences I had at W&M and abroad were still inside of me and I found a way to reconnect with them by becoming a high school Spanish teacher."

As a high school Spanish teacher, Shambley began to notice similar frustrations in his students that he had experienced when he was in high school.

"I started to meet kids who came from my same background and who wanted a chance to see the world and explore it with language in a way that I wanted to so badly when I was in high school," he said. "Many of my students expressed that they wanted more in-depth practice with speaking Spanish. They felt that Spanish class one hour a day wasn't enough and they wanted more real-time language practice."

To address the racial disparity and his students' frustrations, Lamar founded Teens of Color Abroad.
An opportunity arises
Shambley's first experience abroad in the Dominican Republic was made possible through a scholarship and financial aid.

"I expressed to the SOMOS advisor that I didn't have a passport, that no one in my immediate family had gone out of the country and I didn't even know where to begin, especially in regards to cost," Lamar recalled.
David Aday, the SOMOS faculty advisor, addressed Lamar's concerns and helped him access financial aid and scholarships that allowed him to travel to the Dominican Republic. Encouraged by his experiences in the Dominican Republic and the help he received to make them happen, Lamar elicited the services of the Reves Center to study abroad. The Reves Center helped him find ways to fund his study abroad in Spain, including the Zachary James Vaughan Memorial Scholarship.

The scholarship was established by the family and friends of Zachary Vaughan, who passed away while at W&M in 2006. His mother, Barbara Vaughan, says the outpouring of love and support she and her husband received from W&M students encouraged them to move forward with the scholarship.

"It was the whole community that made us feel like this was something we really wanted to do, that we wanted Zach's legacy to live on," Vaughan said.

As the son of a career Air Force Non-Commissioned Officer (NCO), Zach knew the impact living abroad among other cultures could have on a person. Zach immersed himself into the cultures and languages of the various countries in Asia and Europe his family was stationed in, genuinely enjoying the relationships he built with the people he met along the way.

"One of the things that Zach spoke to me about," Vaughan said, "was how a lot of the people he met didn't have the opportunity or the financial means to study abroad or, if they were able to study abroad, didn't have the financial capability to really enjoy their time there."

The scholarship provides one student the opportunity to study abroad and experience a different culture like Zach did.

"He loved people from different walks of life with their different views and interests," Vaughan explained. "It made him feel like he understood people more and he wanted everyone to experience that same passion."

Shambley said that studying abroad changed his life.

"Those experiences," he said, "really transformed my views on the world and where I see myself in the world, and I don't know if I would have had these types of ideas if I hadn't had those opportunities."

Shambley also recognizes the role the Zachary James Vaughan Memorial Scholarship played in changing his life.

"Just realizing the kindness and the help that I received that launched me into those spaces, I knew I wanted to pay it forward," he explained. "I would love to let Zach's family know that, even years after I studied abroad, what they did for me is still impacting my life and how it inspired me to continue passing on those opportunities to kids who look like me and come from my same background."

"I can't express how much it means to me that Lamar has taken it to this step," says Zachary's mother. "Zach felt every drop of life is precious and people should make it count, make it true, make it worth doing, make it worth remembering and make it magical. He wanted to make a difference in peoples' lives." It is clear that Zachary Vaughan made the lives of those around him better and his legacy profoundly impacted Lamar Shambley's life.

Furthermore, his legacy will affect the lives of many high school students for years to come through Shambley and Teens of Color Abroad.

As he is on the verge of launching the first of many Teens of Color Abroad programs, Shambley is grateful for all the help he received from his alma mater.

"I don't think Teens of Color Abroad would have happened without William & Mary," he said, "and I think it's coming together in a way that would make W&M proud."