Family Weekend: Bringing one home to another
Last weekend, parents and other family members of William & Mary students traipsed the university's brick paths, proudly wearing green buttons with yellow class years. Their presence brought a new energy to the university's classes, concerts and more, as they blended into the landscape of campus life.
From Oct. 4-6, William & Mary held its annual Family Weekend, in which students' parents, siblings and other relatives were invited to witness and participate in student life at the university. The weekend's events enabled families to experience the best of W&M's academic, athletic and social activities as they attended everything from open lectures to recreational boating on Lake Matoaka.
For some families, investigation of William & Mary's opportunities took them to Trinkle Hall's Study Abroad Fair on Oct. 5, where student volunteers in green shirts that read, "I studied abroad – ask me where!" recounted their experiences.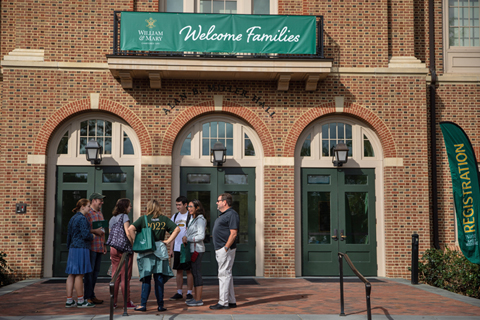 Maggie Aschmeyer '20, an English and music major, was enthusiastic to reminisce on her time in the advanced studies in England program. The Study Abroad Fair, she explained, was especially enjoyable for its unique lens into the dynamics of family life.
"The best part is when you see parents that are clearly much more excited about this than their kids," she said, laughing. "The parents are like, 'Yes, yes! Give me all the things!'"
For Tessa Payer '20, a major in history and theatre, advising students and families as a volunteer was a nostalgic and meaningful experience.
"It's been really cool to see parents with these stacks of flyers for study abroad because my mom was the same way when we came," she said. "Being a senior, I like seeing how freshmen are going through the same steps that I did. Giving them advice is really special for me."
As she was volunteering, Payer's family was engaging in various campus activities. Because Payer is a senior, her family members were making the most of their limited time observing student life on campus.
"My parents have been trying to get everything in for the last year," she said. "My dad went and took an 8 a.m. class this morning — which is wild. I wouldn't take an 8 a.m. class. Why is my father doing that?"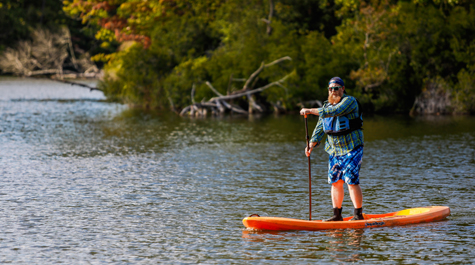 Payer also expressed her appreciation for the opportunity to spend time with her parents, who arrived to see her in William & Mary Theatre's production of "Sense & Sensibility." Having the show on Family Weekend, she said, allowed her to witness "the community come together."
What's more, Payer reveled at the opportunity to reflect on the performance with her family in the hotel room, as her parents balanced their 8 a.m. courses with late-night, post-show Wawa runs.
Other parents began their exploration of William & Mary's academic life at Saturday's All-Scholars Get-Together, where families of Monroe, 1693, Sharpe and WMSURE scholars learned more about the student experience in those programs. Students and families roamed Blow 201 with hors d'oeuvres in hand and thoughtful questions in mind, prepped to connect with scholars and their families about special academic and research opportunities at the university.
For Tristan Andrews '22, the event gave her practice presenting and reflecting on her Monroe research, which explored the implications of food and housing insecurities for ex-felons.
"Presenting to parents was very interesting because they had a lot of different questions, takes and inputs," she said. "Since my research was based on legislation, they had a lot of input on how things might get fixed and what I should do next."
The family of Meg Jones '22, who studies government and Latin American studies, found this research-oriented event particularly interesting. Her mother, Annie Jones, expressed having enjoyed the community events — such as the Colonial Williamsburg Farmer's Market and "An Occasion for the Arts" Art Fair — but also the events that highlighted the intellect of William & Mary students, which she remarked is "very impressive."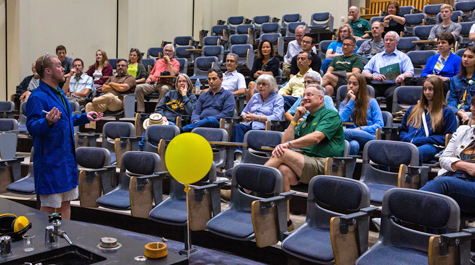 Other families' exploration of community events took them farther off campus to the Beers & Cheers event with the Virginia Beer Company. Student of psychology and marketing Joey Cronin '20 invited his family to spend the afternoon eating macaroni grilled cheese, drinking beer and reflecting on his time at the university.
His family was especially excited to attend the Virginia Beer Company's event because of their close connection to the founder, William & Mary alumnus Robert Wiley '05. 
"We came to the Virginia Beer Company because of Rob Wiley. He used to wrestle for my dad in high school," said Rachel Cronin, older sister of Joey Cronin.
"It's a William & Mary massive success story!" added Joey Cronin's mom, MK Cronin, as she described Wiley's decision to start the business with his former college roommate.
For the Cronin family, Family Weekend was about more visiting their family friends, however; it was about experiencing and celebrating Joey Cronin's experience at William & Mary.
"As a senior and a transfer student, you don't get that many years here at this school," said Joey Cronin. "I wanted to make sure my family got to experience a real Family Weekend at William & Mary. It's fun to be able to host and show my family all the things I do every day that they only hear about in stories."
Rachel Cronin echoed her brother's sentiment, adding that the reality meets her expectations.
"The buildings really are that pretty. The walks really are that nice," she said.
She also emphasized the tangible feeling of community she observed throughout the weekend, adding,
"I like the fact that you walk around and you see the buttons that tell us we're all part of the same family."