Art students learn to see scale through makerspace microscope
William & Mary art students studying scale got to see every aspect of tiny objects writ large as they learned to use the scanning electron microscope in the Small Hall Makerspace.
The idea was to focus on the magnification of very small items for comparison of scale and form, according to Professor of Art and Art History Elizabeth Mead.
Students in her class Three-dimensional Design: Form and Space visited the makerspace as one of many lessons this semester as they work with a variety of media. It's all brand new, Mead said, as faculty members explore ways to integrate various available makerspace equipment into their lesson plans.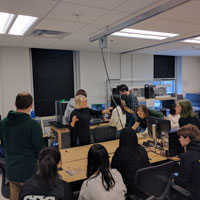 W&M Makerspace Director Jonathan Frey was conducting a faculty tour when he introduced Mead to the microscope, which she later returned to get trained on.
"I thought oh my gosh, this could really fix this problem I have with introducing scale in this class," Mead said. "Because the room in Andrews Hall where this course is taught is really limited. It's a really tight space upstairs, and it doesn't lend itself really to working on a large scale.
 "And so using the electron microscope gave me this idea that we could take something that was virtually un-seeable with the eye and just make it gigantic. So still dealing with this idea of enormous, but without having to make something physically enormous. I'm also interested in finding ways to incorporate the makerspace into my classes so that rather than being driven by the technology, it's driven by what it is you want to get."
Frey showed Mead's students how to use the microscope during a February visit to the physics department in Small Hall.
"There is an art to this," Frey told the students, as he began to explain the microscope's operation.
The microscope's top magnification capability is 24,000x, which Frey said is about the size of a white blood cell. The class brought a number of small items, including a penny, a dried raspberry and a single staple. They settled on four items to go into the SEM — a peppercorn, a flake of soap, an augur shell and a Cheerio.
"You're constantly fighting with focus," Frey said.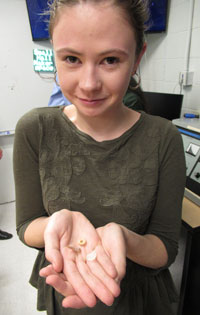 He demonstrated prep-operation with an insect part, which he described as an old and decayed specimen.
"When you mount on a new bug, it's pretty interesting," Frey said. "They have all these fascinating articulated structures."
It's exactly that issue of scale, and the level of detail that can be seen on tiny objects through the microscope, that Mead wanted students to see. Not only the differences in size, but the relationship to where you are in proximity to the item.
"Scale is really elusive," Mead said. "It's really hard to talk about because it's not really straightforward. … It's this other presence that things have that go beyond just simply the materiality."
Most of the students in her class aren't art majors, and have their own frames of reference.
Andrew Rapp '21 said it was his first experience with that type of microscope.
"I don't know if or when I would ever use it again, but it was really cool learning about how to use it and how it works," Rapp said. "And then when we looked at a lot of stuff in the micro-scale, I thought it was really interesting just seeing the detail and everything."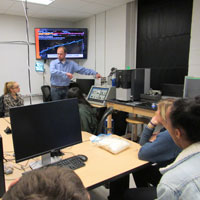 Christina McBride '20 is an English major who said she never goes into Small Hall.
"I don't know if I'll use it out of this class, but it was definitely a good experience because I think it's important to know all the different resources you have on campus, especially for older students who are going to leave soon," she said.
"I thought it was very helpful. I think using things across disciplines is kind of exciting."
Conversely Maya Leyden '20 is a physics major who has classes in Small all the time, but said she was always wondering what the microscope was.
"So I actually learned about it and how to use it through this class, which was interesting because I'm in that room every day," Leyden said. "I thought it was cool how I learned within an art perspective. I would want to use it again."
Availability is exactly what Frey is promoting with the different makerspaces around campus.
"The role of a properly designed makerspace is to bridge the gap of accessibility to tools of the modern age, that is, tools that are now commonplace though due to excessive cost or the necessity of high level knowledge resources are unavailable to most people," Frey said.
Joseph McClain contributed to this report.