VIMS dedicates new building
Provides modern space for existing programs, honors Foundation donors
William & Mary's Virginia Institute of Marine Science dedicated a new building — Davis Hall — April 13 to centralize and upgrade research and office space for people in a number of existing programs. It is the first LEED-certified building on VIMS' Gloucester Point campus.
Relocating to the 32,000 square-foot facility are faculty and staff with VIMS' Center for Coastal Resources Management (CCRM), Information Technology and Network Services (ITNS), Marine Advisory Services, News & Media Services and Virginia Sea Grant.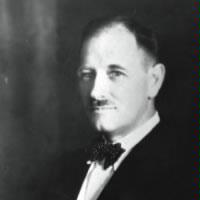 The building's name honors the institute's "Founding Father," William & Mary Biology Professor Donald W. Davis, who envisioned the need for a state-sanctioned marine lab in a 1930 article in Science magazine. His vision took form in 1940 when VIMS' forerunner, the Virginia Fisheries Laboratory, opened in Yorktown. VIMS moved to its current location in Gloucester Point in 1950, and W&M's School of Marine Science opened at the same location in 1961.
VIMS Dean & Director John Wells recognized the building's namesake in his dedication remarks. Said Wells, "Dr. Davis was truly Virginia's first champion of marine science. As early as 1925 he envisioned a state institute that would conduct original research, help improve shellfish industry practices, train marine biologists, and provide unbiased science to decision makers in the Commonwealth."
W&M President Taylor Reveley added, "VIMS has become one of the leading marine institutes in the world. Along the way it has stayed true to the original three-fold mission on which Dr. Davis launched it so many years ago: research, teaching, and advisory service. With this hall, VIMS now does what it is always seemly to do. It pays homage to its founder and names an important building on the Gloucester campus of William & Mary in his honor and memory."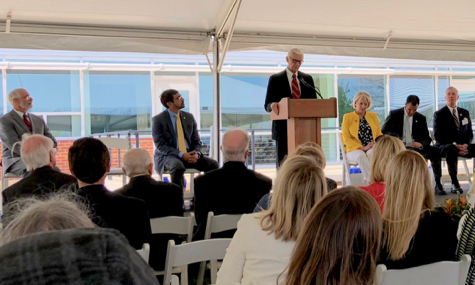 Joining Wells and Reveley as dedication speakers were Virginia Secretary of Education Atif Qarni, Sue Gerdelman from the W&M Board of Visitors, Virginia Secretary of Natural Resources Matthew Strickler, and VIMS Foundation President Stephen Johnsen. Qarni stressed the importance of STEAM education and lauded VIMS' role in lifelong learning, while Gerdelman expressed how her childhood experiences on the shores of Chesapeake Bay have given her a lifelong love for Virginia's natural resources and a deep appreciation for VIMS' role in sustaining them for future generations. Strickler, a W&M alumnus, discussed the importance of science in policymaking and the important role VIMS plays in educating future leaders. Johnsen declared Davis Hall officially open for business.
Owens-Bryant Board Room
In addition to purpose-built lab and office space, Davis Hall features a state-of-the-art conference room named in honor of two long-time VIMS supporters, Carroll Owens and Arthur Bryant.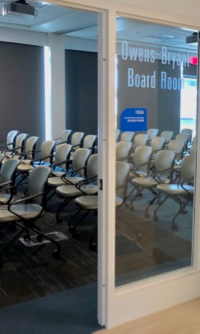 Johnsen says, "Through the dedication of the Owens-Bryant Board Room we honor two friends who have had a tremendous impact on VIMS. Carroll and Arthur held volunteer leadership positions where they provided counsel and strategic vision to the campus, and they were also extremely generous donors. Their legacy will long be remembered by future boards who will serve in this incredible space."
The Owens-Bryant Board Room provides space for VIMS researchers and advisory service staff to meet with stakeholders, including local and state agency staff, Wetlands Boards, non-governmental organizations, private consultants and contractors, and citizen scientists.
Meeting a clear need
Joseph Martinez, chief operations officer at VIMS, says the need for the new building was clear, and clearly recognized by the General Assembly when it provided $13 million in planning and construction funding during the 2012-14 biennium. The total cost of the project was $14.4 M.
"Staff with CCRM and Marine Advisory Services were scattered across our campus," says Martinez, "and their facilities, as well as those occupied by News & Media Services and several other units, were in poor condition, energy inefficient and handicap inaccessible." The previous facilities included several built as single-family dwellings, a pair of trailers and an old bank.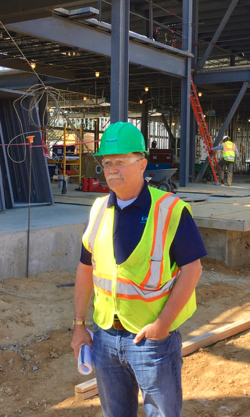 The new building was designed to transcend these and other limitations.
"Davis Hall will be the first LEED Gold-certified building on our campus," says Martinez. LEED — for Leadership in Energy and Environmental Design — is a rating system used worldwide to encourage improvements and sustainability in building design, construction, operation, and maintenance.
LEED — developed by the non-profit U.S. Green Building Council — scores facilities across 5 key areas of environmental and human health: energy efficiency, indoor environmental quality, materials selection, sustainable site development and water savings. Davis Hall achieved a Gold certification status, meaning it was awarded between 60-79 points. The highest LEED rating is Platinum, for buildings with a score above 80.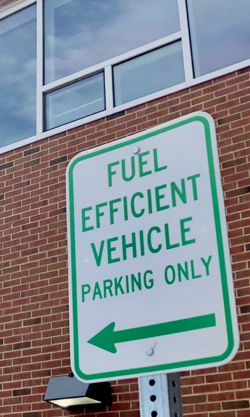 According to Mark Brabham, director of Facilities Management at VIMS, features that contribute to the building's Gold certification include natural and high-efficiency LED lighting, low-flow toilets and sinks, a highly efficient HVAC system, architectural sunshades, use of recycled content within building materials, tracking of recycled construction waste, bike racks and environmentally friendly landscaping that uses native plants, rain gardens and other techniques to minimize run-off and provide habitat for birds and other wildlife.
Davis Hall was designed by Moseley Architects of Virginia Beach. The building contractor was Barton Mallow of Richmond.
Purpose-built for advisory service
Three of Davis Hall's new tenants — CCRM, Marine Advisory Services, and Virginia Sea Grant — form the core of VIMS' advisory and outreach education activities. The other new tenants — ITNS and News & Media Services — provide essential administrative support for their new Davis Hall neighbors as well as other units across campus.
When asked about the advantages of moving into the new facility, CCRM Director Carlton Hershner said, "This will represent the first time in 30 years our entire staff will be housed together in a real building, something that can only be good for productivity."
Among many other research, advisory, and educational activities, CCRM provides the technical support required under Virginia law for managing the Commonwealth's tidal and non-tidal wetlands. 
CCRM also operates the shoreline inventory program. Authorized by the General Assembly, researchers in this program regularly update condition maps for all 7,213 miles of Virginia's Chesapeake Bay shoreline.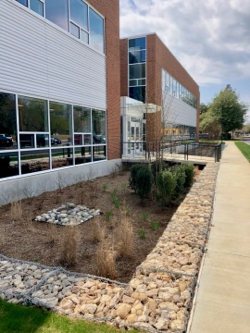 David Rudders, interim director of Marine Advisory Services, also lauds the benefits of a centralized staff. "We're excited for the upcoming move," he says. "This transition will allow our staff to work in the same location, allowing for greater synergy and collaboration both within our group and with colleagues also stationed in Davis Hall."
MAS provides research and research-based advice to commercial fishing and aquaculture industries in Virginia and along the East Coast, as well as a wide variety of curriculum support to primary and secondary schools throughout the Commonwealth.
Troy Hartley, director of the Virginia Sea Grant program at VIMS, notes the move's historical resonance.
"When we came to VIMS in 2007," he says, "we moved into the original state building on campus, Maury Hall. While it's been a wonderful and eclectic home, embedded in the deep history of VIMS, Davis Hall is where we'll make all tomorrow's history."
Hartley says VASG "will use our new collaborative work space to integrate research, extension, education, and communication in order to better serve our Commonwealth stakeholders, and to train the next generation of coastal and marine science and policy leaders."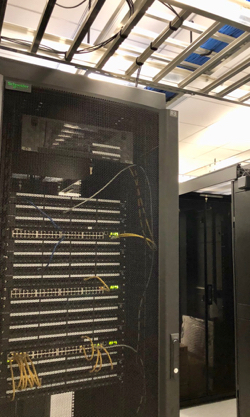 Gary Anderson, ITNS CIO and director, says, "Our newly designed workspaces in Davis Hall will enable us to more quickly and efficiently handle customer requests for computing and networking services. We're also excited about the new modern Data Center in Davis, with dedicated cooling and generator power providing reliable, uninterrupted service 24-7." These guaranteed networking services are increasingly important as VIMS researchers offer a growing suite of real-time modeling and forecasting products.
David Malmquist, News & Media director, shares the other unit directors' enthusiasm. 'We're excited to be moving into our new space," he says, "as it will allow us to more efficiently handle the Institute's bulk printing needs and offers a purpose-built media studio for video production and broadcast interviews."