Scull session: W&M women win a national club title
There was every reason to believe that William & Mary's 2k women's team of Erin Biesecker and Abby Williams wouldn't be much of a factor in the recent American Collegiate Rowing Association's club nationals in Georgia.
Instead, they made the Memorial Day regatta memorable in a whole different sense with a remarkable performance. Their coach, Graham Ludmer, had a similarly gratifying experience.
Biesecker '19 and Williams '18 won the championship in the 2k event, shocking teams that had fared better than they had in the trials and semifinals.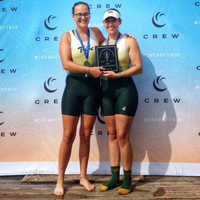 Ludmer, meanwhile, was named the Mid-Atlantic coach of the year, an honor he learned in a most unusual manner.
What made the performance of Biesecker and Williams so satisfying was they had practiced together for all of three weeks leading to the event. In addition, "sculling," where contestants have one oar in each hand as opposed to one larger oar, was somewhat foreign to Williams. Finally, the race was being staged on the 1996 Olympic course outside Atlanta.
However, reason had nothing to do with the final results, as the W&M women clearly warmed to the task.
In the time trials, they finished second to Pitt by eight seconds, but still advanced to the first semifinals. There, they finished third behind Grand Valley and Clemson, and 21 seconds behind second semifinal winner Pitt.
But in the final, Williams and Biesecker beat them all, finishing the 2k race (1.24 miles) in 8:07.144, about three seconds in front of Pitt.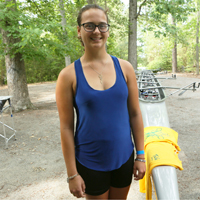 "I couldn't believe it when we crossed the line," Biesecker exclaimed. "I never really believed that we had the power to overtake everyone else in the race."
Williams said that she "was in shock."
"Then I felt the exhaustion and was just so happy," added Williams, who received a degree from the department of
Kinesiology and Health Sciences
and minored in
psychological sciences
. "Since this was my first race in a sculling boat, I had no idea how we would do or if we would be competitive. But it was a great last race and an exciting way to finish out my collegiate rowing career."
In some respects, the teammates couldn't be more different. Williams was a swimmer in high school, and never heard of rowing until coming to W&M. Biesecker started rowing as a freshman in high school.
But both suffered injuries that took them away from traditional sweep rowing into sculling. Biesecker rehabbed a back injury by learning how to scull as a single on the Potomac River. Williams never consistently practiced sculling until three weeks before going to Georgia.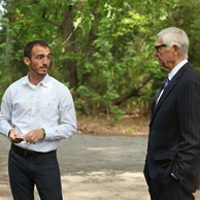 "Both of these women are extremely talented athletes, and know how to push themselves on the water," Ludmer said, when asked what "magic" he'd performed to receive this type of performance. "I wouldn't say I did anything special. I led them through all the same workouts as the other boats, and it was their drive and competitiveness that helped push them to achieve."
Ludmer helped the women with some technical things, adjusting their oar lengths and their shoe positions. He helped them find a "flow" together and to establish a rhythm, both of which made them improve technically.
As for his coach-of-the-year honor, Ludmer was catching up with his counterpart at the University of Georgia at the start of the regatta when his friend offered congratulations.
Ludmer asked why, and then was told he'd been nominated for the award.
In the end, it all worked out for the best for Ludmer and the women's 2k team. Each received a memento that is theirs to keep. In addition, the Tack boathouse will soon sport an addition to its medals shelf, a championship plaque.