Obasanjo's book more than a memoir
Iyabo Obasanjo watched in shock and terror as gunmen pumped bullet after bullet into an automobile following behind the car in which she was a passenger. Five people, two of them children, were killed.
The vehicle under attack belonged to her. But for a last-second switch so that Obasanjo could continue a conversation with a friend named Bisola, it would have been carrying her to celebrate her father's 2003 election as president of Nigeria.
"As we (escaped), all of us were filled with horror," she wrote. "What had happened to Bisola's children and the three others in the car, and who would want to be shooting at my car?"
Her second question was never answered.
While that is the most dramatic episode recounted in Obasanjo's memoir, African President's Daughter, detailing murderous political skullduggery was hardly the reason for Obasanjo's book.
An assistant professor in William & Mary's department of kinesiology and health sciences, Obasanjo's motives cross several borders.
"There aren't enough contemporary African stories out there in which Africans talk about their lives and experiences," she said. "As an African upper middle class-born person, I feel the image of everything that comes out of Africa is poverty and disease. There needs to be stories — of bad people, good people — just like any contemporary story from any other part of the world."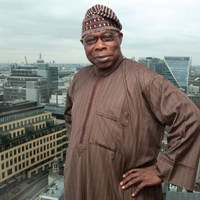 Despite the lingering shock of the assassination attempt, Obasanjo left a job in the United States to become commissioner of health in Ogun State, her state of origin in Nigeria. Corruption was rampant. Contracts were awarded solely to cronies of the governor, who she wrote received kickbacks.
"It soon became clear that I had been naïve and my expectations totally misguided," she wrote. "The whole of the government was to prop up the governor.
"Later, some of the governor's former aides documented his atrocities, asserting that he had killed a number of people."
But she never lost her focus on improving health care for women and children, and in 2007 Obasanjo was elected a senator. She was one of eight women among the 109 members.
"If you want to go into politics, health is a good way to start," she said. "Health care makes you look at someone as a person. You interact with human beings. If you are a good people person, you help them, and when you help them, people appreciate it.
"You can be an engineer and build things but never meet people. When I was doing health, people were lining up to see me because they wanted to go to this hospital or that hospital, or they didn't have money, or their child was ill. So I was interacting with a lot of women's groups. Someone suggested that I (run for senate), and I said, 'Fine, it's low-hanging fruit. I'm here and basically helping people.' That's what politics is all about."
Obasanjo uses her relationship with her typist to illustrate her theory on the flaws in international development. The man had seven children and when asked why, he answered that he "never expected conditions in Nigeria to become so bad."
"The expectation I had of him was the same I had for myself and any other human being — to plan ahead and procreate with their personal income and possibilities in mind," she wrote. "But I found that most staff members working for NGOs in developing countries had a different expectation for these locals. They were poor, so they held them to a lower standard."
This, she wrote, became a de facto double standard, undermining their capacity to make better choices.
"A lot of things people do in international development don't work because they don't understand the people they are trying to help," she said. "You can't help people if you don't understand them, and I'm hoping one of the things the books does is make people try to be in partnership with people who understand their society."
Obasanjo serves on the board of the United States Committee for UN Women and speaks around the world on women's health, reproductive issues and leadership. That experience colors one of the other strong messages in her book: Women need to be in more positions of power.
"When women are in leadership, they tend to work on health and education," she said. "When women are in leadership positions in those two sectors, they tend to make a difference more in health than even education. When women are in leadership, health care improves. You expedite health improvement if you put women in charge of health.
"That's one of the questions I'm trying to answer. Can you make a leap in development in poor countries, like African countries, by putting women in key leadership positions affecting human development? I would hope so."