Live from W&M: CNN hosts town hall with James B. Comey '82
The stage of Phi Beta Kappa Hall was transformed last night into a national broadcast studio as CNN hosted a town hall meeting with former FBI director and William & Mary alumnus James B. Comey '82, LL.D. '08.
Sponsored by the W&M Student Assembly, the event was moderated by CNN anchor Anderson Cooper and broadcast live on CNN nationally and internationally. In addition, throughout the day, CNN anchors broadcast live from campus with W&M's iconic Sir Christopher Wren Building in the background.
"CNN couldn't have asked for more gracious partners than the William & Mary Student Assembly and administration," said Mark Preston, executive director of political programming. "Historians will look back on this town hall as a moment that  former FBI Director James Comey sought to explain his side of the story under sharp questioning from the William & Mary community as President Trump watched it live from the White House."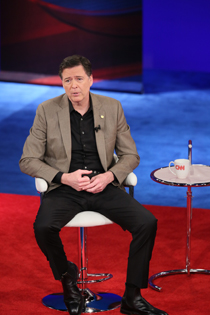 Although Comey has appeared on other news outlets since the recent release of his book, last night's broadcast was the first time he answered questions from members of the public, all of them William & Mary students, faculty and staff.
"As the Alma Mater of the Nation, we have a 326-year-long tradition of engaging in the major issues of the day, as well as creating global citizens who have a strong ability and desire to contribute intellectually and passionately to those issues," said Student Assembly President Brendan Boylan in introducing the event. "Our very own James Comey, an alum of the Class of 1982, represents the confluence of idealist public service and the vices of national politics. He has become one of the most talked about figures in the country, facing the ire of both ends of the political spectrum, and the president himself."
Approximately 650 people attended the event, with the vast majority of attendees W&M students who received tickets through a lottery system administered by CNN. W&M faculty and staff were also in attendance as well as some community members.

Those who did receive tickets to the town hall were invited to submit questions before the show. Those selected to ask questions included two graduate students, 16 undergraduates, two staff members and a faculty member.
"We've done a lot of town halls," said Cooper before the program. "These are some of the best questions we've had."
Questions from the audience
Graduate student Zachary Smith asked Comey the first question of the evening: Is U.S. President Donald Trump fit to lead the U.S. Armed Forces? After the show, Smith said that the CNN producers did an amazing job of working with the people who were selected to ask questions. He added that the network asked him to sign off at multiple points that the question he submitted was not altered and was his own.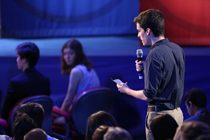 "The staff was great and incredibly helpful," he said, adding he thought the overall event was a success and a great opportunity for the university community.
"It was inspiring to hear a divisive leader in our country speak sincerely about the values he holds and the picture of America he's worried about," Smith said. "I'm happy the student assembly and CNN were able to organize this event to give the William & Mary community a voice given the rough political times."
The other questions ranged from Comey's controversial actions in the lead up to the 2016 presidential election and ethics to gun law reform and his future plans. Early in the town hall, Cooper followed up to a student question by pressing Comey about whether he should be considered a "leaker" for sharing his memos about interactions with Trump. The president often uses the term when referring to Comey.
"Is it OK for somebody at the FBI to leak something, an internal document, even if it's not classified? Isn't that leaking?" Cooper asked.
The former FBI director emphasized that he shared the memos as a private citizen and after he was fired. "I think of a leak as an unauthorized disclosure of classified information," he said.
"Really? That's it?" Cooper asked.
"That's how I thought of it as FBI director," he said. "We investigated leaks. Unauthorized disclosures."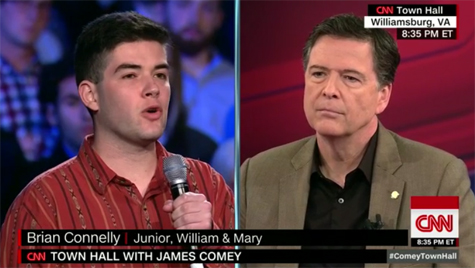 Director of IT Support Michael Murphy asked Comey how the average American is supposed to determine what is fact and what is fiction in what Comey and the Trump administration have to say.
"In terms of trying to determine what's true, draw on as many sources as possible and evaluate track record, consistency, take everything with a grain of salt," said Comey. "That's what you learn at William & Mary: Love everyone; trust no one. Understand biases, cross-examine yourself, find other pieces of information, crash it all together to make your best judgment but always make that judgment knowing I could be wrong."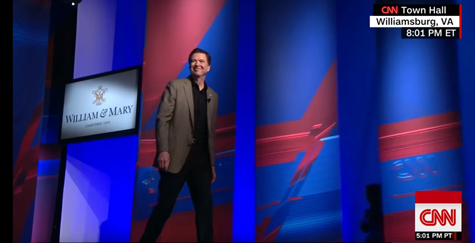 Several times throughout the event, Comey, who was a chemistry and religion major at W&M, referenced his experiences at the university, including when he joined in on bullying a fellow student even though he had been bullied as a youth. Forty years later, Comey said that he is still ashamed of that but that it taught him much about himself and people in groups.
During commercial breaks, Comey also answered questions that were shouted out from audience members, including what his favorite spot on campus is (a tree near the Wren where he took his now-wife on dates) and whether he knows what a TWAMP is. Upon finding out that it stands for "Typical William & Mary Person," Comey said, "You know what's cool about this place? There isn't one."
Another person asked Comey what his favorite class was at W&M. Cooper repeated the question when the show came back on the air, and Comey replied that it was one that was simply called Death. Taught by W&M Professor Emeritus of Religious Studies Hans O. Tiefel, who retired in 2005 but still regularly attends campus events, the class changed the course of Comey's studies and has had a lasting impact on his life, he said.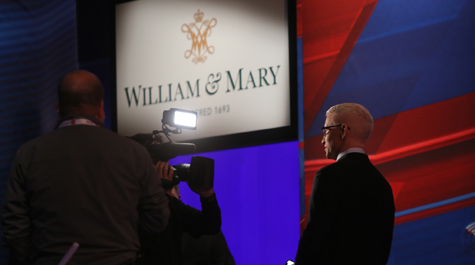 In response to a question from Elizabeth Peteraf '21 about what he'd say to young people who are just getting into politics during this divisive time in the country's history, Comey encouraged her to not withdraw.
"We need your voices," he said. "We need your minds. We need your hearts. We need your passion. You are what's going to grow in the wake of this forest fire. Again, whether you are a Republican or a Democract, don't just vote. Get involved in the conversations to make sure the values of this country are preserved and protected."
Other opportunities for students
In addition to the Student Assembly, multiple departments and offices at W&M helped prepared campus for the nationally broadcast event, and several students had the opportunity to intern with CNN during their time on campus, helping to set up the venue and assist the crew.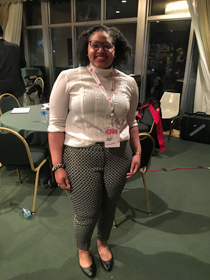 Emily Cuello '18 served as a "runner" for the production team, helping with rehearsals.
"It was incredible experience," she said. "I learned a lot! It was amazing to see all the moving parts and all the hard work it takes to put on a production to this scale. Nothing is left up to chance, everything is carefully crafted and rehearsed."
Silvana Smith '18 also enjoyed the experience.
"It was amazing to see how a live production is produced and to meet the director and the rest of the crew," said Smith. "Everyone was super nice and didn't mind answering our questions; they even took us on a tour of their production unit truck where all the editing happens."
Alijah Webb '20 said that it can be easy to get disillusioned by the culture of television networks.
"I had imagined the experience to be extremely high stress and difficult to navigate, but all of the adults who were there were so kind and friendly," she said. "It was so great being able to see all of the hard work and effort that went into creating the live broadcast. I had no idea that there were so many moving parts. The experience helped me humanize TV a little bit more which was really nice."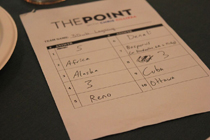 While a lottery system run by CNN determined which students, faculty and staff members were awarded tickets to the main event, others watched the town hall in a viewing party held in the Chesapeake Rooms of the Sadler Center. Prior to that event and in the same space, CNN politics reporter and editor-at-large Chris Cillizza hosted a political trivia game where teams competed for prizes.
Around 100 people, mostly students, attended the watch party. Although they were disappointed not to get tickets to the PBK event, Hannah Malowitz '19 and Hailey Ulrich '20 were happy they had an opportunity to watch the broadcast with other members of the campus community.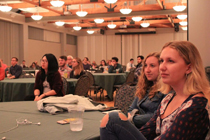 "As a student of public policy, I'm looking for this to be an example of how people stay civil while discussing hard topics," said Malowitz. "This is an important model for not only our campus, but for our country as a whole."
Ulrich said she was watching to see if the setting would allow Comey to speak more candidly than he had before.
"It's such an exciting atmosphere around campus," she said. "This whole event is bringing William & Mary into the public eye. It shows that William & Mary students can handle challenging discourse. They can debate over controversy, debate over policy, which says a lot about the students." 
Student reaction

Following the town hall at PBK, Ingrid Braun '19 remarked on how impressive she thought the event had been. Braun, who grew up in the suburbs of Washington, D.C., and interned on Capitol Hill, said that she thought it was great that the event was held at W&M and that Comey tied some of his answers back to his alma mater.
"Being a Republican especially in this time is really controversial, and so I really wanted to see what he had to say and his perspective of everything," she said. "And at the root of it, he just wants everyone to know what's really going on."
Raei Tesfazghi '19 saw the town hall as a good way to gain insight into Comey's thoughts and actions while he was director of the FBI.
"I also was very proud of the fact that W&M hosted an event like this," she said. "It was an opportunity for the students to become more involved with the political system, even when it does become confusing at times. I thought that the students of William & Mary provided intriguing questions, and I hope it showed our eagerness to learn in all topics." 
Boylan, the Student Assembly president, said that the university was fortunate to have the opportunity to go beyond the "partisan fray and engage in a thoughtful dialogue in such a historically polarized time."
"William & Mary is truly a place where the commitment to service transcends politics, and in that spirit, where controversy is met with civility," he said. "We hope that this extraordinary conversation does not end with tonight, and that the spirit of drawing from all sides of the public debate persists beyond this fascinating time in our history."
Adrienne Berard contributed to this story.