Road to Richmond: Starting the semester by lobbying for W&M
As the last of the students were trickling back into campus before classes began, a group of 34 students — many of them freshmen — gathered on the Sadler Center Terrace mid-day Jan. 17, to begin the trip to Virginia's state capitol.
During William & Mary's 21st annual Road to Richmond, an event sponsored and organized by the Student Assembly and the Office of Government Relations, students were given a chance to play the role of lobbyists in Virginia's General Assembly Building for the day. They talked with numerous state legislators and their aides about varying issues pertaining to W&M and thanked them for capital that was provided for the recent renovations of the third phase of the Integrated Science Center, Tyler Hall and Tucker Hall.
On the eve of the trip, the event's organizers and Michael J. Fox, chief of staff and secretary to the Board of Visitors, met with the students to debrief them on the bills that were priorities for W&M, including those pertaining to the benefit of out-of-state students to the school, raises for faculty and staff and money for the planned arts complex and ISC 4.
"I think the ultimate purpose is two-fold," said Hannah McKiernan '17, vice president of the Student Assembly. "We want students to feel like they are part of the process."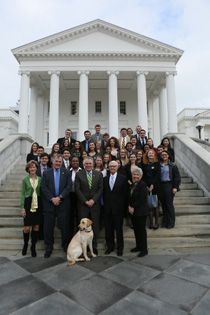 A lot of students are unaware of what really happens behind the doors of the General Assembly Building, McKiernan said.
"This gives them a really unique opportunity to witness it first hand, because everything happens so fast," she said. "Just being here and giving them the freedom to go do things, really gives them the opportunity to experience the political process firsthand. The other purpose is to be a voice for William & Mary."
As students boarded the bus headed for Richmond late Tuesday morning, excitement was high, especially for students like freshman Marisa Lemma.
"This is my first event like this, but I'm super excited," Lemma said. "I'm expecting that we'll get to talk to some legislators or their assistants about issues that are important to William & Mary in particular, and hopefully, have an impact on the legislation that gets passed."
Shannon Lewis '20 shared in Lemma's expectations, but also stated that she anticipated being a prominent student voice in the government.
"I think it's different hearing about issues from people that they directly impact rather than just hearing different statistics and figures," she said. "It's really important to see the people it impacts and see people who care about the issue."
Upon arrival, W&M President Taylor Reveley and Fran Bradford, associate vice president for government relations, greeted the students. Reveley thanked them for participating and encouraged them to maintain a "W&M presence" that would leave legislators with a positive impression.
The group then made their way up Capitol Hill to await the arrival of Gov. Terry McAuliffe for the traditional group photo.
When McAuliffe arrived sporting his green and gold tie, he unexpectedly had a special four-legged friend in tow, his dog Guinness. The students briefly thanked McAuliffe for his work on behalf of W&M and discussed what the student body would like to see for the future.
After posing for the picture, students dispersed into the General Assembly Building in search of their assigned legislators. Bearing treats of green and gold M&M's, students got the chance to sit down one-on-one with legislators or their aides throughout the evening. McKiernan said that legislators are generally just as excited to speak with the "bright, engaging students," mostly because of what they bring.
"They see [administrators] all the time, but we offer something unique," she said. "We care enough to come up here to spend a day and really dedicate ourselves to it … It adds a more personal feel to it."
Other students, such as Laini Boyd, class of 2018 president, and Damiana Dendy '17 emphasized the connection that the conversations create with legislators.
"I think it's important to have that personal relationship," Lainey said. "For administrators, it's difficult to speak about what it means to be a student and to have these services on campus. But, we can really talk about it from a personal experience, and I think that's more valuable than a holistic approach of seeing the services, but not using them yourself."
In addition to meeting with legislators, students had the opportunity to visit the Capitol Building and sit in on meetings, including the Senate Finance Committee's education subcommittee meeting where Reveley spoke on behalf of the Council of Presidents as chair of the organization alongside Timothy D. Sands, president of Virginia Tech.
As the conversations with legislators came to a wrap, students headed to a board room a few floors above to meet with Sen. Monty Mason '89 (D-1st) and Del. Michael P. Mullin (D-93rd), the representatives for W&M's district.
Speaking briefly to the group, Mason lauded his experience at W&M.
"William & Mary taught me a propensity to learn," he said.
With the evening almost concluded, the students headed across the street to the Library of Virginia, where a reception was held for legislators, alumni, administrators and all those affiliated with W&M.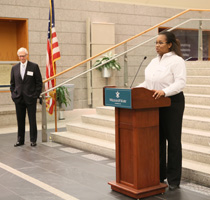 Those in attendance mingled and conversed about the day's interactions as students got to connect with alumni and legislators. Conversations briefly came to a pause as Reveley and Student Assembly President Eboni Brown '17 took to the podium to say a few words.
"William & Mary has undergone what can only be called a physical transformation in the last 10 to 15 years," Reveley said about the recently completed renovations across campus. "The bulk of the enabling funds have come from the Commonwealth, and for that William & Mary is profoundly grateful."
After a long and eventful day, the students were tired, yet couldn't contain their excited chatter with new friends on the way back to Williamsburg. Many like Ellie Thomas '20 and Ana Murias '20 even expressed their joy at having spent their last day of winter break lobbying for W&M.
"It was really interesting to work with all of the other students that are here and to come together as kind of a community to promote W&M even more," Thomas said. "It's not something you do every day with legislators."