New W&M student helps with eelgrass restoration efforts
Interning with the Virginia chapter of the Nature Conservancy in its ongoing partnership with William & Mary's Virginia Institute of Marine Science was more than a way for Kate Dean-McKinney '21 to fulfill her high school graduation requirements.
The six-day excursion in May gave the incoming William & Mary freshman an immediate driving force for her next four years, and beyond.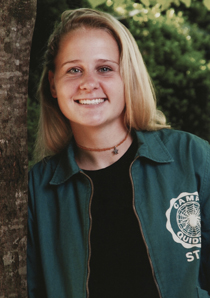 "I would like to see the ocean charted during my lifetime," said Dean-McKinney. "About 90 percent remains undiscovered. … More than 70 percent of our earth is water, yet we spend more time and money exploring other planets instead of our own.
"There is a lot to be done to save our oceans, but I believe in my lifetime my generation will be able to push the world in the right direction. … It has now become my job to inform the world of the importance water has on our planet."
Twenty years ago, VIMS began restoring eelgrass meadows in coastal bays destroyed by natural disasters and as a result that had lost their bay scallop fisheries. Ten years ago, the Nature Conservancy joined the restoration battle. To date, they have broadcast more than 70 million seeds along Virginia's barrier islands and built almost 6,200 acres of eelgrass.
Emotionally at least, Dean-McKinney became involved in 2015 when she watched the film "Ocean Frontiers: The Dawn of a New Era in Ocean Stewardship." She decided that she would bring the film to her high school in Charlottesville — Tandem Friends School.
It took about two years, but by last April she had not only orchestrated a showing at Tandem Friends but a public showing in conjunction with Earth Day. She invited a retiree from the Nature Conservancy to introduce the film and discuss the importance of ocean stewardship.
The speaker, Gwynn Crichton, reached out to the Virginia Coast Reserve, which offered Dean-McKinney what she called "a tremendous internship opportunity."
Housed at the National Wildlife Preserve in Cape Charles from May 21-26, Dean-McKinney was referred to as a "volunteer coordinator." The conservancy uses volunteers to help harvest eelgrass seeds directly from plants growing underwater.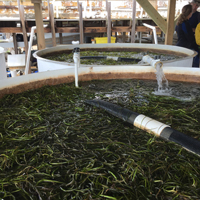 Dean-McKinney's day started on the Oyster, Virginia, boat dock, 30 minutes or so before the volunteers arrived, setting up the boat with wetsuits and eelgrass supplies. Starting at 10 a.m., the boat ventured to an area between Wreck Island and Little Cobb Island, where it anchored in a plentiful area of grass.
After setting up the collection bags for the volunteers, Dean-McKinney would hop in the water in her wetsuit and help harvest for three hours.
"During that time, we'd come across all kinds of organisms — clams, oysters and whelks," she said. "I personally encountered a pufferfish, comb jellies and a cownose ray! One day we received scallop larvae from VIMS, and I aided in prepping and spreading the scallop larvae in the grass."
When the boat returned to the dock and the volunteers left for the day, Dean-McKinney would distribute the eelgrass harvested into large basins then stay behind each day to take the temperature and salinity of the tub water to make sure it stayed constant.
"We were so happy to have Kate as part of The Nature Conservancy team," said Conservation Scientist Bo Lusk. "Her energy, enthusiasm and eagerness to submerge herself — literally — in the field work were invaluable in helping us complete our massive annual project restoring sea grass on Virginia's Eastern Shore."
At nightfall, Dean-McKinney would spend another four to six hours working with a different department of The Nature Conservancy, counting whimbrels.
"I had never worked with The Nature Conservancy before, and it really opened my eyes to the possibilities that I had for a hands-on experience in a field I want to be part of," she said. "That's important to me because I know it is the best way to fully understand what I am doing."
In some ways, she said, the internship was a continuation of a childhood where every moment of summer was spent in nature.
"I was lucky enough to go to schools where being outside was part of the curriculum, and my summers were spent at an outdoor camp collecting craw daddies and lizards, hiking and swimming, living barefoot," she said.
While at W&M, Dean-McKinney literally plans to look beneath the surface in pursuit of her goals.
"Since the deep seas are literally hidden from our eyes, I would like to focus on that," she said. "I am lucky enough to continue this hands-on experience in a fantastic marine science program want to explore all opportunities that are available."