Double-hacked: W&M team takes top prize in Dominion competition for second time
For the second year in a row, a team from William & Mary took the top prize in a hackathon sponsored by Dominion Enterprises.
Colleges and universities from around Hampton Roads competed in the HackU 5 event Feb. 16-17 at Dominion's Norfolk headquarters. Team "Brainstorm" from W&M, consisting of Will Theuer '17, Kelvin Abrokwa-Johnson '17, Greg Rogers '17 and Nathan Owen '17, won $10,000 in scholarship money for their website application, FloorRent. Three other teams of W&M students also competed in the hackathon. A reception is being held on campus today to recognize the participants.
According to Theuer, the students with "Brainstorm" built and named their application based on an existing Dominion Enterprises website for apartment listings, Forrent.com, but wanted to address a feature that the website lacked.
"One of their challenges is floorplans," Theuer said. "So, we wanted to give them some sort of app to design floorplans and to let landlords be able to put in their floorplans and have possible renters go in and look at them and visualize what an apartment might look like with furniture in. And we created a web app that does exactly that."
Each year, the competitors have focused on the theme of student life, creating mobile apps or websites that target college students. This year, however, the theme focused on open-source, community software.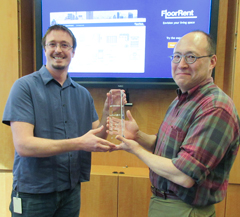 In addition to the community theme, the teams were also faced with a list of challenges related to the company sponsors, such as the floorplan visualizer that team FloorRent contended with.
The teams worked over the course of a two-day period, during which they developed the projects and presented them to the judges. Each project involved a lot of preparation work, however, including coming up with the idea.
"If you have sort of a cohesive vision, then when you sit down and start coding, then you can go to work immediately instead of trying to build it out there and then," Rogers said. "So, we basically chose what type of technology we'd be using, we assigned roles, and just started to scope out how possible is what we're doing and are we going to be able to accomplish it in that amount of time. Everything that wasn't actually putting down the code and building it we were able to talk about and do before the competition."
Owen, who was a part of the team that won the top prize last year for creating an application to form study groups, said that having proficient programmers and developers is the most necessary portion of the challenge. According to him, however, the team must also be able to pitch the product as useful in the real world, which is something the students considered while choosing their project.
It was this practicality and functionality that made their product stand out as a frontrunner.
"In a lot of hackathons, people will come up with really big ideas, and you just don't have enough time to make them reality," Theuer stated. "So, we took something that was actually achievable in our time frame, and we actually did it."
He noted that the complexity of their project may not be immediately evident to the non-hacker eye, adding that it was not "bug-free."
"We almost completely implemented an application in a very short amount of time, which is incredibly impressive. So, to look at the website, there's a lot of functionality on the page that to the eyes of someone who's not a programmer is relatively invisible," he said. "But, the infrastructure to someone from our perspective is really quite a lot.
"So, when we got up there in front of the judges and said 'Here's what we wanted to do,' we implemented everything we said we wanted to do and then, demonstrated it for them, that had a big wow factor, because that was a feat that not very many people could accomplish in that amount of time."
Abrokwa-Johnson, who was also a part of the winning team last year, highlighted the usability of their project from the business perspective.
"We got up there and said, 'We built this product and this is how it's going to benefit you immediately by putting it into your website, this is how it's going to benefit your users and your apartment owners,'" he said. "We had a very cohesive vision of what it's going to look like from a business standpoint. And last year that was really key, as well."
With all of the members of the team being seniors, they reflected on their last run at the HackU hackathon series with fondness, emphasizing the work and team effort that was put into the website.
"I'd say we are pretty proud of what we made," Owen said. "I know I personally wouldn't be able to make something like this on my own in that amount of time, but between the four of us, we created something that was pretty cool."
W&M will host its own hackathon,
TribeHacks III
, March 31-April 2 in Swem Library.