Dance, physics and music each have a role in 'A Life With No Limits' production
Science and art are colliding on the William & Mary campus as part of a performance that will be staged this spring.
Aura Curiatlas Physical Theatre is developing its production of "A Life With No Limits," which is inspired by the work of astrophysicist Stephen Hawking. The company will perform the Virginia premiere of the show at the Kimball Theatre May 6-7.
The group's signature style of performance blends dance, theatre and acrobatics.
Joan Gavaler '85, W&M director of dance and co-artistic director of Aura Curiatlas, is still developing the piece with help from the physics department. She is working with W&M theatre alumnus Dan Plehal '09, also a co-artistic director, and founding company member Mickey Lonsdale.  All three are principal performers.
The narrative depicted by movement has three universal themes: work, intimate relationships and health, according to Gavaler. They happen to coalesce around the physics work of this particular man, who has a physical disability.
Composer Sophia Serghi, a W&M music professor, created original music for the piece.
"Sophia gave Aura Curiatlas her original music inspired by celestial and universal phenomena, specifically the Pleiades constellation, physics and metaphysics," Gavaler said. "She very generously allowed us to edit a collage of her compositions to create a unique musical experience for our performance."
The two started talking about the music about a year ago, with Gavaler and Plehal starting the choreography while working on a duet last June.  The entire work is 45 minutes long, which will be the second half of the Kimball show and take place after "Dream Logic."
Since last summer, the pair added in additional performers to rehearse throughout the year. Five of them performed the premiere in late February at the INTERSECTIONS Festival in Washington, D.C.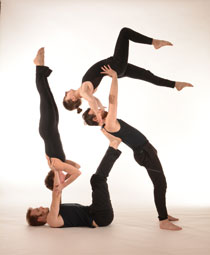 Gavaler expects development of the piece to continue over the next year.
"It's a lot of experimenting and revising," she said. "So I would liken it to collecting all the big chunks of ideas, rearrange them because something isn't working, rearrange them again but maybe fewer elements need to be rearranged because it's starting to work.
"Looking at where there are gaps and saying, wait there's an idea here that's missing; we need to have another event so that this makes sense."
Devised theatre, which is the physical theatre the group does, has a surreal aspect to it, she said. So rather than simply telling a traditional play staged story, the actors are in another world.
There Lonsdale transforms physically from someone who's active and healthy to someone who can't move. But he moves because the other four performers are moving him. For example, Plehal becomes his wheelchair.
In segments where the character is working on physics, the other performers are his mind. In those scenes, Lonsdale actually moves them around and rearranges them as he's thinking.
"So it's a piece that we're still going to be revising for another year as we add in more and more of the physics," Gavaler said.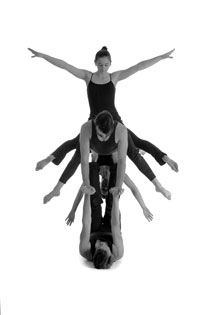 She's working on adding text or other information, possibly voiceovers, to illustrate a few key ideas. Then the performers will see how their movements might be revised and developed further in relationship to that text, Gavaler said.
Currently the physics segments are acrobatic segments illustrating the main concept of what Hawking realized in terms of black holes, with particles splitting. They'd like to go further, but not to get too technical for a general audience.
Gavaler is working with W&M Professor of Physics Marc Sher on the details. He said that his understanding of Hawking and Hawking radiation can only inform the performance so much as most of it is allegory, and you don't want to give a physics lecture to people coming to see a dance performance.
"I can tell her about the physics to try to keep it somewhat accurate," Sher said. "It does help to at least have an idea of what Hawking radiation is beforehand. But that could be done in just a paragraph or two of something or a few words.
"There may be a narrator who can talk about that."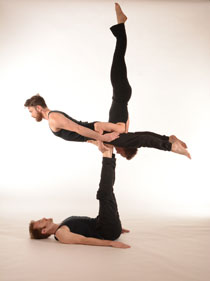 Other crossovers between Aura Curiatlas and W&M include performers serving as guest teachers in Gavaler's physical theatre class when they are in town for rehearsals.
Her professional experience informs her teaching, Gavaler said. The other side of that is that the physical theatre class came first, and when the professional company needs to regroup it returns to the improvisational roots taught there to reset itself.
Time constraints and physical strength concerns limit what students do in class as compared to the professionals, but the concept is the same.
"We get them to the highest level you can in a single semester and they experience that growth," Gavaler said. "But we're not going to have them do some of the things that we do."
Gavaler sought student help with "A Life With No Limits," discovering that one of her physical theatre students had recently taken physics and might be able to explain concepts in simple terms.
"Just like hearing a language that you may not speak, but hearing the sound of it can be intriguing," Gavaler said. "That's what I'm wanting for the formulas and for the calculations, and I have no idea if that will work or not.
"But she is going to work with me on that. So it keeps looping around. As faculty and students talk to each other, we find these connections."