Common book program connects NASA's 'hidden figures' to W&M's
Fifty-five years ago, John Glenn became the first person to orbit the Earth thanks in part to the contributions of the African-American women who worked as "human computers" at NASA Langley in Hampton, Virginia. Five years later, three more African-American women would make history just down the road when they arrived at William & Mary, becoming the university's first African-American residential students.
As William & Mary started a yearlong commemoration of that moment this fall, it also asked its newest students to look further into the lives of the women who helped make America's space program a success, and whose stories had remained largely unknown – until now.
Margot Lee Shetterly's Hidden Figures was assigned to incoming freshmen as part of the university's common book program. The book follows the lives of several women who worked as mathematicians at NASA Langley in the midst of both America's civil rights movement and the global space race.
During orientation, students were able to hear different perspectives on the book from several faculty members, and on Sept. 23, family members were able to engage in a similar opportunity as part of a panel discussion with three professors: Hermine Pinson, Shantá D. Hinton and Amy Quark.
John Donahue, a professor of classical studies and dean for educational policy responsible for the common book program, moderated the discussion, held in Washington Hall in the midst of the university's Family Weekend activities.
"Really, what we're trying to do with the common book program is provide a shared intellectual experience for incoming students, and … we feel very strongly that it's appropriate to give freshmen a book that demonstrates or exemplifies the liberal arts in all its richness and diversity, and we feel this book, Hidden Figures, fits the bill quite nicely," he said.
The book was also chosen to coincide with the 50th anniversary commemoration of the arrival of Lynn Briley '71, Karen Ely '71 and Janet Brown Strafer '71 at the university.
"Just as the pathbreaking and pathfinding women of NASA, the 'human computers,' as they're called in this story, broke down barriers, so, too, do we have on our own campus pioneers who were themselves remarkable pathbreakers," Donahue said. "The book then compels us to recognize our own troubled past while commemorating the courage of those who are not afraid to fight for equality and justice, whether it was at NASA or right here in Williamsburg."
Quark, an associate professor of sociology, said that the book is a powerful demonstration of the concept of "sociological imagination" – the ability to connect one's own biography to the broader and historical context.
"History shaped their biographies in important ways, but in turn, these women also shaped history," said Quark. "Shetterly demonstrates how the persistence, the tenacity of these women allowed them to seize these opportunities, indeed to make their own opportunities, and in doing so to challenge the racial oppression they experienced on a day-to-day basis in schools, in the community, in government policies."
The book makes readers not only reconsider African-American history, but American history as a whole, Quark said, and think about the central role that African-Americans have played in both "our country's greatest technological achievements in the space program and in their important work in perfecting the union."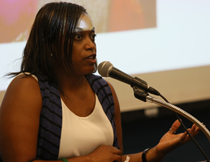 The read is timely, Quark added, not only because of the anniversary that W&M is celebrating this year, but because of recent events in Charlottesville and elsewhere that show that "racist ideologies are not history" and because women and people of color continue to be under-represented in STEM fields and other disciplines.
Pinson, a professor of English and Africana studies and a member of the 50th anniversary committee, looked to literature to expand on some of the themes of the book, including invisibility – its title echoing that of Ralph Ellison's landmark novel The Invisible Man.
"Invisibility was and to some extent remains a common theme in African-American literature because it suggests that people don't really see you for who you are, but they see a figment of their own imagination or an image that's been cultivated by years of cultural and historical stereotypes," Pinson said.
At NASA during the time of Jim Crow, the women of Hidden Figures — including Katherine Johnson, Christine Darden and Mary Jackson — were segregated from their colleagues.
"The mere physical separation of black and white women workers doing the same job suggests the disappearance of the former," Pinson said.
And yet the women "showed ingenuity in getting around some of the degrading practices of the day," she added.
"With a novelist's gift for detail and suspense, Shetterly recounts some of their direct and indirect methods of resistance from Johnson's open questioning of prohibitive practices that kept women from attending editorial meetings to Miriam Mann's stealing 'colored' signs [from a lunchroom table]," said Pinson.
Each woman saw herself as an American citizen with a job to do, and they did not let race get in the way of their aspirations.
"To return to Ralph Ellison's protagonist, he had to discover what Katherine, Dorothy and Mary Jackson already knew – they never doubted their humanity, which gave them courage and conviction in their actions," said Pinson.
As an African-American woman who is also an associate professor of biology, Hinton said she not only relates to the characters in the book but actually knows some of them and their family members who live in her same Hampton community.
"And then there's not just the hidden figures, but we have the modern figures at NASA who we see each other on the trail each morning," she said.
All of the women are scholars, said Hinton.
"Because they were scholars and they knew their discipline, not only knew it but did it extraordinarily well, that led to all the great discoveries that are talked about in this book," she said.
Those achievements also came with sacrifices, she added, and led to a sense of isolation, especially for Johnson, who was the only African-American woman working in her section.
"How did she deal with that? Really, it was her love of math and having a task to do. As she would tell you, 'I was just there to do my job; I don't see what the big fuss is about me,'" said Hinton. "And that makes me think about the 50th anniversary [at W&M] … As we talk to them, Karen, Lynn and Janet will always say, 'We were just going to school.'"
And while both groups of women —the NASA mathematicians and the W&M students — were just focused on the work they had to do, they had the courage to make the necessary sacrifices to not only advance their disciplines, but their communities, said Hinton.
"They understood it wasn't just them and that it'd take other people who would be just as courageous to do something simple, and that is to do the right thing," she said.