COLL 300 visitor discusses book on sexual violence in Native America
COLL 300 visitor Sarah Deer recently talked with William & Mary students about her book on sexual violence in Native America.
Deer, a citizen of the Muscogee Creek Nation in Oklahoma, is a professor, activist and expert in tribal law and federal Indian policy who was a 2014 MacArthur fellow. She has worked for more than 20 years to end violence against women, with a specific focus on Native women and communities. After working as a law professor at Mitchell Hamline School of Law, she recently returned to her alma mater, the University of Kansas, as a professor of women, gender and sexuality studies.
Deer's scholarship focuses on the intersection of federal Indian law and victims' rights. Developing support systems and healing practices that are grounded in tribal customs and lifeways, she is committed to forms of healing for all members of Native communities, including victims, survivors and perpetrators.
Students in W&M's gender, sexuality and women's studies program read her latest book The Beginning and End of Rape: Confronting Sexual Violence in Native America, and Deer discussed it with them Nov. 17 at Morton Hall as part of her weeklong visit to the university. She gave the third and final COLL 300 lecture of the fall semester on Nov. 15. COLL 300 is a globalization, thought-broadening curriculum that is required in a student's junior year at W&M.
Deer argues in her book that rape was uncommon in Native communities before European/Euroamerican colonization, and draws the metaphorical conclusion that the two are analogous. Students asked about drawing the comparison between rape and colonization.
Deer, who previously worked with sexual assault victims, said she had always been taught not to use the term "rape" to describe other things. But as she listened to Native American women comparing the tactics used by colonizers and sexual predators, her viewpoint changed.
In her book, she explains how modern-day tribal systems can be used effectively to protect women and mete out justice for all crimes.
"I think that punishing people or labeling people for common challenges that folks have in their lives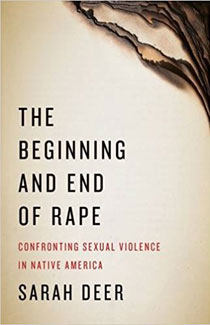 is not particularly helpful, and the zero-sum game that the Western legal system offers is not a productive outcome in many, many cases," Deer said.
"And so I am a big fan of the concept of restorative justice, the utility of it and the effectiveness and as sort of a method of decolonizing the law."
Answering a faculty member's question about revenge, she said that rather than emphasizing that victims process their anger through acts like revenge, she focuses on accountability — though she feels that in cases of sexual violence, anger has a place at the table.
"I definitely think that victims have the right to express their anger in whatever system of adjudication or restoration is on the table," Deer said. "But I think I would tend to agree that revenge is not a useful outcome."
Taking the stance that mass incarceration is not helpful, Deer admits that perpetrators have to be separated from the community in order for victims and survivors to feel safe, but she doesn't have a solution. She suggested that tribal banishment, in theory, may be an alternative in egregious cases.
"The problem with federal Indian law has been that it treats all tribes the same," Deer said. "One of the ways to counter that is to say that we don't all have to be on the same page here."
Asked about the potential conflict between being an activist and a scholar, Deer pointed out that previously she had no academic background and continued on the same path after becoming a law professor. Fortunately, the legal academy requires pro bono work, and she fit into that role.
"I just feel really fortunate that I've landed in spaces where I haven't necessarily had to curtail my activism to satisfy my departments," she said.