Under the sea: 35 years with the Virginia Aquarium
Mark Swingle '76 has been an employee of the Virginia Aquarium & Marine Science Center longer than the aquarium's doors have been open.
How is that possible, you ask? Hired as an exhibit researcher in 1982, Swingle, was the first employee hired by the original director when the aquarium was nothing more than a tiny office on Arctic Avenue in Virginia Beach. This year marks Swingle's 35th year with the aquarium, it also marks 30 years since they opened to the public in 1986. Swingle was hired when the city was just beginning to work on plans to build a new marine science museum.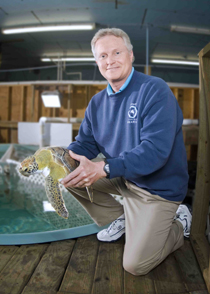 "One of the first things I said was that we need to set up an aquarium in the office," said Swingle, who is director of research and conservation. "We set up a small aquarium in the office after collecting some animals locally. We kept growing from there."
The aquarium, initially called the Virginia Marine Science Museum, has not only grown, but has become a major destination for families visiting the Hampton Roads area, attracting more than 625,000 annually. It has undergone a major expansion in 1996 and a renovation in 2009, which created the Bay & Ocean Pavilion, Owls Creek Marsh Pavilion and the Restless Planet Gallery.
During his long career, Swingle started the aquarium's award-winning Stranding Response Program. The team responds to stranded marine mammals and sea turtles on Virginia's more than 10,000 miles of tidal coastline along the Chesapeake Bay and Atlantic Ocean.
"If alive and able to regain their health, we rehabilitate them and re-release them," Swingle said. "We've responded to more than 7,500 animals in 25 years … the best part is seeing the conservation benefits for marine wildlife that have resulted from our work."
Swingle received a biology degree from William & Mary before continuing his education at Old Dominion University, where he earned a master's degree in oceanography. He says having biology as an educational foundation has helped him throughout his career.
"My position here is very grounded in science and I was a biology major," Swingle said. "My experience at William & Mary was totally professional. Going to college is about growing up and taking that next step, getting away from home, being exposed to amazing teachers, and learning to manage your own time appropriately. I think William & Mary provides that kind of experience."
Swingle said one of the best parts of his job is seeing the conservation benefits provided to wild animals and wild habitats.
"When I first arrived on the job, I never would have envisioned that I would still be here 35 years later," he said. "It's been kind of a wild and exciting ride over the years. I'm very glad it has worked out that way."