Student-founded CoffeeCram links students through academics
Sravan Yeluru '17 wants you to imagine that you are a newly arrived William & Mary student who knows no one on campus.
"They don't have a social network and they have to build it," said the neuroscience and business analytics major. "They aren't sure if they should build it academically, they aren't sure if they should build it through parties or fraternities, or through student-run organizations."
Enter CoffeeCram, a free mobile app for iOS created by Yeluru and former finance major Ryan Metzger, designed to link students through their shared coursework for study sessions and socializing.
"I've taken lots of large lecture-hall classes, such as Organic Chemistry, Molecular Cell Biology, Physics and Calculus, and there are 200, 300 kids sitting around me," Yeluru said. "And we really don't know each other. Then when it comes time for the exams, we study alone, and we're kind of overwhelmed and burdened. That's why we created this. It enables students to form micro-social networks within each lecture hall."
The app has been embraced by students at William & Mary since its launch a couple of weeks ago, Yeluru and Metzger said. Students are using it as originally intended, to make connections with other students for studying and making friends, but also to buy and sell textbooks. "Which is super-interesting," Metzger said.
"It's open-ended, and we did that on purpose," he continued. "The goal is to connect students around a certain vertical, that vertical being academics and their classes. But it's pretty cool to see the friendships and common interests that spark when you bring people together."
In a way, the story of how CoffeeCram is being used parallels its creation. The pair started working together last year after Metzger won a competition at W&M's Raymond A. Mason School of Business modeled after the show "Shark Tank," where he presented Owler, an app that would help people find and rate parties in real-time.
Yeluru and Metzger met in January at "3 Day Startup," an event Yeluru was running. Together, they founded the undergraduate entrepreneurship club Tribe Ventures.
"We're really good at executing [ideas]," Metzger said. "The big difference is that some people have really good ideas – like billion-, trillion-dollar ideas, but they don't do anything about them. They think they are unattainable. Sravan and I are really good at actually making ideas real and tangible."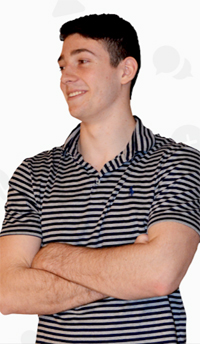 They've been working on CoffeeCram since the spring. Recognizing CoffeeCram's potential, both have devoted increasing time and energy to it. Yeluru dropped a full-time job at IBM over the summer to work on CoffeeCram. Metzger dropped sports and his other app ideas.
Then, this fall, Metzger stopped attending William & Mary.  While Yeluru continues his studies in Williamsburg, Metzger is back and forth to New York City, where they plan to headquarter CoffeeCram.
Yeluru and Metzger said they already have just under $1 million in angel investor funds, plus tech advisors, app developers and all of the necessary auxiliary services a fresh start-up needs: lawyers, accountants, marketing firms, etc.
"The app will be free forever; we'll never monetize through payments," Metzger said. "Our goal is to build a product that people love, that helps grow our user base, and then we'll focus on monetization."
Metzger said that the best way to monetize CoffeeCram will become apparent with its growth, noting that Facebook's strategy doesn't work on Instagram, whose strategy doesn't work on Snapchat. So it's premature for him and Yeluru to try to cash in.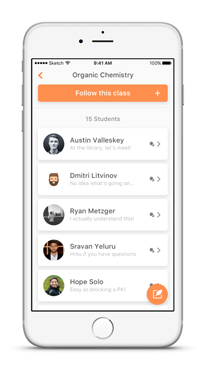 For now, they are trying to expand the app to other campuses (specifically University of Virginia, University of North Carolina and Duke) and to continue to refine CoffeeCram in response to user feedback.
"It's been really rewarding," Yeluru said. "I only hope that all the colleges we expand to will be supportive, from the academic dean's side, from the president's office, just like William & Mary has had resounding support for our success."
Metzger echoed the sentiment. "I've always been really thankful that William & Mary gave me a place to do what I want," Metzger said. "They were always helpful and supportive with all of my initiatives. They helped me carve my own mold, and I'm really appreciative of that."