OCE-funded interns spend summer serving local community
Kids were playing with their food, and Nick Adjami '17 couldn't be happier.
It was, after all, part of the William & Mary student's job this summer to get kids interested in vegetables, and on a recent morning at the Williamsburg Farmers Market that meant giving them the chance to race derby cars made from squashes and carrots.
"Not only was this one of the kids' favorite activities, it also got them excited to go home and eat squash, something they might not otherwise do," he said.
Adjami's internship was one of three that were funded for the first time this summer through the Office of Community Engagement (OCE) at William & Mary. In addition to Adjami's internship with the Power of Produce Club at the Williamsburg Farmers Market, Ashleigh Arrington '17 worked with Literacy for Life and Jen Hartley '17 with the Arc of Greater Williamsburg.
Although the Office of Community Engagement has awarded summer service grants to students for several years, the office wanted to go one step further this summer.
"In the past year, we've been talking to local partners about their need not only for direct service but also for projects which increase their capacity, like program management, volunteer recruitment and outreach," said Elizabeth Miller, assistant director of the Office of Community Engagement.
"We know students have the skills to make a difference in this area given the time to learn about and connect with those projects," she added. "Applying our community engagement grants to these local community internships allowed us to support a community-identified need while also providing an opportunity for students to deepen their active citizenship and sharpen their professional skills."
The Arc of Greater Williamsburg
Hartley, a public policy major, has been involved with The Arc since her freshman year at William & Mary through her participation in Greek life at the university. The Arc provides activities and advocacy for people with developmental disabilities.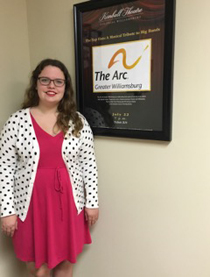 "By the time this opportunity to intern at The Arc came up, I already knew how much I loved being a part of The Arc family, so I jumped at the chance to spend my summer with them," she said.
Beginning June 6, she worked as a development intern with the organization, helping with fundraising, grants, programming and planning for events, such as the upcoming 7th Annual 5k Benefit Run.
In the spring, Hartley took an American studies class titled "Disability in America," which has been very relevant to her work with The Arc, she said.
"This fantastic class provided me with an understanding of the history of disability rights movements in the U.S., and led me to appreciate the importance of self-advocacy for people with disabilities," she said. "Given that one of the primary goals of The Arc is to help empower people with intellectual and developmental disabilities to advocate for themselves, 'Disability in America' has informed the way that I view The Arc's mission and the ways that I try to work towards achieving it."
Her internship has been similarly enlightening, she added, saying that she's learned how unique and important The Arc's services are.
"The Arc of Greater Williamsburg picks up where our public school systems leave off in terms of providing recreational and educational opportunities for adults with intellectual and developmental disabilities," she said. "The Arc's variety of evening programs, and starting this year, their Day Support Program, promote clients' physical and social well-being. Especially considering that Virginia lags behind much of the country in facilitating services for people with disabilities, The Arc works to provide clients and their families with opportunities that may not otherwise be accessible to them."
Pam McGregor, executive director of the organization, worked closely with Hartley throughout the summer and said that she demonstrated maturity, insight, and initiative.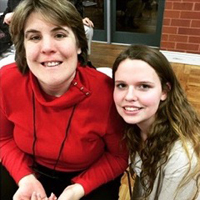 "Her skill-set and 'can do' spirit helped us accomplish many projects this summer," said McGregor. "A successful benefit concert, an improved website, updated formats for spreadsheets and data entry, as well as the creation of marketing materials for our upcoming 5k, made her an invaluable part of our team this summer. We will miss her very much but wish her nothing but success in her senior year."
As the internship draws to a close this week, Hartley knows that she will leave the position with a greater appreciation for all involved in the operation of a non-profit.
"I have always been amazed with how much The Arc has been able to do on a day-to-day basis, and the organization's accomplishments seem even more incredible when considering how much time the staff must spend on securing the future," she said.
Literacy for Life
Arrington, a double major in sociology and gender, sexuality and women's studies, began her internship with Literacy for Life, which teaches literacy skills to adults, on June 6.
"I think it's easy to take for granted how integral and powerful literacy skills are in daily life, and so having a helping hand in this organization seemed like a little thing to help a lot of people," she said. "Not to mention the staff at Literacy for Life were so welcoming, excited, and engaged that I was immediately drawn to helping them and their mission."
Arrington has spent much of the internship working on creating a training video for potential tutors so they may be able to watch it on their own time instead of attending all three of the organization's mandatory, three-hour orientation sessions for volunteers.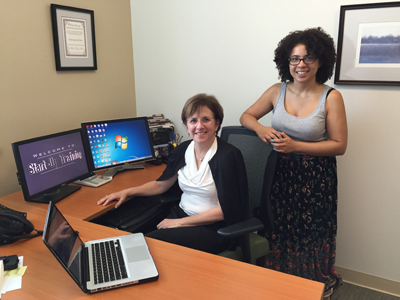 "Ashleigh was able to tackle a project that was very much needed, but that our staff did not have the expertise or time to do," said Fiona Van Gheem, program operations manager for Literacy for Life. "She listened carefully to what we were looking for and then worked independently while providing timely updates. She used her initiative and was able to develop new skills which will help her in the future. We are extremely pleased with the multimedia training that Ashleigh was able to produce and thank her for her hard work. We already have potential tutors ready to make use of this online training.
"We greatly appreciate the support of the Office of Community Engagement for funding this summer internship position. Literacy for Life, Ashleigh, our new tutors and ultimately our learners have all benefited from this experience."
Arrington said that the internship has taught her just how much of a difference education and literacy can make in a person's life.
"As a sociology major we talk a lot about the importance of education, but usually in very abstract ways like, 'more education usually means you make more money,'" she said. "But to see statistics and the successes reported to Literacy for Life of people making their lives better through literacy really creates a tangible image for a lot of the theoretical knowledge I've learned. It's cool to see studies, but even better to see education in action."
Arrington has also discovered that the Williamsburg community is broader and more connected than she had previously thought, noting the area's high demand for English as a Second Language and English language instruction.
"Every year hundreds of people are using the services at Literacy for Life to get better jobs, to learn English, to get driver's licenses and pass the GED," she said. "I feel like Williamsburg is discussed as retirees and college students only, but there is a broader community, there is a demand for education and opportunity, and it's inspiring that a group like Literacy for Life is constantly growing and changing in order to fulfill those needs."
Williamsburg Farmers Market
Adjami, a sociology major, will finish up his internship as the Power of Produce Club coordinator on Sept. 3.
The club, launched in Oregon in 2011, is a national initiative that strives to empower children to make healthy food choices. Adjami, a former arts camp counselor, said that "the opportunity to combat a social issue by educating and inspiring children" is what drew him to the internship.
"As a counselor, my goal was to encourage that creativity and open-mindedness. With the POP club, my goal is similar, with an added social purpose," he said. "Many children do not have adequate access to healthy produce and food education. At the POP club, we provide both of these things. Every week, we have a health-related activity and a sample of a fruit or vegetable. We also give each child who participates three dollars to spend at the market. In this way, we hope to increase accessibility, and empower children to make healthy food choices."
Since this was the club's first year in Williamsburg, Adjami, whose internship involved both office work and hands-on activities with the program on Saturdays, didn't have any previous plans to follow.
"While this is somewhat stressful, it is also very liberating," he said "I am free to think outside the box, as no 'box' has been established yet. Each week is a new adventure, with a new never-before-seen activity to try. This also adds a crucial element of excitement. For these activities to be successful, they must get kids excited about fruits and vegetables."
Although that task can be difficult, Tracy Herner, market manager, said that Adjami has done an outstanding job.
"While most market customers and families see only the fun, one-hour program, Nick also worked hard behind the scenes to capture data, plan weekly activities, select children's books, secure volunteers, order supplies and write a newsletter," Herner said. "With every piece of the program coming together, Nick also gained insight into community partnerships, sponsors, suppliers and more. Another important piece of his work on the POP Club this summer, was to document our first year of this program so that we could present our highlights to the board of directors and community partners (SHIP) at the conclusion (Sept. 3). With this important piece complete, we hope to secure funds for year two."
An environmental sociology class that Adjami took during his sophomore year introduced him to the issue of food justice (and inspired him to become a sociology major), he said. The internship showed him how that issue affects the Williamsburg community.
"It is very easy to get trapped in the campus bubble at William & Mary, and not explore the surrounding city," he said. "More than anything, my internship has opened my eyes to the need for food justice right here in Williamsburg. The farmers market here and especially the POP Club are important tools that can be used to increase food education and access."