Dudik captures a veteran's new life in photos
Eliot Dudik might have been photographing something relatively ordinary — a popular student at the University of South Carolina interacting with his friends — were it not for the obvious and inescapable tapestry of scars on Kyle Carpenter's face and body.
Dudik, visiting assistant professor of art and art history — and the creator of William & Mary's photography program — was part of a team of professionals hired by Vanity Fair to chronicle not a life shattered by war but one reclaimed through unimaginable brilliance by doctors and pain, suffering and courage by their patient.
"This was a very different type of assignment for me," Dudik said. "I'm used to longer investigations, ones that take one, two or even five years. This was the first one of these freelance, quick-paced [jobs] — but the most important one that I've done."
In November 2010, Carpenter was a Marine corporal atop a lookout post in Marjah, Afghanistan, when a grenade tossed by a Taliban fighter landed beside him and a fellow Marine. Carpenter, then just 21 years old, threw himself onto the grenade to shield his buddy.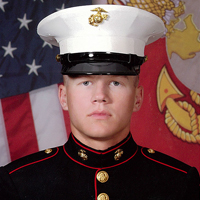 As author Thomas Brennan described in his story appearing in the Nov. 11 Vanity Fair, "Shrapnel left entry and exit wounds in his skull, severed major arteries, splintered his right arm [in 34 places], collapsed one of his lungs, and left him unconscious and hemorrhaging underneath a plume of grey smoke."
Virtually no one thought he'd survive; in fact, he "died" twice on the helicopter ride from Marjah to the first of several trauma hospitals he visited before finally arriving at Walter Reed National Military Medical Center in Bethesda, Maryland.
There, a team of orthopedic, vascular, reconstructive and trauma surgeons huddled to map out a treatment strategy. Brennan wrote that because Carpenter's face absorbed the brunt of the blast, it would take months of surgery to remove embedded dirt and debris.
Bit by excruciating bit, with progress measured in months, not days, they pieced Carpenter back together. Somehow, they saved his arm, and he has near-full range of motion. They rebuilt his face, although he lost the use of one eye.
On June 19, 2014, Carpenter was awarded the Medal of Honor by President Barack Obama, the nation's highest military honor.
"Corporal William Kyle Carpenter should not be alive today," the President said during an emotional ceremony. "But we are here because this man, this United States Marine, faced down that terrible explosive power, that unforgiving force, with his own body — willingly and deliberately — to protect a fellow Marine."
The question the story sought to answer — and Dudik was assigned to capture photographically — was what was Carpenter's life like now.
"He's just an amazing individual," Dudik said. "Despite the difficulties he's had over the last five years and the scars he lives with every day, he's just bubbling with enthusiasm and excitement. That's the first thing that struck me.
"We met him at a restaurant to start with, but then walked around campus. He seems to know everybody; everybody seems to know him. He would stop and shake people's hands, pet their dogs, talk to them. He's just an incredible guy."
Equally impressive, Dudik said, were Carpenter's parents, Robin and Jim. Part of the weekend was spent in their home, sharing meals and emotions.
"They're both incredibly sweet people," Dudik said. "They're still dealing with the shock of the day that they got word of this, and their lives have changed a lot since this has happened, being in the public eye a lot. But they are incredibly generous people."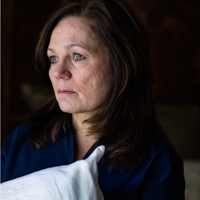 Standing behind the stove as she cooked for her guests, Robin Carpenter opened up about her feelings about the days following her son's injuries, the fear of loss, the determination to help see him through, the abject helplessness of seeing him in a coma and, the bit of solace gained by knowing that his heart rate increased every time he heard her voice in his ear.
"They both were really open about the experience and their feelings," Dudik said, "Some of that will come through."
Dudik also photographed then-Pfc. Jared Lilly, who applied tourniquets to each of Carpenter's arms, pulled him off the roof on which he lay dying and got him into the arms of a Navy corpsman who was waiting to treat those wounded in the attack.
Dudik estimated that he took 700 photos that weekend in South Carolina.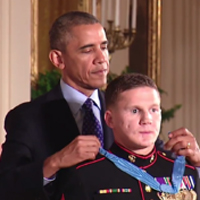 "I made a lot of photos of him as he moved through space and some photos of him interacting with other people," he said.
"When he stands in front of the camera, he stands very proud and straight. I think that's the Marine in him, and his understanding of what he's been through and what it means to the country. I think that'll come through in the photographs. He's a proud American."