Ackerman and family in a class of their own
Keaton Ackerman's story is enough to make you believe in fate, and on a couple of different planes.
Ackerman, who will walk with the William & Mary Class of 2016 at Commencement on Saturday, wanted to attend West Point and compete on its gymnastics team. But he was denied admission because he has allergies.
Hearing the news, the Army coach phoned William & Mary gymnastics coach Cliff Gauthier, raving about this terrific prospect he'd be lucky to have in Williamsburg.
"I'm really thankful for that," Ackerman said.
The Army coach knew what he was talking about.
Ackerman capped his career as a USA Gymnastics Collegiate All-American in both the all-around and on the pommel horse. He ended last year as the second-highest point scorer for a Tribe team that finished 14th in the final NCAA statistical rankings.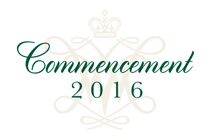 He also was a College Gymnastics Association first-team All-American Scholar Athlete, as well as a three-time William & Mary Provost Award recipient for maintaining a cumulative grade point average above 3.5. Ackerman finished undergraduate studies in accounting with a concentration in entrepreneurship in December, and continued to compete in 2016 while pursuing a degree in the one-year MBA program in accounting at the Raymond A. Mason School of Business.
  
A member of the W&M Student Athlete Advisory Committee, he was elected by his fellow gymnasts to serve as a student-athlete representative on the USA Gymnastics Men's Collegiate Gymnastics Committee.
As if that wasn't enough, he also helped the Tribe gymnasts defend their National Academic Team Championship and in the process complete a remarkable string of national academic titles to three in the last four years.
But there's so much more to the story.
Building a unique family
After her son committed to W&M, Ackerman's mother, Brittany Jencik, was going to accompany him on the flight from Rochester, New York, to Richmond, Virginia, then on to campus.
The goal was to drop off a son, not to come home with a new one. But that's what happened.
Knowing the Jenciks – Brittany and Barry – had been open to adoption from all over the country, an agency phoned Brittany to say that they were looking after a prematurely born boy who needed a home. Brittany said she and her husband would talk about it, but it would have to wait until she returned from Richmond.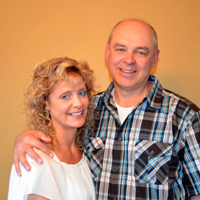 Suddenly, Brittany Jencik said, "The line went silent. I repeated myself because I didn't think they'd heard me."
They had heard. They were just having a hard time believing it because the baby and his doctors were at a hospital in Richmond.
And that's how Ackerman started college and a relationship with his brother, Caulder, on the same day.
"Adoption law dictates that when families adopt from a state other than where they live, they need to remain in the state in which the baby was born until both states give legal clearance for the families to return to their home state," Brittany Jencik explained. "Poor Keaton. He was stuck with his mom [and new baby brother] for the entire first week of his college life. He was very sweet and attentive to us but I think the poor kid said goodbye a hundred times before we finally left. It really was a very emotional and wonderful week though – one I'll always cherish."
'Make us the last call'
The circumstances behind Caulder joining the family may have been unique, but Brittany and Barry adding children in desperate need of love and attention is not.
"Our general mantra to agencies is, 'Call us when you have a child you can't place,'" Brittany Jencik said. "We tell them, 'Make us the last call you make.'"
The Jenciks have been married for almost 16 years. Barry has two children from a previous marriage, both in their 20s; Keaton is the product of Brittany's first marriage. Together, the couple has produced four children: Brady, 16, Zachary, 15, Ryder, 13, and Travis, who is 9.
The rest are adopted: Talia, 10, Tennyson, 8, Lachlann, 7, Weston, 5, Everleigh, 4, Caulder, 4, Nathaniel, 2 and Samuel, also 2. Tanner would have been nearly 1½ years old, but in October he died from Cornelia deLange Syndrome, a rare genetic disorder.
All but one of the adoptees have special needs, including Asperger's, Down Syndrome, Dubowitz Syndrome, Cerebral Palsy and Prader Willi. Several children receive nutrition through gastronomy tubes. Some are cognitively impaired, vision impaired, hearing impaired, non-ambulatory, non-verbal, micro-cephalic or hydrocephalic.
"Growing up you see a lot of people looking over and asking, 'What does your little brother have?'" Ackerman said. "When you're little, it can be sad. But now it's more of an opportunity to show off their uniqueness, so you start talking to [questioners] and maybe 10 minutes later, they'll be sitting with them and laughing with them and enjoying time with them.
"My mom used to always say that each additional kid was someone we could love and show a good life and they would be a blessing and teach us something at the same time."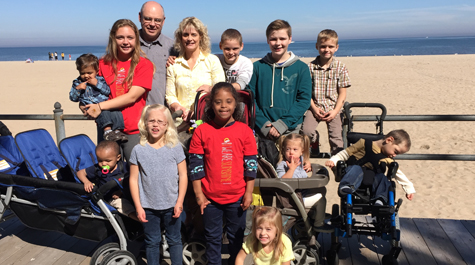 Ackerman points to a recent phone call as an example. One of his sisters answered and immediately complained to him that another sister, Everleigh, was hogging the iPad. Everleigh is four, has Down Syndrome and is hearing impaired.
"I asked my sister, 'How does she even know how to use an iPad?' and my sister says, 'I don't know, but she's been watching sign language videos to learn sign language on her own.'
"How amazing is that? With our family, there's always something new."
Ironically, Ackerman's mother and stepfather became involved in adoption after the birth of their son, Ryder. For two years, Brittany Jencik said, they "felt in their hearts that something was different with Ry" before he finally was diagnosed on the autism spectrum.
Once he began progressing physically and developmentally, and they felt they had "survived" the first two years did they consider adopting a child with special needs, their daughter Talia.
"Talia threw us down the path and made our future journey as clear as it ever would be," Brittany Jencik said. "It's been an incredible journey, one we would do again ... and again ... and again. Sure, it has made our lives more 'complicated,' but we feel we're the luckiest parents in the world."
Ackerman's obstacle
Ackerman competed at William & Mary despite battling Crohn's disease, which he says made for difficulty digesting certain foods. He changed his diet and, at the suggestion of Richmond doctor Fred Ward, began meditating to alleviate stress, a trigger.
"He was probably the most influential person I had at college," Ackerman said. "He took a much more 'focus on yourself' approach, lower your stress by meditation, breathing exercises or just planning ahead a little better. From my freshman year on, it got a lot better."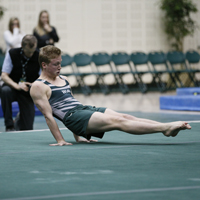 Ackerman will work for Deloitte Consulting in Washington, D.C., this summer before returning to W&M to complete his MBA. He admitted that he has been "struggling pretty heavily" with thoughts of returning to Rochester and helping the family navigate through life, and he's holding that as an option down the road.
"But something [his mother and stepfather] said to me stands out," he said. "They told me to enjoy these younger years. 'If you want to go to D.C., go and enjoy it for a few years.' So I think that's what I'm going to do, go to D.C. and see where it takes me."