A rocky past shapes a promising future for W&M graduate
Unlike many of his fellow graduates who will fill Kaplan Arena for Commencement this weekend, Alpha Mansaray '16 didn't grow up with dreams of one day donning a doctor's coat, driving a racecar or gripping a fire hose. In fact, he didn't spend any time contemplating the ubiquitous childhood question, "What do you want to be when you grow up?"  Instead, his thoughts were occupied by more immediate concerns: Where would he sleep next? Would there be another attack? When would he see his family again?
Mansaray was born and spent the better part of his childhood in Sierra Leone, fleeing from unrest caused by the country's 11-year civil war.
"I remember being a little kid and having rebels come to our village and attack," he said. "My uncle just grabbed me, put me on his shoulders and started running. I really credit him with saving my life."
In the following years, Mansaray fled from Sierra Leone to neighboring Guinea to Gambia. His mother, meanwhile, had won a visa to come to the U.S. and was living in Richmond, Virginia, working hard to become a citizen so she could bring her children to America with her. When that happened, Mansaray was 12 years old with only limited English speaking skills.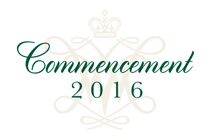 "I remember when I got here, my mother told me, 'You were brought here for a reason, and it's to get an education,'" he said. "So that's what I did. If a teacher gave me an assignment I would do extra. If someone said something in class that I didn't understand, I would immediately go home and look it up. I was focused on nothing but learning."
Those years of dedication paid off. Alpha went on to graduate at the top of his high school class, and, on Saturday, he'll graduate from William & Mary with a double major in kinesiology and a self-designed major in public health with a community focus. He plans to pursue a medical career and one day return to Sierra Leone to work as a doctor.
"What really drives me is when I go back to Sierra Leone and see my cousins and am reminded of how far I've come," he said. "The difference between me and them is just luck. When I think about that, I know that I have to go back to Sierra Leone someday and help others." 
Global perspective
While Mansaray's devotion to a future in service was apparent, his pathway to college was not so clear-cut. It took a meeting with a guidance counselor, he said, to convince him to even try for a university like W&M.
"I assumed I would just go to community college because that's what my mother did, and she was my definition of success," said Mansaray. 
But when the acceptance letter from W&M came in, everything changed.
"My mother told me this was the dream, and this is why she worked so hard," he said. "So at that point I realized I had the chance to become something more, and I owed it to myself to do that."
Mansaray entered W&M in 2012 with the intent to study pre-med, in part because of service work he had done with his aunt's Richmond-based non-profit organization, which provides medical supplies and funding for healthcare to women and children in Sierra Leone.  
"We'd go to garage sales and sell cheap things to make money or write letters to hospitals asking for drugs or supplies they didn't need anymore," he said. 
His interest in medicine soon blossomed into a broader exploration of healthcare systems in Sierra Leone and beyond. At the encouragement of Monica Griffin, director of the Sharpe Community Scholars Program, Mansaray applied for a freshman research project to study abroad in Sierra Leone and ended up landing a summer internship there the summer after his freshman year with the World Health Organization.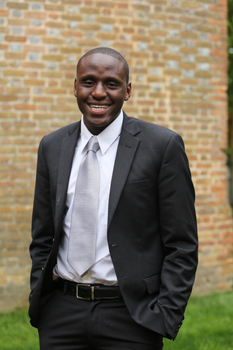 "I'd read negative things about the way healthcare is operated Sierra Leone, but when I got there I met so many people who want to make actual change," he said. "They have ideas for projects, but since the system is mostly donor-run, they'd plan for them and money would never come." 
That experience opened his eyes to the troubles facing doctors and marginalized communities in Sierra Leone and solidified his interest in finding ways to ameliorate those issues through medicine and policy. Post-graduation, Mansaray intends to go back to Richmond and eventually apply for medical school and, possibly, also obtain a master's in public health. 
His advisor, Professor of Sociology and Community Studies David Aday, who encouraged Mansaray to broaden his research focus to nations beyond Sierra Leone, believes Mansaray has a bright future regardless of his graduate and professional education path. 
"Alpha is an enthusiastic, energetic person with a passion for issues of public health, women's rights and opportunities and his home country of Sierra Leone," said Aday. "He believes that knowledge and education can and must provide the power for social change and to overcome systemic injustices. I suspect that Alpha will be a caring and skilled medical professional, but I expect also that he will find ways to take on systemic problems of health and healthcare."
Impact on campus
Beyond Mansaray's professional ambitions, his passion for connecting with people extends into his extracurricular activities. But becoming a social fixture on the W&M campus didn't always come easy for him, especially as a shy freshman.
"The first few nights here were hard — I was alone in a strange place where I didn't feel I could relate to anyone," he said. 
Through his involvement with the Sharpe Community Scholars Program, he soon connected with like-minded students, one of whom was also from Sierra Leone, and built a solid network that eventually gave him the confidence to spread his wings. In his four years at W&M, he's worked as a resident assistant, teaching assistant and peer advisor, and served as the programming director for Sharpe Community Scholars, where he had the chance to meet and advise each student who came through the program.
"I'm so thankful I stayed open, branched out and got to know people," he said. "After my freshman year, I knew I had to be an RA so I could make sure anyone who comes here feels like they belong immediately."
Mansaray's sentiment extends beyond the student body: During his junior year, he hosted the first of an annual banquet to show student appreciation for custodial staff and their families.  Forty people showed up at the inaugural event; the following year that number had increased to more than 100. With plans in place for a new organizer following his departure, he hopes attendance continues to increase for decades to come. 
"I look back at everything I've done here and am just in awe," he said. "I think I owe a lot of it to just being around this caliber of students who make me realize my potential and discover so many things about myself. The people here are absolutely what has made this place feel like home."