Narrative medicine examines charts and hearts
We are more than the sum of our charts.
That is one of the key messages of
narrative medicine
, a vein of healing that emphasizes treating patients as humans, with individual stories and conditions – not as a collection of symptoms.
William & Mary and the Eastern Virginia Medical School (EVMS) have joined forces to promote and teach narrative medicine to the liberal-arts university's pre-med students and the Norfolk-based medical school's physicians and staff.
"Practicing medicine involves the intersection of science and art," W&M Provost Michael R. Halleran said. "A patient has not only symptoms but a story which includes and helps explain these symptoms. The W&M-EVMS pilot has exciting possibilities for the training and practice of healthcare providers, and demonstrates the value of the partnership between our two institutions."
W&M's Joanne Braxton, the Frances L. and Edwin L. Cummings professor of the humanities, has worked closely on this project with Dr. Rita Charon. She is the founder and director of the program in narrative medicine at Columbia University College of Physicians and Surgeons in New York.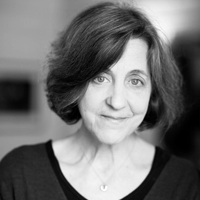 "Taking these courses will give an advantage to our pre-med students when it comes to being admitted to Virginia medical schools," Braxton said. "Those institutions will recognize the value of having taken educational courses co-taught by William & Mary and EVMS faculty. It's a unique opportunity for this university."
Narrative medicine proponents assert that effective healthcare engages doctors to recognize, absorb, interpret and act on the stories and plights of their patients. It grew out of sociological research in the 1960s that showed that, increasingly, physicians were practicing medicine with "detached concern"; they were more interested in dealing with the problem on an impersonal level than with the patient.
"With the world of medicine becoming so very technical and IT-based, it is imperative that all of those working in healthcare understand how to get the 'story straight,'" said EVMS Associate Dean of Students Teresa Babineau, a family practitioner and a member of the inter-disciplinary team. "We need to understand how our story may interact with the patient's story – whether or not we want to believe it does."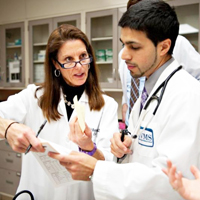 Braxton, who also is director of the university's Middle Passage Project, is no stranger to narrative medicine. She has studied and taught it under a variety of rubrics for many years at William & Mary. She has taught non-fiction life writing. In literature classes, she has focused on the role of trauma and healing in the works of authors. She has studied the subject at Columbia, and at Duke University's Center for Integrative Medicine, Brite Divinity School and the Pacific School of Religion.
Inspired by these experiences and by her communication with Columbia's Charon, Braxton contacted Economics Professor Jennifer Mellor, director of W&M's Schroeder Center for Health Policy. Mellor put her in touch with EVMS Vice President and Dean of the School of Health Professions Donald Combs, who called a meeting that included fellow Vice President Mekbib Gemeda.
When Braxton informed Combs that she planned to answer a call for proposals for round three of EVMS-W&M collaborative grants, Combs sought interested parties on his end. Gemeda, Babineau and Natasha Sriraman, a pediatrician, came forward.
Ultimately, the proposal submitted by Braxton and Gemeda – they serve as principal investigators – and Babineau won a $25,000 grant.
"The Braxton proposal received a number of favorable reviews from the selection committee," Mellor said. "In particular, the reviewers commented on how the project was a new area of scholarly research for EVMS, and how William & Mary scholars in humanities, theater and Asian-American studies would benefit from access to medical school faculty.
"There was also excitement about how the courses developed under the grant could contribute to the new COLL (general education) curriculum."
W&M's members of the team are Professor Beverly Sher, the university's pre-medical advisor; Assistant Biology Professor Shantá Hinton; Artisia Green, associate professor of theatre and Africana studies; and Francis Tanglao-Aguas, associate professor of theatre and Asian-American studies.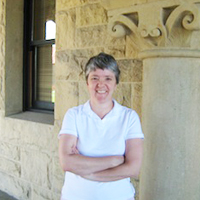 "We became an intentionally interdisciplinary, multi-cultural and multi-ethnic 'learning community,' laying the groundwork for future efforts," Braxton said. "This initiative targets potential 'pre-med' students in the undergraduate curriculum at an early stage in their development. In addition, this initiative offers opportunities for creative writing and literary and film students to explore emerging fields in the healthcare professions."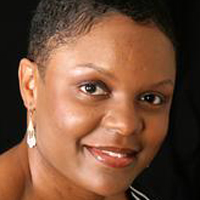 The first stage of the program took place last year. There were a series of meetings, information sessions pairing students and EVMS faculty and public lectures featuring Babineau, Gemeda and Sriraman on the W&M campus. An important part of the pilot project was collecting data for future funding opportunities. Attendees were surveyed for their reaction to the lectures, and could reply anonymously if desired.
Bishop Clarke '17, who took in Gemeda's lecture on "Unconscious Bias: Confronting the Demons of Inequity," described it as "like nothing I had ever experienced in an academic setting before."
"Towards the end of the presentation, [Gemeda] showed us a series of images where we had to guess facts about a person based on nothing but their picture," Clarke wrote. "When he showed us a tan woman with a bindi wearing a headscarf, many of us guessed that she was a housewife instead of what she actually was: a prize-winning scientist. Gemeda explained that one of the best ways to combat our unconscious biases is to acknowledge them and to see why they are irrational, harmful and limiting."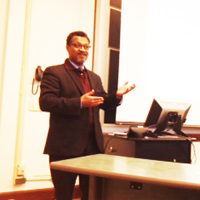 Babineau's lecture was primarily autobiographical and subtitled, "They Told Me I Should Stay Home."
"As a woman, I have often wondered about the medicine/family life balance," an attendee wrote. "It was great to hear Dr. Babineau's perspective about her experience."
Sriraman spoke to "Why Stories Matter: Understanding Narrative Medicine."
One student wrote, "I appreciated hearing the doctor's own life story and struggles with cultural complexities. This raised my consciousness and increased my empathy."
Other accomplishments included the team's three-day seminar in May at W&M and EVMS, in which a consultant from the Columbia University Medical School participated.
Another major achievement was the delivery of a seminar entitled "Quality Improvement, Physician Well-Being and Narrative Medicine" for faculty, residents and students at EVMS and Children's Hospital for the King's Daughters. It was taught by Braxton, Babineau and Sriraman.
The event vividly reinforced the power of narrative medicine to Braxton, who asked the medical professionals present to write without stopping about the last time they had to move on in a clinical setting because their time was up or before they were ready to go or had time to recover from an especially traumatic circumstance.
"Narrative medicine is a powerful tool for the alleviation of trauma exposure response," Braxton said, "and the health-care professionals that day were able to experience that benefit first hand."
Starting this fall, the team will introduce two already approved COLL 200 courses into the curriculum.
"Narrative Medicine: Stories That Heal" and "Medicine Arts and Social Justice" will be taught by Braxton and EVMS faculty members, with guest lecturers from first-ranked research universities such as Emory University and the University of Maryland. They represent, Braxton said, "the next step forward."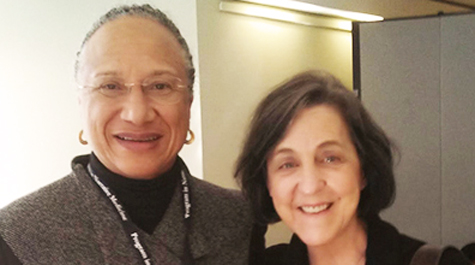 In addition, Braxton anticipates co-teaching more Continuing Medical Education (CME) courses with her colleagues at EVMS. She said physicians are eager to explore narrative medicine, both as an opportunity for future growth and as certification for CME.
W&M's Green agreed to join the team because, she said, the purpose of narrative medicine flowed with the creative process she teaches of bringing stories to life on the stage called dramaturgy.
"Encouraging students to consider narrative medicine, which as I understand it seeks to re-sensitize medical personnel to the needs of patients in order to improve health outcomes through closely reading the stories and not solely just medical histories of their patients, is yet a very conscious but small and feasible extension of my current goal of radicalizing communities and individuals through theatre," she said. "In this sense, it is very similar to 'drama therapy,' which utilizes theatre towards therapeutic ends."
Babineau said that despite the progress that has been made over a short period of time, "we're just getting started."
"It has been wonderful to see the expertise of those who work in the humanities and arts use those skills to help us understand science and communication in a fuller sense," Babineau said. "I have always said that everyone has a story and often it is not the one that seems to be there on the surface. This project shows that to be true."