Jill Ellis '88 and U.S. World Cup champions inspire another generation
The following article originally appeared in the fall 2015 issue of the W&M Alumni Magazine. Ellis will visit William & Mary Sept. 25 and 26 and will make appearances at Friday night's women's soccer match and Saturday's football game. - Ed.
It had been 16 years. The U.S Women's National Team (USWNT) had not won a World Cup since heroes such as Mia Hamm, Julie Foudy and Brandi Chastain lifted the trophy in 1999. For an entire generation of young women, this was a distant memory — if that.
Jill Ellis '88 was born into the world of English football, or soccer, not long after England had won their first and only men's World Cup. Her father was a respected coach. Her brother played and shared the family passion. Yet she was obliged to be a spectator — playing was unbecoming for young ladies at that time (the first women's World Cup wasn't held until 1991). What little field time she got was at her brother's pick-up games when they needed an extra player.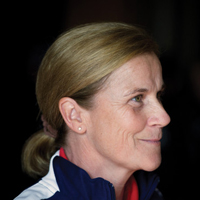 That would all change when her family moved from Cowplain, England, near Portsmouth, to Northern Virginia when she was 15. Three years later, she captained her high school to a state championship, followed by an under-19 national championship with her club team, the Braddock Road Bluebelles.
When it was time to take the next step, Ellis was in unchartered waters. No one from her family had ever gone to college and making a living at soccer for a young woman in the 1980s was still only a dream. She asked her teammates where they were considering and a number mentioned William & Mary. Her father learned that it was a strong academic school with a good soccer program. William & Mary also had the benefit of its intimate size, something that appealed to the extremely shy Ellis.
"W&M was the perfect fit," says Ellis. "It was small enough that I could have a good group of friends and get to know my professors. It was such a good base for me in terms of all the things that I wanted to do."
Since its beginning in 1981, William & Mary's women's soccer has had its share of success. John Charles, the founding head coach, now a W&M professor of kinesiology, had recruited Ellis to play forward. For Ellis's first three years, the team made it to the NCAA tournament only to lose in the first game. Her senior year, however, under new Head Coach John Daly and Assistant Coach April Heinrichs, William & Mary made it to the Elite Eight and Ellis was named third-team All-American. During her college career, William & Mary's record was 44-20-11 and Ellis finished as the team's all-time leading scorer with 32 goals, a record that has since been surpassed.
"She was a joy to be around," says Charles. "She understood the game and had a great way of working with people. She was a good listener and always responded to people in a positive way. She was competitive but never had an ego. I saw her leadership at the time and the possibilities of her being a great coach."
What Ellis remembers most are the people who touched her life. "I have great memories of all the friendships and people, many of whom I am still close to. We had very little in terms of resources in those early days. There weren't any scholarships. Our pregame meals were at McDonald's and if we ate at Wendy's we thought we had struck it rich. But in terms of people who were passionate about what they did and who loved to go out and compete in the school colors, there was a lot of pride. It was people playing because they loved the sport. They wanted to represent William & Mary."
The team was a family. They practiced and played games in the middle of campus. Students would wander by and stop to watch. The team also did a lot off the field, socializing together and hitting the delis after a big weekend or big win.
"It was tough to balance the [school] load and that is still a challenge for student-athletes today," says Ellis. "We would be in the van traveling and we all had a flashlight so that we could study. There were a lot of long road trips spent reading and doing our academics on the road. There are very few schools that can have that balance of academics and athletics. That is what was so appealing to me. I knew I would come out [of William & Mary] with a fantastic education."
Throughout her high school and college career, Ellis played side-by-side with two of her best friends and fellow W&M Athletics Hall of Fame inductees Megan McCarthy '88, the 1987 NCAA Collegiate Player of the Year who missed playing on the 1991 World Cup team due to injury, and Julie Cunningham Shackford '88, who recently retired as the winningest coach in Princeton history. According to Charles, they formed the backbone of a powerful team. Their assistant coach, April Heinrichs, would go on to captain the winning team at the inaugural World Cup in 1991 and coach the 2003 USWNT to a third-place finish.
After college, Ellis had no intention of following in her father's coaching footsteps. While psychology piqued her interest, she majored in English, her second passion, with a minor in history. "I wrote for the Flat Hat; I was inspired by Nathanial Y. Elliot's Romantic Lit. courses," says Ellis. "I figured that any profession that I went into would need people who can write."
But coaching would turn out to be a way to pay for graduate school. While pursuing a master's degree in technical communications, Ellis assisted the North Carolina State women's soccer team. The team won the ACC Championship and she enjoyed every minute of her time back on the field. While the hook was set, she still didn't see coaching as a career path.
"My father was a coach and a mentor to many women soccer players and coaches," says Ellis. "My brother was coaching at George Mason. It was definitely in the gene pool and I fought it as long as I could."
Instead, she followed the more lucrative path of becoming a technical writer for Northern Telecom in the Triangle area of North Carolina. After two years, however, Heinrichs reeled Ellis in by offering her an assistant coaching position at the University of Maryland. Ellis hasn't looked back since.
After three years at Maryland she spent another year on the University of Virginia's coaching staff. She would go on to head coaching positions at the University of Illinois and UCLA, where she led the Bruins to eight NCAA Final Four appearances. In 2000, she was named National Coach of the Year.
Her overall college coaching record during her 14 years as a head coach was 248-63-14. Coaching appointments to the U.S. national youth teams followed.
"Coaching really helped me evolve," says Ellis. "I was incredibly shy and it was a means for me to really grow in my communication skills and teaching. And it helped me grow in my personality. For me, as much as I fought it, my passion was the game and my passion was teaching and coaching and soccer. So it pulled me back."
In the 24 years since the Women's World Cup began, the USWNT had never finished lower than third place. They were crowned champions in 1991 and 1999. U.S. soccer fans considered themselves as the rightful owners of the trophy. Expectations for the 2015 World Cup were high and questions about the team and comparisons to 1991 filled sports sections across the country.
Then, with a little more than a year remaining until the World Cup, Ellis was called up to lead the full women's national team. "It was a pretty short timeframe," says Ellis. "I had a lot of familiarity [with the players] but it still was about blending new players with the veterans. We knew what our destination was, we knew we wanted to lift the trophy, but it really was about establishing the path and process that we were going to take and committing to that."
The World Cup was a microcosm of the bigger process. "You don't play your best soccer in the first game," says Ellis, "It is a seven-game tournament, you have to evolve and you don't want to peak too early. It was a four- or five-week snapshot of the big picture with the team."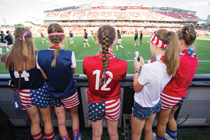 The USWNT won their group to advance to the knock-out stage of the tournament, but the path to the final was fraught with injuries and yellow-card suspensions to key players. Goals were hard to come by. It seemed the team wasn't firing on all cylinders. In the U.S., broadcast television commentators criticized Ellis's coaching. They questioned player selection, formation and the style of play.
"From the day I took the job, I knew that I wasn't going to read anything or go outside of the people that were directly involved in the team," says Ellis. "You have to stay focused on what you are doing and the reality is … that is the nature of being a leader. I just kept my head down and stayed focused on the process."
Ellis recalls individual meetings she had with Carli Lloyd, one of the USWNT's primary goal scorers. In the first couple of games Lloyd was struggling to play to her full potential. Ellis remembers saying to her, "don't stress, this is going to happen. It is seven games. It is not going to be perfect. Stay focused."
She believed that Lloyd was a big game player and that her time would come. "She just had to keep doing what she was doing and not stress about it," says Ellis.
The USWNT walked onto the field in Vancouver for the World Cup final with the expectations of the nation squarely on their shoulders. It was a chance for redemption against Japan, the team that beat the U.S. in the 2011 final only four years before. Most everyone expected a tight, hard-fought game. While defensively the U.S. had been consistently strong, at times the offense struggled. But it only took Lloyd three minutes to score the first goal, the fastest in World Cup final history. Then, within the first 16 minutes, the U.S. had added another three goals, including two more from Lloyd. The game would finish 5-2, with the U.S. again announcing their dominance.
Daly, who is beginning his 30th season as head coach of W&M women's soccer, says, "Jill has worked with and learned from some great coaches, including her father John, who was an outstanding coach, April Heinrichs and Tom Sermanni. She showed with her astute line-ups and substitutions [in the World Cup] that she is a mature and observant coach. To keep star players happy when they are not playing as much as in the past is also the mark of a coach who has won over the dressing room."
"Connecting with my players was a big part of it," says Ellis. "As we went through it, I never looked up." It wasn't until the team was flying home that the weight of the team's accomplishment began to sink in. She still hadn't peeked behind the curtain to see what was going on back in the U.S. On the plane, Ellis was notified of a big rally that would be held in downtown Los Angeles. She had lived in L.A. and her first thought was, "who is going to show up for that?"
When they got to the rally, there were more than 10,000 people celebrating the team. The World Cup final had been the most-watched soccer game in U.S. television history. It was then that she realized that they had accomplished something truly special.
"The hope for me was to bring the sport forward," said Ellis. "You constantly want to keep your sport relevant. I knew that winning the World Cup would inspire another generation and, for these players that have worked so hard, it would cap their legacy because they hadn't won a World Cup. It was nice to see it really come together."
The USWNT is currently on a 10-game Victory Tour. Ellis, with a recently announced multi-year contract extension, will be leading the team onward into the years ahead. "As we look towards the Rio Olympics and build towards the 2019 World Cup in France, we think Jill is the ideal person to lead the next generation of the Women's National Team," said U.S. Soccer President Sunil Gulati in an Aug. 5 press release.
"I am not surprised," says Charles, "but very pleased that she has fulfilled her potential to become an outstandingly effective national team coach."
"Ultimately [William & Mary] was a home run for me," says Ellis. "It all worked out and I have a great fondness for W&M. The decision to go to William & Mary was a big juncture in terms of preparing me for this stage of my life."
For Ellis, it has always been about people and relationships. "It is an amazing honor to coach this group of women," says Ellis. "It was a privilege to work with the players and staff because everyone was so committed and so dedicated and singularly focused that we really felt that we were one unit and one team."