Cordum, women's soccer win on and off the field
John Daly had never engaged in a conversation like the one he and Samantha Cordum enjoyed recently – and he has coached 595 games for William & Mary over 29 years.
Cordum, a high-scoring forward on the women's soccer team, approached Daly several weeks ago with an unusual request. She had an interview with the admissions board of a medical school on Sept. 28, the day after the Tribe was hosting Northeastern, the defending Colonial Athletic Association champion.
She could play in the game, but her flight to the southwest departed at such a time that she'd have to leave before it was over.
"We have not had a situation such as that occur previously; at least, not in my memory," Daly said. "Sam told me a few weeks ago that she would be leaving after the game, but I did not know until (several days before) just how early she would have to leave! I recall hoping that we did not go to overtime!"
He needn't have worried. Cordum scored three times – the first hat trick of her college career – all the goals W&M needed to defeat the Huskies, 3-1. The victory gives the Tribe a solid 7-3-1 record, and Cordum seven goals and two assists for the season.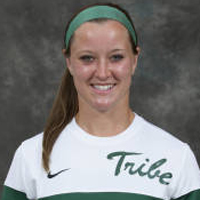 "The first goal was off a really good transition from (freshman) Mackenzie Kober," Cordum said. "She poked the ball loose from one of the Northeastern attackers and I just did my best to keep fighting and keep ball in play. There came a point where both defenders fell away and I just took the shot. That one was all about hard work and persistence.
"The other two were great through balls from Clara (Logsdon) and Sammy (Johnson), perfectly paced and timed and directly on my feet."
With about three minutes to play, Daly pulled Cordum. She raced back to William & Mary Hall, showered, collected her belongings and drove to the airport in time for her flight. The next day's interview went well, she said, though she's superstitious enough to ask that the school not be named.
"Don't want to jinx it," she said, smiling.
It's a little surprising a situation like Cordum's hasn't arisen before, given the traditionally strong academic prowess of the women's team. During Daly's tenure, 11 players have earned Academic All-American recognition. Last year alone, nine of the team's 25 members won Provost Awards for achieving a grade-point average of 3.5 or better.
Once a recruit's academic record has been vetted and the player signed, Daly and his staff closely monitor every aspect of her performance in the classroom. Players turn in grade reports every two weeks, and there's no question in anyone's mind what is expected.
"But for all of that, it seems to me that we just attract the right kind of student-athletes," Daly said. "They appreciate the chance they have been given in attending such a prestigious institution as William & Mary."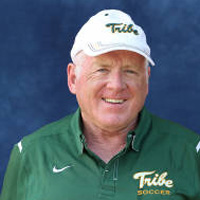 Cordum added that Daly's players aren't allowed to miss class in order to attend practice. Players who miss class because of games – unavoidable at this level – are required to make up the work. She credited Daly and the athletic administration for keeping in close contact with teachers and working with them to "get back" the time players have lost in the classroom.
"Obviously in order to get into William & Mary you have to be very smart and a very hard worker. We're all intrinsically motivated to study, to excel, in the classroom as well as the field," she said. "(Daly) really pushes that we are student-athletes, but the 'student' comes first. They really make it easy for us to get the work done, and then we supply the motivation ourselves."
Cordum's motivation to become a doctor can be traced to her childhood. Both of her parents are doctors in her hometown of Boise, Idaho. Her mother is an internist. Her father is a gastroenterologist. While she has a slight preference for the latter specialty, she said that having undergone knee surgery last year opened her eyes to the world of orthopedic medicine. She even obtained a DVD of her procedure and watched it a few times while recuperating.
She has applied to 10 medical schools and has at least one more interview to come. She hopes not to have a repeat of her Northeastern experience, "but it may happen."
"Hopefully, we'll get ourselves in a good position with a bye in the (CAA) tournament, where if I have one scheduled for that time I can go then," she said.
Medical school admissions personnel seem intrigued with Cordum's status as a women's soccer player.
"A lot of times they'll comment and say, 'We don't see a lot of student-athletes,'" she said. "They'll ask questions about how we react in a certain situation and how we have conquered adversity. They ask about a time we exhibited teamwork. A lot of questions are general, but all of them are applicable to soccer.
"What we do daily gives us great life skills that we are going to need in our future careers: being a hard worker, being able to manage our time and being persistent in want we do. We're not quitters. We stick with our guns."