Anthropology grad student scores 'best poster' award
Academic conference posters are an understudied and underappreciated communications medium. Conferences and symposia virtually always have at least one poster session.
A poster session will include scores, perhaps hundreds, of these distillations, arranged in rows. Researchers distill their recent and ongoing work into what essentially is a single large page. It's impossible to read — or even to scan — each poster, but some of these offerings have qualities that make you stop and look.
Jenna Kay Carlson, a Ph.D. student in William & Mary's Department of Anthropology, created a poster that was arresting and informative enough to be awarded the top student poster at the 2015 conference of the Society of American Archaeology (SAA).
 "These posters are quickly taking the place of the standard 15-minute presentation," said Carlson's advisor, Assistant Professor Neil Norman. "One of the reasons is that it can be a bit bewildering to try to give your paper and convey those three or four main ideas, but the poster has everything there and can convey the ideas quickly, just like you would with your paper, but the visual cues and images never leave."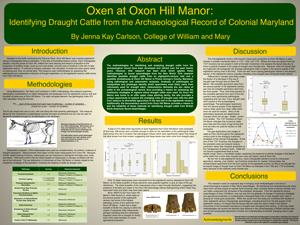 The winning entry was the first poster that Carlson had made. She said that she had accumulated ideas from seeing posters at other conferences, and she also had a solid grip on a topic, having written a paper for presentation at William & Mary's College of Arts & Sciences Graduate Research Symposium, where it won an honorable mention in the humanities and social sciences category. The abstract, she said, is the most important element of a poster.
"To me, what you want is to always have the abstract stand out. Big, bold and right in the middle," she said. "People passing by can do a quick rundown, then perhaps read the sections on what you're setting out to do, what did you do, what did you find."
Norman echoes the importance of the abstract — the synopsis or Reader's Digest Condensed Version of the work. Papers in peer-reviewed journals have abstracts, as well, and he noted that many journals and conferences have reined in prosy abstracts, which are supposed to be succinct descriptions of the work.
"I've seen abstracts before that, single-spaced, go a full page," he said. "Now, they're forcing people to do really brief ones. So you get 150 words."
Carlson added to her store of ideas by searching on the Internet and discussing different aspects with her husband. "I sat my husband on the couch next to me," Carlson recalled. "I said, 'Can you read that?' 'Does that look good?' Bouncing ideas back and forth."
Carlson said that she wanted her poster to have "pop," and Norman added that pop alone does not make a great poster. Context and the explanation of data are important elements.
"So many people will just throw up a bar chart or a scatter plot. And they know exactly what that means, because they are so close to the material, but if you can't explain that verbally to someone who is like a Martian coming in, you're in trouble," he said.
Carlson assembled her material on a single slide in Microsoft PowerPoint, which Norman calls "the industry standard" for academic posters. She used the abstract, verbatim, from her paper. The SAA poster session set a maximum size of 4 x 8 feet, but Carlson made hers 3 x 4 in order for it to be imaged out at the William & Mary Copy Center.
The work described in the poster is a subset of Carlson's dissertation research. It  concerns the 18th-century use of "traction animals," cattle that planters used to pull wagons, plows and the like. Her examination of leg bones recovered from a plantation site in Maryland provides a method for tracing the shift in the plantation's work from land clearing and tobacco raising to more diversified agriculture.
It's solid, valuable archaeological work, but not necessarily a topic that would stop traffic in a poster session such as the SAA's San Francisco meeting this year, which offered hundreds of posters from seasoned professional archaeologists as well as grad students. It helped that Carlson came up with a simple, but arresting title: Oxen at Oxon Hill Manor.
"It's like a newspaper — you need to have that headline," she said, adding that the oxen/Oxon juxtaposition provided grabbing power.  "People would stop and wonder if I spelled 'oxen' wrong. And I would take that opportunity to say, 'Well, let me tell you about Oxon Hill Manor.'"
Creating engagement with interested parties is one of the goals of a poster session, Norman explained: You just might catch the eye of a representative from a foundation or funding agency.
"The poster is not just a stand-alone piece," Norman said. "It's an interactive presentation as well. It's not there to tell the whole story, just to help you tell the story."
Carlson gave her poster a trial run at the Arts & Sciences graduate symposium. Walking through the William & Mary poster session, she saw a number of things that seemed to make her poster stand out.
"I thought, gee, am I the only person who uses William & Mary colors? I thought that was standard to use the colors of your institution," she said. "The William & Mary colors do look good together. There's a reason that they're used." Carlson also noticed that her poster was the only one that didn't have a pure white background.
"So I thought that's either going to be really good — or not so good," she said.
It turned out to be really good. At the SAA meeting, judges scored entries 70 percent on presentation and 30 percent on the data. Therefore, Carlson's first-place award, which carried a $250 honorarium, recognizes her research as well as the poster.
Shakespeare may have written, "In time, the savage bull doth bear the yoke," but Carlson says the Bard was only being poetic. At Oxon Hill Manor the savage bulls doth no such thing; traction animals were mainly oxen.
"When you change from tobacco to mixed grains, you need a plow instead of a hoe," she said. "And you need animals to pull that plow. So you really start seeing more oxen."
Careful examination of lower leg bones tells Carlson a great deal about the animal it came from. In the first place, it allows her to separate bulls from cows and castrates, a term that encompasses steers as well as oxen, which refers to mature steers used as traction animals.
"If it's a bull, the bone's big and stocky. A cow is more gracile," she explained. "And when you castrate an animal, that interrupts the hormones and the growth cycle. So steers put on a lot of muscle, but they're not as bulky as bulls and the bones are longer and skinnier."
The bones also reveal evidence of arthritis and other signs of mechanical stress, important clues as to how hard the animals were worked. The poster lays out her findings in an accessible manner, while including enough hard data to pique the interest of her fellow archaeologists.
"I like to think I made a pretty poster that's easy to read, but I like to think that I knocked it up a couple of notches with the data," she said.