W&M report finds uncontested races for state legislatures at all-time high
A report from the Thomas Jefferson Program in Public Policy at William & Mary found that more elections for state legislative seats across the country are going uncontested this fall than at any other time in the 21st century.  Just 57.41 percent of the 5,800 state legislative seats up for election involve competition between Democratic and Republican candidates, the study found. The drop this year is the third straight decline after two-party contests peaked in the 2008 presidential election year.
The reasons for the continued drop are varied, noted John J. McGlennon, professor of government and public policy.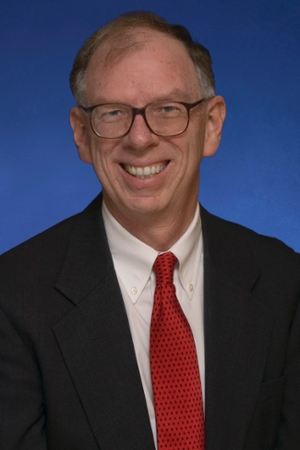 "The decline in competition can be explained by a number of factors, but especially increased partisan gerrymandering designed to make more seats 'safe' for one party or the other and increased party polarization which has reduced the pool of 'swing' voters who split their tickets from office to office," he said.
McGlennon also cited California's adoption of the "top two" primary, which has led to a substantial decline in the number of two-party contests and replaced them with "second primaries" between two candidates of the dominant political party in a district.  In that state, he said, two-party contests for the legislature dropped by 18 points between 2010 and 2014, largely for that reason.
McGlennon authored the study, "A Report on Partisan Competition in State Legislative Elections, 2014: Two-Party Contests Hit Lowest point in Past 7 Cycles," with the assistance of Jacob Derr, a master's in public policy candidate and government major Jakob Deel '16.
This year's report, released Friday, is part of a continuing series that has reported on legislative competition in federal election years since 2006.
Data in the report includes states holding elections in both presidential and midterm congressional election years. This year's numbers, the authors noted, showed slightly fewer than three of five elections feature both a Democratic and Republican candidate, down three percentage points from the 2012 elections.
The trend toward declining competition, McGlennon said, lessens the likelihood of major changes in party make-up in state legislatures nationwide, but doesn't mean there won't be shifts in party control.
"There are a number of closely divided state legislative chambers this year. In these cases, even a small shift in seats could produce transfer of control from on party to another," he said.
Still, the study found some states are bucking the trend. Four states, with an interesting geographic tie, showed partisan competition in better than 80 percent of their races.
"It is interesting to note the consistency of individual states," McGlennon observed.  "Four of the five most competitive states– Michigan, Maine, Minnesota and Montana -- are along the nation's northern border, and these states appear time after time," he said.
In contrast, he noted, the report shows that states with one-party dominance, like Rhode Island for the Democrats and Georgia or Wyoming for the GOP have little competition.
The full report is available online and provides several tables detailing the level of competition in individual states as well as trends in most and least competitive states over time.