When it comes to his degree, Bray won't be shut out
Bill Bray will watch tonight's All-Star baseball game with slightly more interest than even the most ardent fan.
Scattered among the rosters for the American and National leagues are former teammates and friends, former rivals and stars he competed against during six seasons as a relief pitcher for the Cincinnati Reds.
That experience officially ended in March when Bray announced his retirement as a member of the Washington Nationals organization. By the time that news hit the wires, however, Bray was back in Williamsburg, pursuing what some would think a man who earned more than a million dollars as a pro athlete would neither want nor need.
His undergraduate degree.
Bray spent three years at William & Mary, twice earning All-Colonial Athletic Association honors, before being selected by the then-Montreal Expos with the 13th overall pick in the 2004 amateur draft.
In a career oft-interrupted by injuries small and major – he underwent Tommy John surgery to rebuild his left arm in 2009 – Bray finished with a 12-11 record, a 3.72 earned run average and struck out 172 batters in 174 1/3 innings. A second severe injury to his left arm, one that still needs surgery, precipitated his retirement.
During contract negotiations with the Expos in 2004, Bray and his agent struck a deal that the ballclub would provide him with extra bonus money to pay for the remainder of his undergraduate education.
"It's been huge, invaluable," Bray said recently. "The Montreal Expos/Washington Nationals are putting me through school – which is very nice of them."
Bray will graduate in May 2015 with a degree in finance. He heaps praise on the Mason School of Business, proclaiming, "I love that place!"
"The teachers are wonderful," he said. "Every teacher I had last semester I really, really enjoyed. Bob Williams (marketing), David Long (organizational behavior), Dr. (Paul) Blossom (operations management and information technology). They all were great to bounce ideas off of."
Bray has a unique perspective on the value of a William & Mary education. In the baseball world, prospects are often thrust into the minor leagues straight from high school. That can make for a difficult, sometimes embarrassing, adjustment.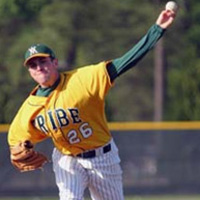 "W&M prepared me for life outside of school, especially majoring in finance. I had an idea of what I wanted to do financially, how to handle myself," he explained. "Just being on a college campus and having my own apartment off campus taught me how to take care of myself, whereas you see a lot of young kids come out and go into rookie ball and they don 't know how to handle themselves.
"Being here at W&M let me get some of the goofy things out. I could make some of the mistakes 18-year-olds make that are front page news, and nobody would ever know unless you got in trouble with law. With the academic workload here you learn how to schedule your time to get things done when you need to because you don't have the time to goof off as much when you are an athlete. You have practice and then you either study or don't."
Bray never made an All-Star roster, but enjoyed some distinctive career moments. Two of baseball's most feared sluggers – Prince Fielder, then with Milwaukee, and Philadelphia's Ryan Howard – batted a combined .071 against him.
"I don't put it out there as my best moment, but it is a pretty cool thing," Bray said. "Big power hitters like that, if you can hit your spots, you can get them out. But if you miss, they punish you. Ryan got me a couple of times on deep fly balls that were caught on the warning track that I thought were gone. I was fortunate to have a lot of success against them."
Bray's most memorable achievement was one of those right-place-wrong-time moments: October 6, 2010, the National League playoffs, Philadelphia's Roy Halladay facing Bray's Reds.
The Phillies went up, 4-0; meanwhile, the Reds couldn't manufacture even one hit against Halladay. Inning after inning he retired the side, with only a fifth-inning walk issued to Jay Bruce keeping Halladay from matching Don Larsen's perfect game in the 1956 World Series.
Bray entered the game with two outs in the eighth inning. He faced four batters who were the heart of the Phillies' lineup: Chase Utley, Howard, Jason Werth and Raul Ibanez, an All-Star the season before. Only Werth got the ball out of the infield, with Howard striking out swinging.
"Sort of a backwards highlight," Bray said, chuckling.
Bray isn't certain how he will use his degree. He has "flirted" with the idea of law school. His heart remains in baseball, and he'd love to work either for a team, the Players Association (union) or at major league baseball headquarters.
"That degree is what will get me there," said Bray, 31, who is married with two daughters, ages 4 and 18 months. 'I've got some feelers out, and a couple of opportunities might arise. If that happened, I'd take that and work on my executive MBA. Barring that, grad school. We're just going to have to see what happens."