VIMS helps assess Virginia's offshore sand resources
Hurricane Sandy's passage up the eastern seaboard in October 2012 generated a storm surge and waves that severely impacted Virginia's ocean beaches, including those at Sandbridge and Wallops Island.
Now, with the official start of the 2014 Atlantic hurricane season on June 1 reminding the nation of its vulnerability to tropical cyclones, researchers at William & Mary's Virginia Institute of Marine Science are collaborating with state and federal partners to assess the offshore sand resources that beachfront localities use to both protect against and recover from the impacts of hurricanes and other coastal storms.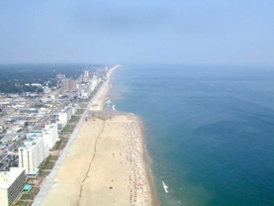 The partnership, part of the Obama Administration's commitment to help coastal communities recover from Hurricane Sandy and promote resilient coastal systems, pairs VIMS scientists Steve Kuehl, Scott Hardaway, and Donna Milligan with colleagues in the Virginia Department of Mines, Minerals and Energy (DMME) and the federal Bureau of Ocean Energy Management, or BOEM. Heading up the DMME team are William Lassetter, Economic Geology Projects Manager, and Senior Geologist Rick Berquist. Both are in the agency's Division of Geology and Mineral Resources.
The goal of the two-year, $199,472 project is to assess and map the sand deposits that lie beneath state and federal waters along Virginia's portion of the outer continental shelf. These deposits have been mined for beach-nourishment projects in Virginia Beach, Chincoteague Island, and other vulnerable sites since the late 1940s, but without a full understanding of their overall distribution, thickness, and composition.
"Our primary goal is to give federal and state agencies and localities the knowledge they need to plan for coastal protection and restoration projects in the most cost-effective and environmentally sustainable manner," says Kuehl, a professor in Physical Sciences at VIMS.
Hardaway, head of VIMS' Shoreline Studies Program, says that coastal protection and restoration in Virginia is a large-scale undertaking with major economic repercussions. Virginia Beach, which in 2012 reported more than $1.2 billion in tourism revenue, has since the mid-1990s added more than 6 million cubic yards of marine sand to stabilize its shoreline. NASA's Wallops Flight Facility, home to more than $1 billion in federal and state assets, just added 3 million cubic yards of marine sand, both to help replace the 20% of beach and dune sand it lost during Sandy and to protect against future storms.
The science team will assess Virginia's offshore sand deposits by compiling data gathered during a number of previous field projects on the continental shelf, including studies related to the potential development of Virginia's offshore wind, oil, and gas resources.
"We and our state and federal partners have amassed a large collection of geological, geophysical, and mineralogical data during studies that date back to the 1970s" says Kuehl. "The data include more than 4,800 sediment samples, about 150 sub-bottom seismic profiles, and over 400 miles of side-scan sonar mosaics."
The scientists will determine the grain size and composition of the sediment samples, digitize the sizable percentage of seismic and sonar records that currently exist only in paper form, and then migrate the digital data into a web-accessible GIS database for resource planning and exploration.
An important reason to study the sediment samples is to determine their percentage of heavy minerals, such as titanium and zirconium, and rare-earth metals, such as cerium. A 1988 study by VIMS professor Carl Hobbs and then graduate student Rick Berquist showed that a substantial number of sediment samples from Virginia's continental shelf contained minable concentrations of these economically important elements.
"A better understanding of the composition of the offshore sand deposits may provide added value that could potentially offset the sizable cost of dredging operations," says Kuehl.
Berquist notes that mining of an onshore deposit of heavy-mineral sands in Virginia's Dinwiddie and Greenville Counties produced more than 356,000 short tons of titanium- and zirconium-enriched heavy minerals in 2012 alone, with an estimated value of more than $80 million.
The Virginia project is part of a series of partnerships with coastal Atlantic states using part of the $13.6 million allocated to BOEM through the Disaster Relief Appropriations Act of 2013. The research will help to help identify sand and gravel resources that are appropriate for coastal protection and restoration along the entire Atlantic Outer Continental Shelf.
Since Hurricane Sandy struck, BOEM has been working with the U.S. Army Corps of Engineers, other members of the Federal government's Hurricane Sandy Task Force, state coastal planning agencies, state geological surveys and other entities to analyze the needs for coastal restoration and to develop restoration plans.