To Chip Esten '87, success is more than 'Nashville'
The following story originally appeared in the spring 2014 issue of the William & Mary Alumni Magazine. - Ed.
The Bluebird Cafe is unassuming. Located in a small strip mall outside downtown Nashville, Tenn., its blue awning wedged between a barbershop and a drycleaners, the cafe's exterior doesn't boast airs of importance.
Many pass by never knowing that musicians like Dierks Bentley, Keith Urban and Garth Brooks started their careers in this very spot. But the Bluebird is iconically Nashville, where those in the know head to hear up-and-coming songwriters and current chart-toppers, as well as the heroes behind those hits.
If you're not within driving distance of the Bluebird, tune in to ABC Wednesday nights for the show "Nashville," currently in its second season. You can experience not only the Bluebird, but also other celebrated Music City sights. "Nashville" follows the sagas of country music superstar Rayna James (Connie Britton), rising star Juliette Barnes (Hayden Panettiere) and a group of songwriters and singers chasing down their music dreams. Among the group is Rayna's bandleader and guitar player, Deacon Claybourne, played by William & Mary's own Charles "Chip" Esten Puskar '87.
From quiz show contestant to Buddy Holly to Deacon Claybourne, Esten has been in the business for more than 25 years and has worked hard for his success. Whether it's making people laugh or playing a song in the Bluebird Cafe, Esten's talent creates an impact with his audience.
But how, exactly, does a kid who majored in economics and participated in just one theater production in college end up playing Deacon Claybourne?
Heaven to Ground Me
"Have you ever had a thought in your head that didn't come out of your mouth?"
It was something Esten often heard from his mother, Cynthia Puskar '63, when he was younger. As a kid growing up in Pittsburgh and then in Alexandria, Va., Esten was a self-proclaimed show-off, someone who liked to make people laugh. When his dad, Charles Esten Puskar III '63, asked him what he wanted to be when he grew up, Esten said a clown. In fact, Esten did become, literally, a clown, putting on shows with other kids in the neighborhood and performing at local birthday parties — even making it to the International Children's Festival.
Esten's parents divorced when he was young. Mom Cynthia moved him and his sister, Cathy '89, from Pittsburgh to Alexandria. She raised her kids while working a full-time job, making sure they had everything they needed through tough times.
"People often ask me if there was a time I knew when Chip would go on to do what he's doing," Cynthia said. "In 1976, Chip's school put on a program for the bicentennial and he was the master of ceremonies. In my head I pictured this kid, standing still at the podium, barely able to see above it. But then out came Chip, strutting across the stage, twirling the mic cord and cracking jokes with the audience. People asked me afterward where he got it from. I told them it was probably too much 'Late Night with Johnny Carson.'"
Esten, a self-proclaimed TV junkie, had memorized every word of "Mash." But he sees that as a foreshadowing of his future career. "Without even really knowing it, a deep part of it was that this was what I wanted to be someday," he said. "I guess no different than a kid who wants to play football one day watches football games."
Esten's mom was constantly telling him to turn off the TV and to focus on his studies. "What's that TV ever going to do for you?" she would ask. But for Esten, there was just something about seeing those people on television. "You see a show or a movie that moves you. I thought that'd be neat to be a part of that, to take whatever somebody was feeling on any given day and make it different, make it sadder or happier."
Cynthia may have asked her son to stop watching so much TV, but with music it was a different story. Esten started writing songs when he was young. An early one was "The Cousin Song," and as more cousins were born into the family he had to add their names to the lyrics. "With the TV it was get back to work. With the music, it was never get back to work; she never discounted that. She understood that and the same with the clown shows and the talent shows that I did. She made me feel like I was very good at it all."
A Family That Always Calls Me Home
With parents that went to William & Mary, the College seemed an obvious choice for Esten, but his family never pressured him. When the time came to pick a school, he was happy to stay in Virginia, nearby. "It's so picturesque," he said. "I'll never forget taking history classes in the Wren Building, talking about a Supreme Court case that had been settled right down the street."
Esten can even take credit for recruiting some of William & Mary's admitted students. "I have this spotless record of anybody that ever visited me to come see what school they wanted to go to, every one of them ended up going to William & Mary," said Esten. "It's a gorgeous campus and easy to show off."
He even recruited another member of the family for the College: his sister Cathy. "While most big brothers would think go somewhere else, don't cramp my style, I gave her the full court press to try and get her to go to William & Mary. It worked and I loved having her there."
Cathy is currently a land-use attorney with, as Esten says, an unbelievable network of friends and people in the town that love her. "You might think that since I'm the guy on TV, she'd be called Chip's sister," Esten said. "But in Alexandria, I'm Cathy's brother. To be fair, that's pretty much how it was at William & Mary, too."
A Sweet Song
Esten remembers reading an Onion article titled, "College Freshman Discovers The Who, Drives Friends Crazy." In a way, he was that college freshman. Without an older sibling to help keep up with cutting-edge music, college helped expand his musical horizons. When Esten joined Theta Delta Chi his sophomore year, he and fraternity brother Clem Cheng '86 started playing music together. Before long Dennis Whelan '87, Chris Neikirk '88, John Hendrickson '88 and Art Schmalz '88 had joined the duo. The group mostly just jammed early on, but then they had the bright idea to audition for a gig at a party. There were some problems though; not only did they not have a name, they didn't have any songs. The group pulled together two songs for the audition and then acted like they had a whole bunch more. "We got the job and then we just had to bust our butts to play two hours of music," said Esten. "I think we did a few of the songs a couple times."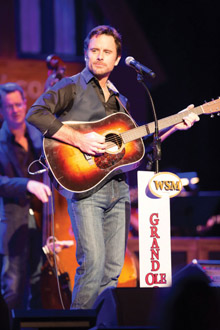 Then there was the name. At the time, Neikirk had been bandying around the phrase n'est pas. "He always meant it for 'no,'" said Esten. "Like, 'Are you going to study tonight?' 'N'est Pas.'"
Once settled on the band's name, N'est Pas played everything from the Police to the Talking Heads to Cheap Trick. Esten sometimes played rhythm guitar, but always felt like it made him less of an interesting singer, being planted at the microphone instead of being able to run around like an "idiot," which Esten found to be more exciting. The group got to play gigs in the Sunken Garden and tour around to different colleges, such as the University of Richmond, Radford and the University of North Carolina. N'est Pas even played some bars in Virginia Beach, which was a real wake-up call.
"I remember one night we played down there and there were two people in the entire place, sitting at a table 10 feet from our stage," Esten said.
But in the spirit of the N'est Pas mantra, whether they were playing for five or 5,000, they were going to rock it. "Let's pretend like we're in an arena," Esten said to his band mates. Everytime he introduced a song, he shouted into the microphone like he was pumping up a crowd at Madison Square Garden. "At the end of the night those two people just sat there looking at us like we were nuts. We all went to the end of the stage, held our hands together in the air and took a giant bow. John threw his guitar pick out in the audience and yelled 'Good night!' Then we put our hands down and John walked off the stage, bent over, picked up his guitar pick and put it back in his pocket."
Two Arms Around Me
N'est Pas improved over the years and even had a couple of originals that people liked. One of those was called "Walk the Bridge," which was about the Crim Dell and its infamous legend.
"It's no legend to me," Esten said. "I walked it and I married her."
Patty Hanson Puskar '87 came to William & Mary from Italy, where she had moved with her military family. "Funny enough, Duke was my first choice," Patty said. "I got in everywhere, except Duke accepted me second semester. And I was like, 'Well, no. Everyone else thinks I'm good enough, so forget you!' So I came to William & Mary. Just random. But God had a plan because that's where I met Chip."
Coming from Italy, Patty was an early adopter of the moped.
"I'd be walking somewhere on campus and hear this moped coming and my head would spin around looking for that beautiful blonde girl," Esten said. "But I never knew her all those years because she was dating a guy."
"Everyone was like, 'Chip Puskar, Chip Puskar,'" Patty recalled. "I didn't know who he was. Then the guy I had been dating decided we should see other people."
Esten was at the campus center ballroom playing a fundraiser one day when he saw Patty in the crowd. "I called an audible and changed the song and played 'Romeo and Juliet' by Dire Straits."
As Esten crooned away on stage, Patty's friends told her he was singing to her. "I'm like, no he's not!" But when the group moved across the room to test the theory, Chip's eyes followed. The two started dating midway through their junior year.
Four Wheels to Get There
After graduation and playing with N'est Pas for a year, Esten decided to test his luck in Los Angeles. Patty was supportive, realizing it was something he needed to do. Cynthia was very supportive as well. "I'm sure for a lot of parents that would give them a whole lot of pause," said Esten. "Especially for my mom who had worked so hard to get me into a college that would sensibly prepare me for something more conventional. But I don't recall anything but God bless you, sweetheart. I think by then she just knew who I was and knew what I would and wouldn't fit into. She made me feel like this was a thing I could go do if I wanted."
When Esten went to L.A., he earned a spot on a game show called "Sale of the Century." The show tested the trivia he had absorbed from all those years of watching TV and he ended up winning approximately $40,000 in prizes. "I called my mom up and said 'I'll show you what watching those TV shows got me.'"
Esten went on to do a variety of work before he got an audition to play rock 'n' roll pioneer and stellar guitarist Buddy Holly in a musical production in London. Esten had started playing guitar before junior high, but didn't really dig into it until he got the Buddy Holly gig. "I should be way better than I am for as long as I've been playing," said Esten. "When I first auditioned, I was able to do the acting and the singing and I was just able to barely hang on and play the solos." He got a callback, though, "and the guitar, while still being bad, was markedly better. I think they saw a learning curve where I just put that guitar on and I didn't take it off and was constantly trying to get good at it. From there I got to play Buddy for almost two-and-a-half years, so there was a whole lot of time with the guitar. I got way better through that and then I kept up from there, just jamming around with friends or playing on my own."
After "Buddy" wrapped up, Esten landed a guest spot on "Whose Line Is
It Anyway?" in the UK and then in the United States. "In some ways, I'm sure I discounted what 'Whose Line' was because it all seemed so silly," said Esten. "We were like professional eighth-graders. But then along the way you start meeting people whom that silliness had a huge impact on. People would share with me again and again that they were able to sit together as a family and just let their minds escape and go to that place where they're just happy. I'm not going to disrespect what that is anymore, because clearly it means a lot to some people and that's good."
Esten also had guest roles for various TV series, including "The New Adventures of Old Christine," "ER" and "The Office," and had small roles in the movies "The Postman," "Thirteen Days" and "Swing Vote."
I Don't Need Fame
Esten had been in L.A. long enough to witness great work and be around great shows and wanted to do something meaningful. He longed for more. As a guest star, he was always made to feel welcome on set, but never really felt a part of the family. "You're serving a purpose. You're the situation and they're the comedy. They're not able to fully flesh out every single character, so you end up not getting to play anyone that's as interesting.
"Early on, I had this specific thought in my head that I would never be completely happy unless I was famous," said Esten. "But it didn't take long at all for that to start to go away, and it became less about the fame. It became about wanting to do good work and going back to that original feeling of wanting to make people laugh or cry or forget or remember."
When the role on "Nashville" came up, it was a dream come true for Esten, who would no longer have to choose between acting and singing.
"If he had sat down and wrote a letter to God with his perfect job, there are things in this job that he never would've thought to ask for," said Patty. "That he gets to act with actors of this caliber, that he gets to sing, that he gets to work with musicians, and then the songwriting, it's like wow!"
And the character of Deacon Claybourne is one of those interesting ones that Esten longed to play. "There are these different sides to him," he said. "He's this really good guy that's supporting and trying to help people. But meanwhile you hear talk of his drinking and the bad guy that he could be when he was. He's dealing with some demons that make him very human. Also, how do you beat that name?"
"Nashville" is filmed in its namesake city, which Esten feels lends an authenticity to the show. "When you're at the Bluebird, singing a song someone wrote, it's all very real and specific," he said. "If you're doing something that's much more showy and plastic, you can create that anywhere. But that sort of intimate thing, that's very specific to this town. We're surrounded by the people that live this life."
The people that play the backup musicians on "Nashville" are not just extras with guitars; they are legitimate musicians who have toured with people such as Faith Hill and Lee Greenwood. During a wardrobe fitting, a wardrobe staffer was dressing a guy who was a guitar player in Rayna James' band. She wanted to know how the shirt would look tucked in. "Tucked in?" the guy asked. "You wouldn't tuck it in?" she replied.
"If we were in L.A. and it's just some guy, we might not have known that," said Esten. "Tiny detail, but it's all made up of tiny details. You stay good on the small things and it starts to have an air of authenticity. This city is our canvas; we're all over it in these real places. These places are so gorgeous, how do you fake that?"
Enough Love to Share
During Tennessee's final JV midstate cross country meet last year, Esten's son, Chase Puskar, finished seventh, breaking into the top 10 for the first time all season. Esten was supposed to videotape the meet while Patty took pictures. "We were both crying, so I think we got a couple pictures, no video," said Patty.
Esten lives for moments like these with his three kids. And these moments happen more now that the family has moved to Nashville. Taylor, 17, Chase, 15, and Addie, 14, get to have their dad around whether it's at cross country meets, soccer games or just hanging out in the kitchen.
"We'll be at the kitchen table and I'll say something funny and they'll be like, 'That's corny!' One day I just stopped them and said, 'Hey, listen to me. Around here, corny pays the bills.'" But Esten can recognize when he legitimately makes his kids laugh. "And what's cool now is how they legitimately make me laugh," he said. "They're all very funny in their own way. I can see some of my humor in them, but mostly it's their own and it's who they are."
A Life That's Good
Esten has found a lot of success in his 25 years, but meeting Patty and raising his kids are what matters most to him. "If you ever have any delusions that a whole lot of other things are important, they're quickly dispelled. It's amazing what falls way from what you think is important. My family are my best friends. There's a song that Deacon wrote called 'Life is Good': I don't need fame, no one to know my name. At the end of the day, Lord I pray, I have a life that's good. Two arms around me, heaven to ground me, and a family that always calls me home. Four wheels to get there, enough love to share, and a sweet, sweet song. At the end of the day, Lord I pray, I have a life that's good. I have all that. And I agree with the sentiment: that's all I need."