Reves Center's celebratory finale set
The Reves Center for International Studies will conclude a year-long celebration of its 25th anniversary with a series of events on Oct. 2 and 3, highlighted by lectures by William & Mary alumna and NASA Chief Scientist Ellen Stofan and James Goldgeier, dean of American University's School of International Service.
Also on the schedule for Oct. 3 is a film commemorating the history of the Reves Center (noon, Commonwealth Auditorium). Goldgeier's lecture, at 3 p.m. in Commonwealth Auditorium, will be followed immediately by a reception in the Chesapeake Ballroom. All of the events are free and open to the public.
Stofan '83, a planetary geologist, became NASA's chief scientist and Administrator Charles Bolden's principal advisor on the agency's science programs and science-related strategic planning and investments on Aug. 25, 2013.
Previously, she worked for NASA's Jet Propulsion Laboratory in Pasadena, Calif., acting in a number of senior scientist positions, including chief scientist for NASA's New Millennium Program and deputy project scientist for the Magellan Mission to Venus.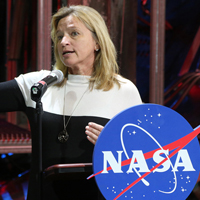 Her research interests include the geology of the Earth, Venus, Mars and Titan, Saturn's largest moon. She has received multiple awards throughout the years, including the Presidential Early Career Award for Scientists and Engineers, and she has published multiple papers, book chapters and books, including 'Planetology: Unlocking the Secrets of the Solar System' with astronaut Tom Jones.
Her lecture will take place at Tucker Hall, room 127A, on Oct. 2 at 5 p.m..
The topic of Goldgeier's lecture the following day will be "Can the liberal international order survive?"
The question resonates with international scholars because nearly a quarter century ago, President George H.W. Bush proclaimed the dawn of a "new world order" in which the United States, as the world's remaining superpower, would lead the United Nations and other international institutions to promote democracy and free markets around the world.
According to the Reves Center press release, "Today, we appear to face a new world disorder, as China challenges U.S. dominance in the Western Pacific, Russia seeks to undermine the post-Cold War settlement in Europe, and militant groups from Boko Haram to ISIS create havoc in important regions of the world.
"Can the U.S.-led liberal international order survive?"
Prior to joining American University, Goldgeier was a professor of political science and international affairs at George Washington University. He taught previously at Cornell University, and has held appointments at Stanford University's Center for International Security and Cooperation, the State Department, the National Security Council staff, the Brookings Institution, the Council on Foreign Relations, the Library of Congress, the Woodrow Wilson Center, the Hoover Institution and the German Marshall Fund's Transatlantic Academy.
From 2001 to 2005, he directed GWU's Institute for European, Russian and Eurasian Studies. His books include: America Between the Wars: From 11/9 to 9/11 (co-authored with Derek Chollet); Power and Purpose: U.S. Policy toward Russia after the Cold War (co-authored with Michael McFaul); and Not Whether But When: The U.S. Decision to Enlarge NATO.
Established in 1989 with a gift from Wendy Reves in memory of her husband Emery, author of The Anatomy of Peace, the Reves Center for International Studies supports and promotes the internationalization of learning, teaching, research and community involvement at William & Mary.
In providing opportunities for students, faculty, and the W&M community to engage with and learn from global experiences and perspectives, the Reves Center's stated goal is to carry on Emery and Wendy Reves' lifelong commitment to world peace through international understanding.
Today, more than two decades since its founding, the Reves Center continues to enhance international education at William & Mary through programs for education abroad, international students and scholars and global engagement across the university.