Which discipline will survive? Raft Debate to decide
The Raft Debate, a much-beloved William & Mary tradition, will be held at Phi Beta Kappa Hall Oct. 6 at 6:30 p.m.
The three survivors of an imaginary shipwreck -- a scientist, a social scientist and a humanist -- achieve a delicate balance between comedy and lecture as they debate the value of their respective discipline for the rest of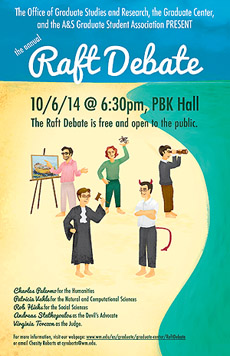 humanity. Only one of these professors can return to civilization in the life raft. A fourth faculty member, a devil's advocate, joins the survivors and argues sarcastically that none of the academic disciplines are worth saving. The winner of the debate is chosen by a judge based on audience reaction. Join the excitement as the professors cajole, plead, pontificate and resort shamelessly to props and costumes until the final, lone survivor, is decided. 
This year's survivors representing their disciplines and the fate of humanity are:
Humanities: Charles J. Palermo
As an associate professor of art and art history and director of film and media studies, Palermo focuses his work and teaching on modern art, including modernist painting and photography, with occasional detours into literature and film. Palermo is a founding editor of the online open-access journal nonsite.org. His forthcoming book, Modernism and Authority: Picasso and His Milieu around 1900 (University of California Press), is about Pablo Picasso, Guillaume Apollinaire, some of their friends and collaborators, and Catholic theology.
Social Sciences: Rob Hicks
The professor of economics specializes in Environmental and Natural Resource Economics, and Econometrics. Hicks has been a visiting professor at the Center for Development Research (ZEF), University of Bonn, Germany; the Institute of Environmental Economics and World Trade, University of Hannover, Germany; and in the Center for Economic Research, University of the Balearic Islands, Spain. He is a current member of the Science Advisory Board for the National Oceanic and Atmospheric Administration (U.S. Department of Commerce).  He is the recipient of the Alumni Fellowship Award and the Plumeri Award for Faculty Excellence.
Natural and Computational Sciences: Patricia Vahle
An associate professor of physics, Vahle is an experimental particle physicist.  In particular, she concentrates on studying the properties of a fundamental but elusive particle, the neutrino. Created in the sun, in cosmic ray interactions with the atmosphere, by nuclear reactors, and in particle accelerators, the neutrino is one of the most abundant particles in our universe, but it only interacts via the very weak force that is responsible for radioactive decays of certain nuclei. Matter is largely transparent to neutrinos, making studying them notoriously difficult. Vahle is on two experiments to study neutrinos, one with a detector half a mile underground, and the other with a detector in the most remote part of Northern Minnesota.  She is also pursuing a proposal to build an underwater neutrino detector. Vahle likes dogs, but not cats, and can recite 50 digits of pi from memory.
Devil's Advocate
The devil's advocate will be played by Computer Science Professor Andreas Stathopoulos. Stathopoulos grew up in Athens, Greece where he got his bachelor of science in mathematics. Captivated by the emerging trend of the time, he moved to the U.S. to get a doctorate in computer science. Since then, he has been working on scientific computing, developing mathematical models, algorithms and high-performance software to solve large scale, difficult problems that stem from engineering, science, industry or business analytics. He has a keen interest in education, and his two teenage children have been the carriers of this burden. His other interests are more than his spare time allows.
Judge
The judge will be played by Virginia Torczon, dean of graduate studies and research for Arts & Sciences.
The Raft Debate, sponsored by the Office of Graduate Studies and Research, the Graduate Center and the A&S Graduate Student Association, is free and open to the public.  For more information, visit the Graduate Center
webpage
or contact Chasity Roberts at
cyroberts@wm.edu
.