Joanne Braxton remembers Maya Angelou
{{youtube:medium|N33ZgZiE4cE, Maya Angelou's 1993 speech at opening convocation}}
Joanne Braxton and Maya Angelou met in California nearly 40 years ago, sharing a bond that a sensitive Hollywood director could have turned into an inspiring movie.
While Angelou, who died Wednesday at age 86, was wildly famous for her work as a writer and poet, she treated Braxton as an equal. She was respectful of the William & Mary professor's own substantial achievements.
"Angelou related to me as someone who understood the import of her work as a whole and potentially as someone who could translate the meaning of that body of work to a larger audience," Braxton said Thursday. "I believe that we understood each other and the ways in which the meanings of our lives were intertwined."
Angelou offered a glowing endorsement of Braxton's book "Black Women Writing Autobiography" in 1989.
"Braxton's book is scrupulously researched," she wrote. "She has been creative in finding resources and courageous in analyzing and interpreting her finds. This is the work of a diligent mind. The material is mountainous, yet the book sings. Braxton is a poet. Thank goodness."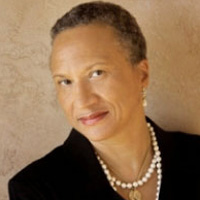 When Angelou came to speak at William & Mary, Braxton introduced her. When Braxton traveled to North Carolina to speak about Angelou's work at a regional book festival, she stayed at Angelou's home.

When Braxton was ordained as a campus minister, Angelou sent a large floral arrangement and a heartfelt message of support.
"Her support was intellectual, artistic and spiritual," Braxton said.
The Frances L. and Edwin L. Cummings Professor of English and Africana Studies and director of W&M's Middle Passage Project, Braxton has authored or edited several works on Angelou's writings, including "The Maya Angelou I Know: Why the Caged Bird Sings Casebook."
She was much in demand after the news of Angelou's death. She was interviewed by National Public Radio, WVEC TV in Norfolk, the Daily Press in Newport News, and the Times-Dispatch in Richmond among others.
She relayed anecdotes that shed light on the loving nature of their kinship.
After Angelou delivered the poem "On the Pulse of Morning," at the inauguration of President Bill Clinton in 1993, she presented an autographed copy to Braxton as a gift to D.J. Montague Elementary School in Williamsburg. Braxton's daughter, Mycah, then a third grader at the school, passed on the gift with a speech during a public assembly there.
During a stay at Angelou's home, Braxton met the poet's niece, Maya Maison. At the 2012 "1619 and the Making of America" conference at the university, Maison participated as a spoken-word artist, reciting one of her aunt's poems, as well as her own.
"Dr. Maya Angelou was a citizen of the world, whose influence was felt through her work, which was translated into almost 90 different languages," Braxton said. "There are no others like her. She will be missed. We will honor her legacy and give thanks for it while continuing to advance her high calling of greater service to humanity.
"How blessed we are to have known her and to have had her with us here at William & Mary."