Jill Ellis '88 named U.S. Women's Soccer National Team head coach
Former William and Mary women's soccer standout Jill Ellis '88 was named the head coach of the U.S. Women's National Team on Friday afternoon.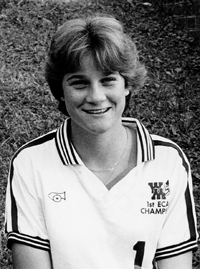 Ellis has coached at every level of the U.S. Women's National team and served as an assistant coach during the 2008 and 2012 Olympics, winning gold in both Olympics. She has been the interim head coach of the team on two different occasions, posting a 6-0-3 record during that time.
Originally from Portsmouth, England, Ellis played forward for the Tribe from 1984-87. She finished her career with 32 goals, 19 assists, and ranks ninth in career points with 83, while earning Third Team All-America honors during her senior season. She helped the Tribe to the NCAA tournament all four seasons, while earning a trip to the Elite Eight in 1987.
Ellis earned her degree from William & Mary in English literature and composition.
Ellis' first game as head coach will take place on June 14 against France.