Local middle-school students launched into STEM
{{youtube:medium:left|XlhtNzLnuUA, Camp Launch: Gifted education at W&M}}
Jessica Vincent says she "wasn't a bad kid" before attending Camp Launch at William & Mary.
"But I had a little attitude," she admits.
The rising 9th grader from Norfolk is working this summer as a junior teaching assistant for the immersive science camp. She was among the first class of students who arrived three years ago for the two-week program for low-income, high-ability middle school students.
This July, 86 children attended. They took classes on campus, stayed in William & Mary residential halls and ate at the Sadler Center, at no cost to their families.  And today Vincent, the middle-schooler with a little attitude, is a role model for the same camp.
Vincent says she didn't originally like science when she was pegged by Norfolk Public Schools for participation in the camp, which provides students instruction in science, technology, engineering and math — or a STEM curriculum.
"I like it now, because the camp has opened my eyes," she said. Last year she took a high-school-level biology course, earning a B-plus. She scores in the high-90s on math tests in her school. Her pride in her academic ability is evident.
More, she already has her college plans mapped out (William & Mary is her first choice), as well as her career as a community psychiatrist.
That's the kind of "future mindset" the program is trying to foster in the campers, said Mihyeon Kim, director of the Center for Gifted Education's precollegiate learner programs.
During the day, campers have a rigorous academic schedule starting with three hours of STEM courses, including Legos robotics, nanotechnology and the center's award-winning Acid, Acid Everywhere curriculum, which allows students to explore systems interactions through the scenario of a hazmat spill.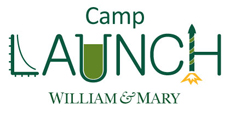 Another three hours of writing and personal development courses follow, during which educators help the children envision themselves at university and in future careers.
"The kids really need attention from people," she said. "The first year, I realized that many of the kids have experienced rough situations in their home and school environments. They have never been in this type of university environment, with these kinds of professional people around. It's a learning curve for them. We try to help the kids envision being successful on a college campus in the future."
In class, the students explore potential career paths and talk out what they need to do to reach their goals.
"We try to help them visualize their lives on a college campus in the future, and then we provide real-world, detailed information so they can see the steps to take to reach that point."
It seems to be working. On her cell phone, Kim carries a voice recording of a rising 7th grader, new to the camp.
"When I'm older, I will never forget this," he says. "I'm 12 years old, on a college campus. That makes me really proud. When I get older, and make tons of money, I won't forget to donate money to this program."
The campers' final class of the day is an enrichment activity of their choosing, such as drama, art or martial arts. On Saturday, they attended a half-day conference called "Focusing on the Future," to which their families are also invited. On Sunday, they visited the Science Museum of Virginia in Richmond.
The camp closes the day with a half-hour counseling session, during which campers discuss their day and any issues that arose, and write in their journals. Part of the success of the program, Kim said, is having enough William & Mary student counselors to maintain a ratio of between four and eight students per counselor.
Camp Launch grew out of the Center for Gifted Education's fee-based Saturday/Summer Enrichment Programs at William & Mary, which serve students from Kindergarten to 9th grade.
Participant surveys revealed that more than 70 percent of the students' families reported incomes higher than $100,000 annually, Kim said. About 43 percent of the students' families made more than $150,000 a year.
"But the Center for Gifted Education's faculty members are not from affluent families," Kim explained. "We felt we needed to do something about this, and then we tried to get the funding to support low-income, high-ability kids."
The funding came by way of the Jack Kent Cooke Foundation, which has provided $250,000 annually for Camp Launch.
Kim said the center identified 13 local school districts where more than half the pupils receive free or reduced lunches. Each district is provided a number of slots in the camp based on population, although not every district participates.
Each year a new class of rising 7th graders identified by the schools is invited. They are invited back the second year, and the camp has a high rate of returning students. Kim said of 37 students who attended last year, 32 returned for camp this year.
New this year are the eight 9th-grade junior teaching assistants. Interested former campers had to apply and submit essays to land a slot.
"I tried to set it up as a real job position," Kim said. "I needed to know their willingness to do it, that's the main thing. When they got here, I stressed a lot, and strongly, 'You are not a student anymore. You have to be a leader. You have to guide the other students to be well-behaved in the classes and to help out when they have a problem.' So they felt they really are in a leadership position.
"It's just great to see, from the first year, how their behavior has changed and how they've matured. Now they act like professionals. It's a really neat thing to see."
Creating the new junior teaching assistant positions effectively became another way to gauge the camp's effectiveness and to reinforce its messages.
The center also gains feedback about the program in follow-up interviews conducted six months after the campers return home.
"The kids we interviewed felt like they could visualize themselves in college," Kim said. "Most of the kids said they have more confidence, so they participate more in school activities."
Fourteen-year-old Andre Dickerson, another junior T.A. from Norfolk, said that was the case for him.
"I used to be real shy. I met them," he said, gesturing to the counselors and campers, "and they kind of knocked me out of it. I get accepted into more things now."
Opportunities in school no longer pass him by. "I go to people now," he said. "I don't wait for them to come to me."