Branching out and on and on
Students continue service-learning started on Branch Out trips, apply lessons locally

Marilyn Ampadu '17 wasn't sure she wanted to go. It was her first year of college, her first year away from home, and she wasn't sure that she wanted to spend spring break in Philadelphia learning about labor inequality.
But the trip would prove to be a launching point for the William & Mary student, propelling her into an internship with another Philadelphia organization this summer where she furthered her understanding of "the power of a few focused individuals."
"For me, the initial trip was really an introduction," she said. "When I returned to Philadelphia, it was more personal. My second trip was about learning, about discovering more of who I am and what impact I want to make in the world. Without my first Branch Out trip, I wouldn't have known, couldn't even imagine, that these issues existed or that I could be such an integral part of their solution."
Like Ampadu, many of the William & Mary students who participate in Branch Out alternative breaks find ways to continue serving and learning long after the trips are over.
Reflection and reorientation
That continuation is an intentional aim of Branch Out program, which offers W&M students service-learning opportunities in regional, national and international locations. Students are encouraged to reflect throughout the trips. Afterward, they discuss their experiences, look for connections among issues and consider ways they can continue serving as part of the reorientation process.
"Reorientation is important because of a couple of things: It is the process where active citizenship really happens, which means it's where students are prioritizing community and getting others involved in that work also, and that's what ultimately leads to social change," said Melody Porter, associate director of the Office of Community Engagement. "And it's important because it continues the learning for students. It helps the trip be not just a trip but sort of an unfolding lifetime of discovery and agency and experience of community."
As site leaders for a spring break trip to Washington, D.C., Allison Doane '16 and Michelle Pillepich '14 led their group in an hour of reflection every evening after spending their days working with DC Central Kitchen and learning about hunger and homelessness. When the group returned to campus, Doane sought to impress upon the participants that "community engagement isn't something that ends with the return to campus … nor is it something you have to go far away to be active in."
"The lessons learned about addressing root causes of social justice issues and prioritizing community in daily life … can be applied to hunger in Williamsburg just as readily as the trip participants learned to do in D.C.," said Doane.
One of the ways the participants decided to apply that lesson was by joining the W&M Muslim Student Association's fast-a-thon, co-sponsored by Oxfam and Stop Hunger Now, during Islam Awareness Week at the end of March.
"It was really cool to have more people try fasting and see what their experiences were like especially since several were of different spiritual backgrounds," said Maab Yasin '15, one of the trip participants and a Muslim student at W&M. "I think everyone was able to take away something from the experience, and many found it rewarding."
The group further explored hunger in the Williamsburg community by serving meals to people living in local motels.
"Oftentimes, when engaging in service in a community different from your own, it is easy to forget or fail to realize that the same problem may exist in your own backyard and that one can always help there," said Yasin.
That's something that students from two other education-oriented, spring break trips kept in mind when thinking about continuing their service.
Branching out and back again
One group had traveled to North Carolina to work with KIPP Gaston College Preparatory Public Schools, and the other had gone to Washington, D.C., to work with the Apple Tree Institute and KIPP Discover Academy (a public charter school). Back at W&M, the two groups joined together to create a College Day for local, middle-school students. The event offered workshops on subjects ranging from the sciences to performing arts.
"For my team, it was quite a change from the southeast D.C. schools, but the focus remained on learning through hands-on activities," said Tim von Stetten '16, a site leader for the D.C. trip. "There is a delicate balance between learning and having fun at the same time – it's extremely important to find that place because kids will respond, and that's what's most important."
On her trip, Erin Faltermeier '15, a site leader for the Gaston group, learned about how expectations – from familial to societal – can impact a person's life and education. She examined her own assumptions and actions and discovered that she was avoiding the topic of higher education with some of the young students she was working with because she thought they might not be in a position to attend college.
"I thought I was being polite, but really I was contributing to the perceived lack of expectation that may prevent young people from picturing a future that includes higher education," she said.
She took that lesson to College Day, where she focused on talking to as many students as possible about college.
"I intend to keep this lesson in mind in interactions with younger people in the future and in all situations in which expectations may be inadvertently communicated," Faltermeier said.
Branching beyond
Although students may end up interested in issues outside of the ones their trip addressed, the Branch Out program provides a "framework for community engagement that can be applied in any community and to any issue," said Doane.
It is a framework that the students may take with them well beyond their time at William & Mary. Sofia Herrera '14, for instance, graduated from William & Mary in May, but she has taken with her the lessons she learned as a site leader for a Global Village Project trip to Laredo, Texas. There, her group helped establish a connection between William & Mary and the local Habitat for Humanity program. When the group returned to W&M, the students focused their efforts on the Williamsburg Habitat ReStore.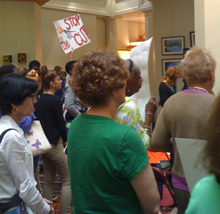 "Helping families to find housing opportunities through volunteerism from organizations like Habitat for Humanity is a commitment I will continue to hold close as I move away from Williamsburg," she said.
Although Ampadu wasn't initially sure that she wanted to go on that first trip to Philadelphia, she made the commitment and soon found herself working with Arch Street United Methodist Church to help combat poverty, violence and inequality in the city. She was also introduced to an interfaith community named POWER (Philadelphians Organized to Witness Empowerment and Rebuild), which works on similar issues.
It was with that organization that Ampadu interned this summer, helping with a variety of efforts – from paperwork to helping three busloads of people meet with state officials to discuss problems with the school system.
It's an experience that will likely impact Ampadu for years to come as she – and so many W&M students like her – seek ways to continue the serving and learning that they began as part of the Branch Out program.
For Ampadu, it all started with that one decision.
"Sometimes, in the first year – or years – of college, you don't really know what you want to do, what impact you want to have on the world or how you will accomplish it," she said. "That's what Branch Out does. You become aware of people, issues and lessons you didn't really know you were missing, and it sometimes really changes who you are and what you want to be.
"I really think it's an experience all college students need, especially those open to but unsure of where life can take them."