Anne Arseneau awarded for contributions to fraternity, sorority life
Anne Arseneau, William & Mary's director of Student Leadership Development, has been honored with the Robert H. Shaffer Award from the Association of Fraternity/Sorority Advisors. She will accept the award next month.
The award recognizes a person working in higher education who has shown a long-term commitment to fraternities and sororities. Specifically, the individual must demonstrate their dedication to fostering positive change on college campuses by advising fraternities and sororities and by building and maintaining partnerships in higher education and the interfraternal community. Overall, the recipient must have made a positive and lasting impact on both their campus and the profession of fraternity and sorority advising as a whole.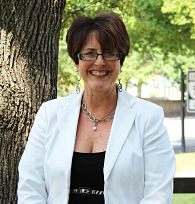 Arseneau said she learned of the honor  in late August. She was familiar with the award because she has been involved with the association since 1992, when she first began attending its conferences. Since then, she has volunteered in various roles within the association, including serving as annual meeting chair in 2005 and as the association's first volunteer coordinator, from 2006 to 2009.
"The people who have been recipients of this award in the past shaped our profession," she said. "They are people I look up to, and they have really provided an aspirational heart for fraternity and sorority life to be what it can be. So it is overwhelmingly humbling to be considered as part of that group, and I am appreciative of the recognition."
The award is based on nominations from association members; in Arseneau's case, a colleague from outside William & Mary provided the initial nomination. Colleagues support the nomination with letters of commendation, which are later shared with award recipients.
Arseneau is a two-time graduate of the College of William & Mary, having earned a bachelor's in English and a master's from the School of Education. She continues to volunteer for her sorority, Kappa Alpha Theta, both locally and nationally.
Asked how her involvement in Greek life has changed since attending William & Mary as an undergrad, Arseneau noted her experience has evolved in different ways, personally and professionally.
"What I appreciated most 17 or 18 years ago was the opportunity to provide support, infrastructure, and continuity in places where I could see that the lack of those wasn't allowing the councils and the individual chapters to prosper as much as you would hope," she said. "It's very rewarding to be able to support a community that personally contributed to my own development."
Being deeply involved on the national level within the Association of Fraternity/Sorority Advisors gave Arseneau the opportunity to expand her knowledge and commitment beyond the W&M campus. However, she said that broad external work has helped her "immeasurably" in her campus roles as director of Student Leadership Development and (formerly) as the fraternity and sorority advisor.
"I think the thing I have enjoyed the most has been the opportunity to connect with colleagues to better the work we are collectively doing to support the fraternal experience," she said.
Arseneau will receive the award from the association's Awards & Recognition Committee on Friday, Dec. 5 at the association's annual meeting in Nashville, Tennessee.