A cup of Hess with breakfast? It's possible in parts of Germany
It's safe to say that Adam Hess never saw himself as a coffee salesman or a cartoon character.
Suddenly, in the last week or two, he's become both.
Hess '04, the 11th-leading scorer in William & Mary basketball history, is one of two players chosen by Seeberger, a sponsor of the Ratiopharm Ulm (Germany) professional team he plays on to appear on their packages of coffee.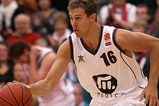 Before Hess -- the first Tribe player ever to lead the Colonial Athletic Association in scoring -- even knew that he had been selected, someone in Seeberger's marketing department had drawn a caricature of him that sits on a wooden clip that seals a package of its new 100 percent ULMER coffee.
"This came out of nowhere," Hess admitted by e-mail recently. "I heard about it one week before they launched the product."
Hess' likeness graces the top of regular packages of coffee. Teammate Keaton Nonkivil is affixed to the company's espresso.
Seeberger is headquartered in Ulm and while they sell their products throughout Germany, Hess believes that the coffee will be marketed regionally.
Hess believes that one of the reasons he was chosen is because he's "old." He'll turn 33 in April.
"In the basketball world, I am approaching dinosaur status," he joked.
At W&M, Hess was a beast, just not one of the prehistoric kind. After transferring from Eastern Michigan, Hess scored 1,344 career points for the Tribe. Since then, he has seen a good bit of the world.
He played for a top team in the Czech Republic for two years and won a couple of national championships. From there, he played in France and Spain before moving to Germany for the last four seasons. This is his first in Ulm, which lies at the point where the rivers Blau and Iller join the Danube and sits at an altitude of more than 1,500 feet. It's also the birthplace of Albert Einstein.
"I always seem to end up back in Germany," said Hess, who has gained German citizenship to go along with his American citizenship. "The major highlight would be finding my wife here in Germany and starting a family.
"I have been lucky to play for many great coaches, for great programs with great teammates and played on teams that played internationally, which means I was able to play all over Europe."
Ulm competes in both the German League and in the Eurocup. They are in position to make the playoffs in the former and are tied for first in Group 1 with JSF Nanterre.
In 20 minutes per game this season, Hess is averaging 6.4 points and 3.6 rebounds. That's a curiously slender amount of playing time considering he is shooting 63 percent from the field. His points and rebound figures are slightly less than his career averages.
In assessing his professional success, Hess said that William & Mary has played a role different than one might expect.
"Graduating from W&M was a difficult task and that accomplishment alone has always given me the confidence to face other challenges," he said. "I never had any concrete career aspirations other than to find something I love to do and get paid for it. I've been lucky to be able to play 10 years after college."
Among the things he cherishes most about W&M are the friends he still has, and he jokes that he hopes that when he is through playing, one of his more successful buddies will feel sorry enough for him to "offer me a job … that I enjoy as much and will actually give me some financial benefit."
Perhaps a coffee manufacturer?