W&M Relay for Life marks 10 years in the fight against cancer
When Brittany Liu was 2 years old, she was diagnosed with a spinal cord tumor and given a 10 percent chance of survival. Now a freshman at William & Mary, Liu has been cancer-free for nearly 17 years.
She will be among approximately 330 William & Mary students who will participate in the College's 10th annual Relay for Life on Friday night through Saturday morning at Busch Field. Organized by the W&M chapter of Colleges Against Cancer, the annual event raises money for the American Cancer Society and offers those affected by cancer a chance to share their stories, celebrate survivors and remember those who have died.
"I am honored to be part of this incredible event that not only fights cancer, but celebrates life," said Liu, who will participate in her fifth Relay for Life this weekend with her sorority Kappa Alpha Theta.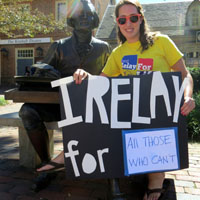 "Every year I am so inspired by all of the survivors I meet who remind me that life is a precious gift," she said. "I relay for my family because without them I wouldn't be here today and for those who lost their heroic battle. Relay for Life has impacted so many people including myself and I am so thankful it is part of my life."
About 40 teams of students are participating in this weekend's event, including groups from W&M's Greek community, cultural organizations and academic clubs. The W&M Alumni Association is even hosting a virtual team on its website. Cancer survivors from the local community are also expected to attend.
Many people think that Relay for Life is a race, but "it's not at all," said event chair Tina Fischel '13.
Once the event begins, members from each team begin walking the track, eventually trading off with other members so that each team keeps someone on the track throughout the entire night.
"The phrase is that 'cancer never sleeps, so neither do we,'" said Laura Pugh '15, the event's growth and development chair.
To keep the participants motivated throughout the night, the event includes a variety of entertainment options, such as a Zumba break and spirit walk led by the W&M Pep Band.
Celebration and remembrance
The event also includes three special ceremonies. The first celebrates survivors; the second remembers those who have been lost to cancer, and the third encourages participants to engage in the fight against cancer throughout the year.
The remembrance event involves lining the track with "luminaria," paper bag lanterns, dedicated to people who have been lost to cancer. Many of the teams also gather at their campsites for a period of reflection, which offers participants a chance to tell their own stories about how they have been affected by cancer.
"Since everyone's in that zone at that time, it's really personal and you get to know things about each other that you wouldn't in everyday interactions, which is interesting because when you live on a college campus, you live in such close proximity with these people and you think you know them really well, but there's always something that somebody's internalizing and this is their opportunity to share it," said Fischel.
That remembrance part of the evening is particularly touching and really connects with participants, said Fischel and Pugh.
"I was drawn in by the luminaria ceremony," said Pugh, who lost her mother to cancer and began participating in the Relay for Life in high school. "That's what drew me back."
Kendall Berents, a freshman who will be participating for the first time this weekend, is speaking at the luminaria ceremony. Her brother Jimmy, who is a triplet with Berents, was first diagnosed with cancer at the age of 4. Last year, as Berents and her brother prepared to go to college, they received word that the cancer was back. Instead of going to college, her brother underwent chemotherapy, and, in December, he finally had an MRI showing he was cancer-free.
Berents is appreciative of the opportunity to get to discuss her brother this weekend, something that is difficult to do in day-to-day situations, she said.
"I'm really excited for this weekend because I think that it's hard, especially in a college setting, you feel so detached and so distant from things like pain and cancer and stuff like that," Berents said. "I think it's important to have events like this where we are all able to get together and remember that it's still out there and just be able to walk for it and talk about it outside of classrooms and just feel the real emotions that cancer can create."
Fighting back
When the Relay for Life finally draws to a close early on Saturday morning, the final ceremony – "fight back" – takes place, and participants vow to continue the fight against cancer throughout the year.
The W&M chapter of Colleges Against Cancer, which operates under the American Cancer Society, hosts several events through the year, but Relay for Life is their largest.
Through its 10-year history, the W&M Relay for Life has raised more $813,000, with another approximately $25,300 raised so far this year. The organizers have used a variety of fundraising methods, including offering a lunch with President Taylor Reveley to the top fundraisers.
But, in the end, the event is about much more than fundraising.
"It can be a really memorable experience," said Pugh. "It can be really good bonding with the people you are close to. A lot of people have a lot of ways that they are connected to cancer. For some people it's direct, and for others it's not. I think no matter what, it's really a way you can come together as a community. And it's really fun."